Back in October, I shared that my youngest (let's call her "Little Miss S") is a rocker at heart.  For the most part, her style just keeps me engaged!
So, when Amy from Peek A Boo Pattern Shop asked me to be part of the holiday tour, I knew this could be fun!  After looking through the shop, I thought that this vest pattern would be perfect for her.  Of course, Little Miss S insisted on making a few adjustments to make it a little less boy and a little more rocker.  After that, she was extremely excited to pick out fabrics!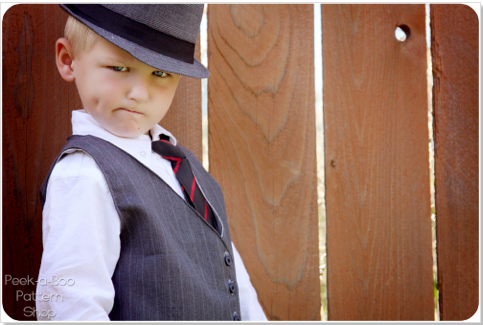 Before we get started, I think there are a few things everyone should know about patterns.
They should be thought of as the framework and foundation for your project.
You should feel free to make modifications to meet your style needs.
Fabric suggestions are guidelines to help ensure your finished project is the best it can be.  Be sure to read through all instructions before starting your project.
With the help of Little Miss S, we made the following modifications to suit her sense of style and we were stitching in a flash.
Shortened the back of vest and blended it to meet the front in a smooth line.
Exchanged the buttons and button holes for snaps.
Picked a placement for a fun embroidery design.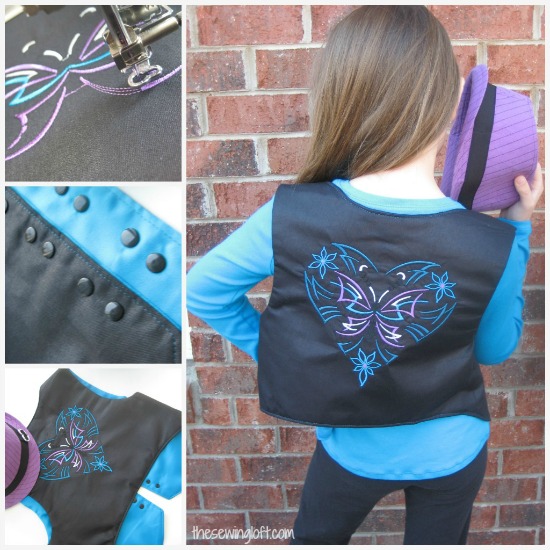 Overall, the pattern offered plenty of pictures, was easy to read and printer friendly.  Each garment size was defined by color and this made matching the pattern pieces a breeze.  My favorite part was the overall construction.  It created a clean finished garment and allowed me to make this vest 100% reversible.

I hope you enjoyed our take on Peek A Boo's vest pattern.  I know that Little Miss S is excited to wear it and show it off.  So just remember, when creating from patterns, feel free to infuse your personal style!
Interested in making your own vest?  Peek A Boo patterns if offering The Sewing Loft readers a 25% discount on all patterns this week.  Just use special code "hohoho" at check out.  And as a special gift to you… One lucky winner will walk away with not only the vest pattern but all patterns included on the tour.  Click here for easy entry.