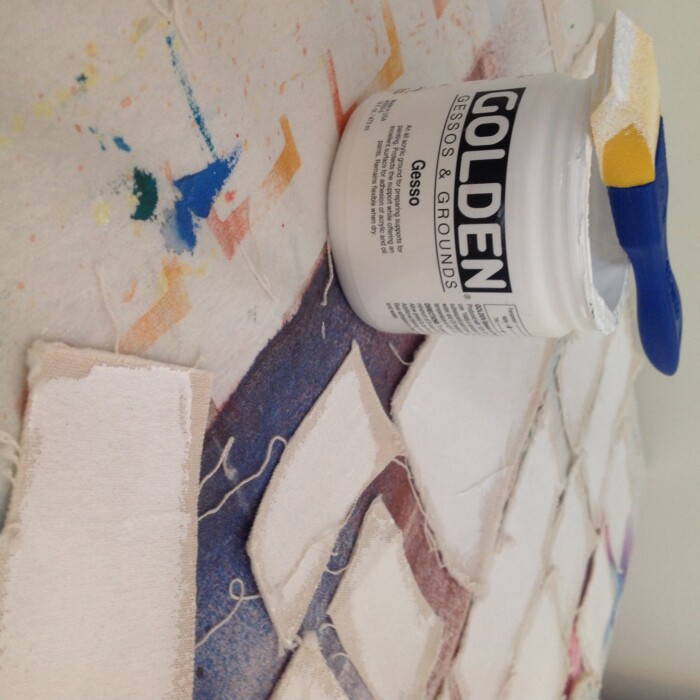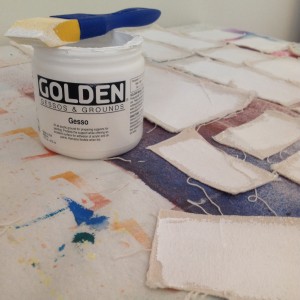 Hello friends of first Fridays.  It's your old pal TJ from Studio Mailbox here to share some laughs with you as I faithfully report my latest creative disaster.
Last month I wrote about handmade holiday preparations and tried to encourage you from over doing it.  So this month it's only fitting that I decided to ignore my own advice and make some hand painted gift tags using scrap canvas.
I could have began by painting the scraps exactly as they were but instead I decided to wash and dry them in order to get them to fray.  I love fringed edges!  Little did I realize the pieces would come out of the dryer like fuzzy curled up caterpillars.  This was not the end of the world and nothing a little wet cloth and hot iron couldn't fix.
Next I decided that I would plop a blob of gesso smack in the middle of each piece.  Knowing that I wanted to use acrylic paint on the tags I thought brightening up the canvas with a smear of white primer would help.  Going for an edgy look I applied the gesso on each scrap while avoiding the edges.   I've got this! I thought to myself as I left them to dry.  When I returned I came back to them curled up at the corners as if they were all straining in a yoga pose.
Using my hands to flatten them back out I shuffled them into a pile.  At this point I was beginning to question my own qualifications to inspire and write about crafts.  Gift tags aren't exactly rocket science people but this was going downhill fast.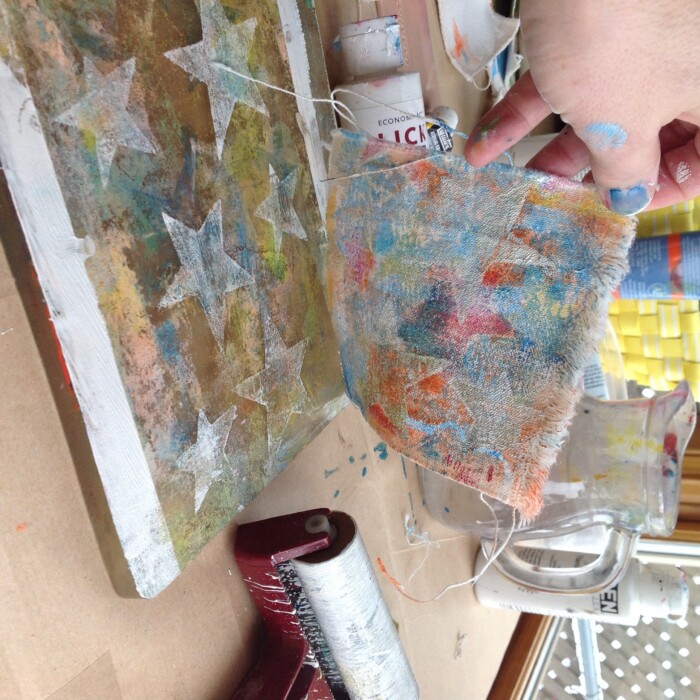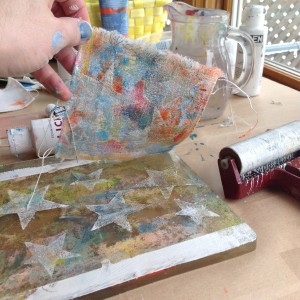 The best part of the project was using my Gelli Arts Gel Printing Plate and stencils.  Folks if you don't know what a Gelli Plate is you have to check them out!  I am not compensated in any way by these guys so you know I am giving it to you straight.  This thing is one of my favorite mixed media tools of the trade.  This is the easiest and best way to make mono prints on fabric or paper.  In the old days artists would make big flat pans of gelatin in order to print from the giggly surface.  The pans would take a million packages of gelatin to make and needed to be stored in the fridge until they molded or broke down.  Fortunately for us, the good folks at Gelli Arts figured out a way to make a cleanable, reusable gelatin-like printing plate.
My Gelli plate has gotten a lot of use but primarily with paper.  Suddenly my big idea about fraying fabric edges was coming back to haunt me.  Strings were flopping in the way every time I was trying to make a print from the plate. At one point I had a long piece tangled up in my brayer and after solving that I ended up with a loose thread stuck to the roller.  You can imagine trying to roll out a nice smooth layer of paint with a jumbled thread in the way.  It was like trying to use a roller with a speed bump.
But I was not to be deterred!  I had tags to make for Pete's sake.  Coupons were burning a hole in my pocket so as the paint dried on my tags I went to the fabric store and bought something I've had my eye on a long time. Deep down in the marrow of my crafty bones I knew that a well placed eyelet was going to save these tags from becoming a project fail.  The time had come to buy an eyelet setter!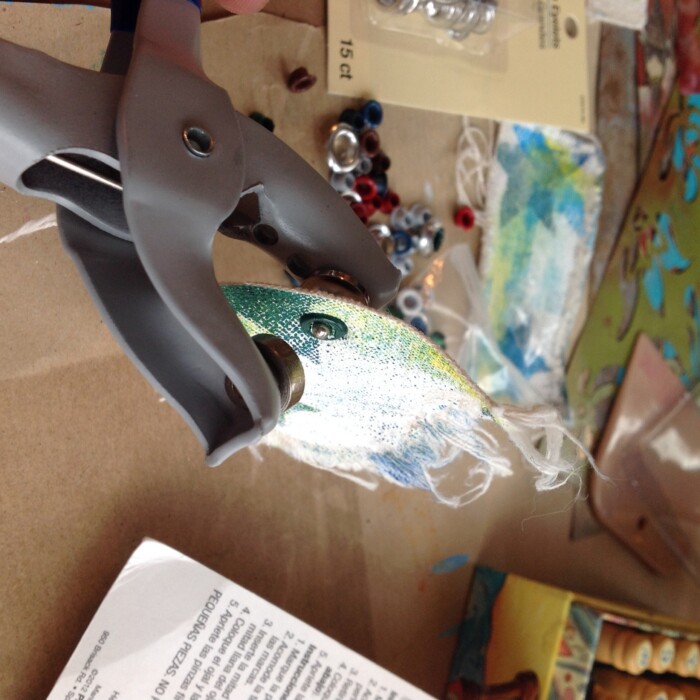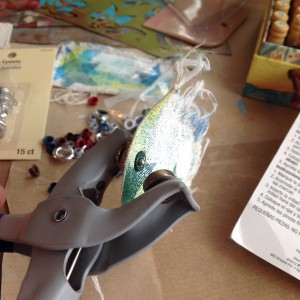 How was I to know that you need an engineering degree to operate one?  I determined this within the first five minutes of getting home and tearing it out of it's package.  I fully admit to my sketchy sewing past but in my own defense I have set a few grommets in my day.  It's also completely fair to say that I wasn't very good at it.  My grommet process required a steel tube, a hammer, a block and a sprinkle of luck to get a round and flat finished product.  I was looking forward to having an actual hand tool which would eliminate the problems that can arise when attempting to smash metal around a hole.
The directions were pretty clear.  There's a deep half of the eyelet and a shallow half of the eyelet. These two halves need to come together with the fabric sandwiched in the middle.  It requires a slight balancing act for setting it up in the plier but then with a mighty squeeze of your fist you should have an eyelet set perfectly in your project.
Except that's not exactly how it worked out for me.  For some reason my eyelets were all the same size.  There were no deep halves nor any shallow halves.  All halves were equal length.  Part of me immediately wondered if there was a manufacturing flaw, that somehow the shallow half guy went on vacation and didn't refill his eyelet hopper before leaving the conveyor belt unattended.  Or maybe this tiny size eyelet has halves that are the same size and the directions are wrong, I thought to myself.
So I did what anybody would do.  I punched a hole in my fabric and then loaded up two deep haves in the pliers and gave them a hearty squeeze.  Voila! It seemed to have worked until I tried to get the tag detached from the plier.  This was not cool.  It was totally stuck on the new tool.  Good thing I have jewelry pliers, I thought to myself as I dug around for my pink-handled round nose pliers.  Within a few seconds small pliers assisted me in freeing the trapped gift tag off of my new eyelet tool.
Next I laid all the eyelet halves out on the table and made sure that I hadn't missed some shallow halves in the pack.  I also wondered that since the eyelets were various fancy colors if maybe the shallow half is actually a shorter silver or neutral color.  I took a full inventory.  Every half of every color was the same depth.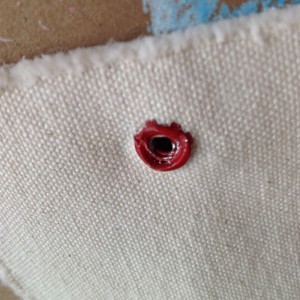 So I loaded two new halves onto my pliers and tried again.  This time I was smart!  I did it on a crappy tag that I didn't really like in case I got another bad outcome.  Sure enough the gift tag was stuck to the tool again.  I began to wrestle it off with my other pliers but this time it didn't want to release.  How is this possible? I wondered.  By the time I got this one liberated from the eyelet setter it looked like it had been run over by heavy machinery.  This cannot be right, I told myself, I must be squeezing the tool way too hard!
At this point most sane people would consult the internet or the tool company's website.  Not me. I soldiered on.  I have some kind of defective logic when things are going wrong. It becomes my mission make absolutely sure that things are going wrong.
Obviously it's no surprise that by taking the same steps for the third time I ended up with the same results.  Finally I gave up and starting texting pictures to Heather while peeling my smashed up disaster off the tool again.  Texting wasn't enough, I had to break down and call her.
"What the hell is wrong with my eyelet setter?" I whined to her.
"What do you mean?" she asked.
"Didn't you see the pictures? I've got a catastrophe on my hands," I reported.
These are the moments Heather gets all business.  I could hear her clicking the screen of her mobile to bring up our text thread.  This was followed by radio silence.
"Hello?" I called out to the silence.
"I'm trying to see what you did here," she answered before bursting out in laughter.
"WHAT?" I asked in panicked desperation.  "What the hell is so funny? My halves are both the same size!  Something is wrong with the halves they put in the package," I insisted.
"You're using two halves with those tiny eyelets?" she questioned.
"What do you mean two halves?  Of course I used two halves, a front and a back side."  I sometimes cannot believe the way in which I have to spell things out to the boss.
At this point Heather isn't even trying to contain her laughter and preserve my dignity.  "Maybe you have a different system than mine but I'm pretty sure that the small ones only needs one half," she explained between gasps for air.
"What do you mean only one half?  What goes on the backside?" I asked incredulously.  The shoe was not dropping.
"Those little eyelets curl down on themselves," she answered, "When you crush them it creates the backside," she assured me.
"So you're saying it's me?" Now it was my turn for silence.  The light bulb had turned on.  Suddenly I realized that I was the grown-up version of a preschooler who is angry at the shape puzzle, smashing the square block against the round hole over and over again.
After our conversation I tried out my new tool using what I  had thought was only one half of an eyelet.  Sure enough, with a gentle squeeze of the handle it set perfectly, both front and back.  It was a magical, humbling moment.  One of those times where the world you used to live in, the one where grommets and eyelets required two pieces to construct, evaporated into a cloud of dust.
And whatever happened to those first tags?  Don't worry. I decided to keep one tag with the mashed-up hardware and customize it for a very special boss who happens to have a December birthday.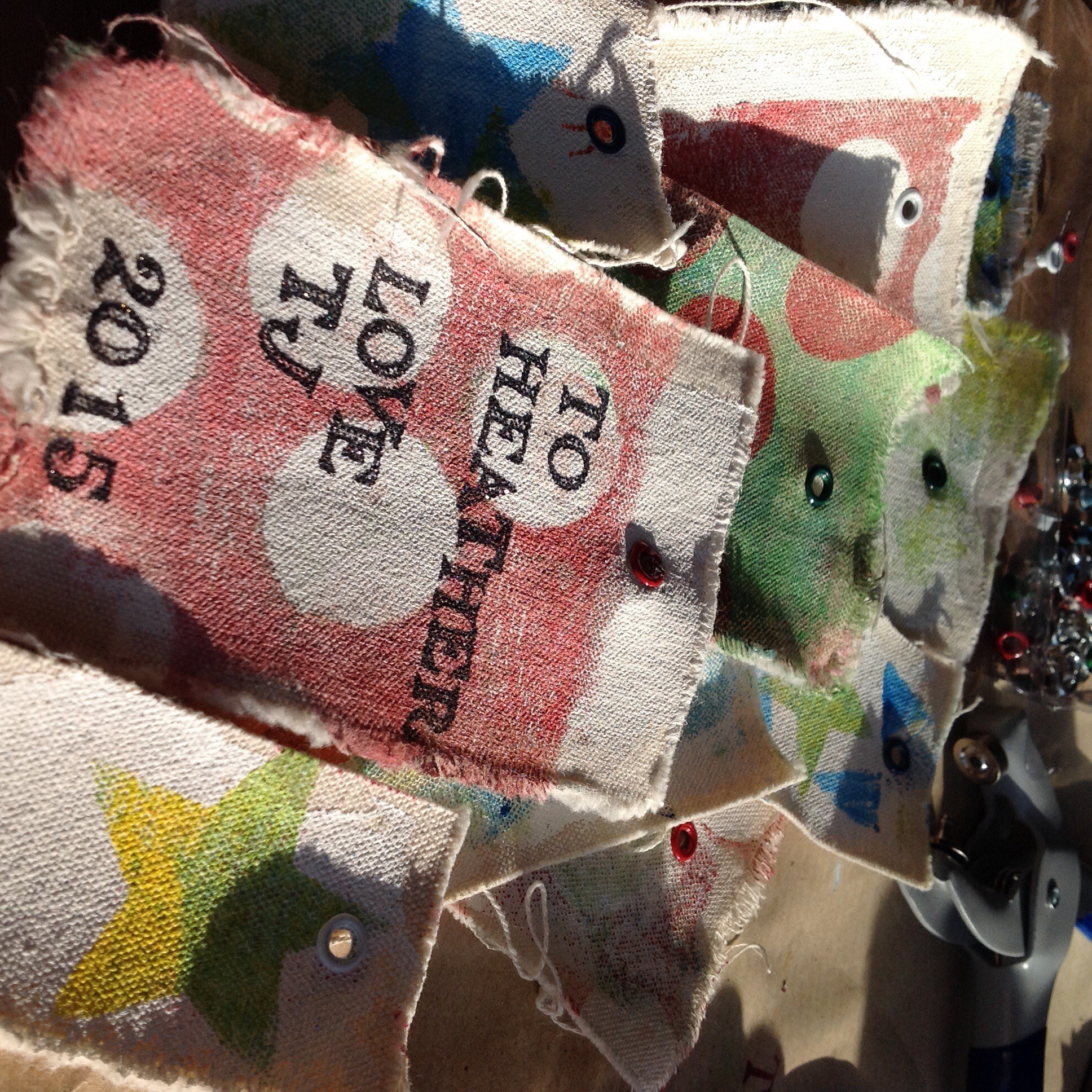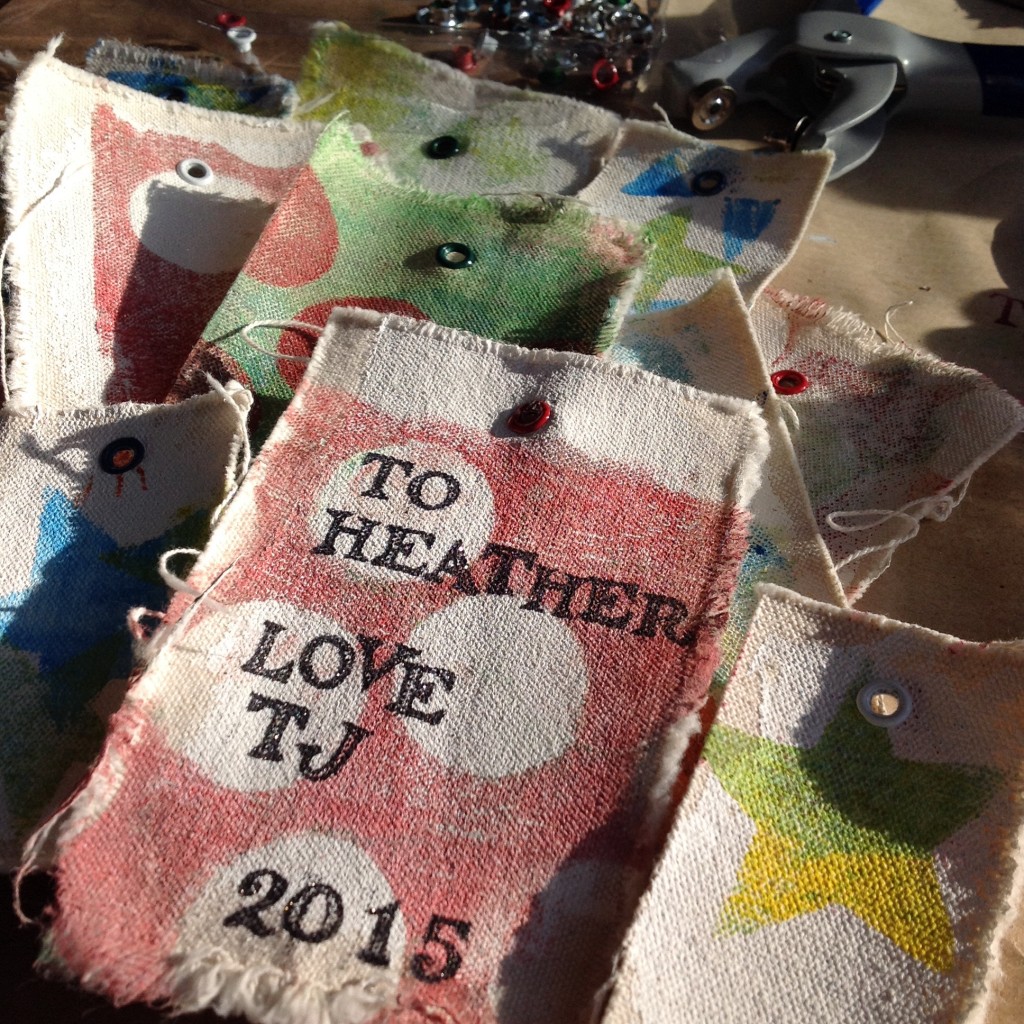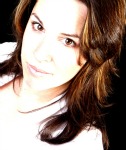 TJ Goerlitz is a mixed media artist who pretends to be a seamstress whenever possible.  Come connect with her on her site, Studio Mailbox, her Facebook page, or in Pinterest.  Join her on the first Friday of every month where she shares her latest sewing tales with the readers of The Sewing Loft.