2014 is all about Building Blocks. You know those basic sewing essentials that help lay the foundation for all your sewing projects.
What is a building block anyway? Well, as per the dictionary:
building blocks |ˈbɪldɪŋ blɑk|noun

a child's toy brick, typically made of wood or plastic.
a basic unit from which something is built up: sounds are the building blocks of language.
Clearly, we are going to focus on the latter.  Let's talk about some of the basics and create our foundation for a successful year of sewing.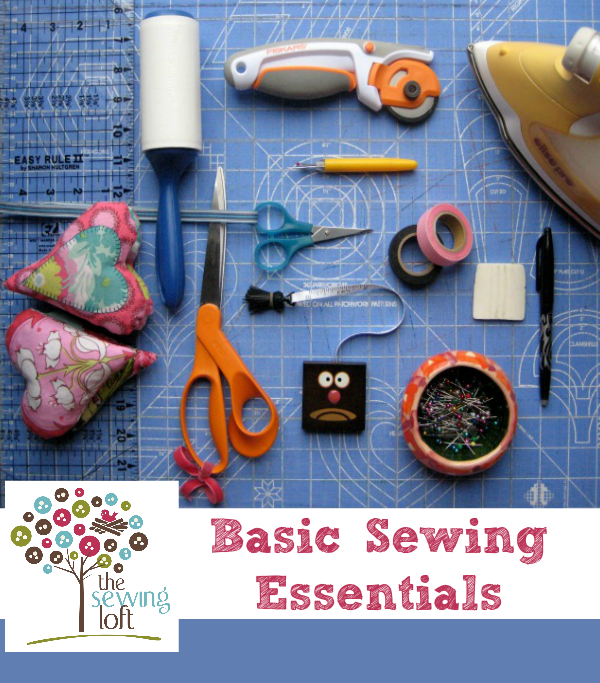 To jump start us off I have put together a list of essential tools for your sewing kit. These are the tools that I use almost everyday.
Basic Sewing Essentials
Cutting Mat: This mat is a keeper in my world.  Not only does it protect my work surface from getting all scratched up but when combined with my rotary cutter it is a pure time saver!
Cutting Tools:  These come in all shapes and sizes.  Some of my favorites include the rotary cutter,

small embroidery scissors

, fabric shears, and appliqué scissors.
Iron/Ironing Board: I consider this to be one of the most important and under-appreciated tools in my workspace.
Lint Roller: This helps to keep both me and my project clean!
Marking Pen/Chalk: Marking pens and chalk are perfect for drawing directly onto your fabric.  Different marking tools are used for each fabric type and application.
Pins/Pincushion/

Sewing Weights

: Pins are essential for keeping fabric pieces in their place.  However, when cutting out larger pieces of fabric, I like to use

sewing weights

.
Quilter's Ruler: A clear ruler used to cut strips, shapes and bias pieces.  This tool also allows you to cut a straight line on multiple layers when combined with your cutting mat and rotary cutter.
Seam Ripper: This is probably the most dreaded tool in your sewing kit but it is important.  Not only is it handy for removing seams but they make quick work of opening up buttonholes.
Tape Measure: Who says these tools need to be ordinary, not me!  My retractable tape measure always makes me smile and these fashion ones suit my fancy!
Washi Tape: What can I say? I love me some washi tape!  I use it on everything from marking my mannequin to keeping small fabric bits in place. You can see more ways I use

washi tape in the sewing room here

.
And a few tools that I think deserve an honorable mention:
hand sewing needles
hem gauge
Now, these are just a few of the many fun things out on the market today but in all fairness, I think they are a must in any workroom.  That is of course in addition to my sewing machine, thread and my most important tool of all- my glasses!
Over the next few week's we will explore some of these tools in further detail to help you create a basket filled with the basic sewing essentials!
What about you, do you have any must-have tools in your toolbox not shared on my list? If so, please leave us a link in the comment section below.

Hello! Are you new to The Sewing Loft? 

If so, I'm glad you stopped by and hope that something has inspired you to keep your needle moving!  Don't miss a single project and subscribe via email HERE! Bonus- free embroidery pattern with newsletter sign up. Another great way to connect with me is via Facebook, Pinterest, Twitter, Google + or Follow along with Bloglovin.  I'm looking forward to getting to know you and creating together!