It's go time on our sewing machine cover pattern sew along and today's goal is measure up and those naked machines covered!
We'll cut out the fabrics for the main body pieces of the sewing machine cover pattern and make the binding trim.
So, let's get to work!
Supplies needed for today's post:
Sewing Machine
8 oz Canvas Drop Cloth or 3/4 yard of medium weight fabric
Scrap Fabrics for binding
Sewing Machine Cover Pattern
Step 1: Measure your sewing machine:
I think the easiest way to do this is to use a large cutting ruler, because the straight ruler will give you a more accurate measurement than a measuring tape, which would mold itself to your machine. If you don't have a ruler, a regular tape measure should do; just try to measure straight lines (like a box around your machine), rather than hugging the curves of your machine as you measure.
Measure the width of your sewing machine, from the furthest part on the left to the outer edge of the wheel on the right. This is measurement A – write it down!
Measure the height of your machine, starting with your ruler on your sewing table and measuring up to the highest point of the machine. (Tip: Keep a spool of thread in the machine, if your spool goes on top, and measure above that as the highest point.) This is measurement B – write it down!
Measure the depth of your sewing machine; usually you can just measure across the base, but be sure to check because if your machine has dials on the front they may extend the depth a bit. This is measurement C – write it down!
Now, let's compare your measurements to the sewing machine cover pattern.
For the pattern, the measurements of the finished cover are as follows:
Length (A) = 16.25 inches (41.275 cm)
Height (B) = 12 inches (30.48 cm)
Depth (C) = 6.75 inches (17.145 cm)
Does your machine fit within those measurements? If so, you're good to go!
If not, that's okay! When we cut our pieces for the front, back, sides, and top of the sewing machine – simply extend your pieces to make them large enough to cover your individual machine. As a tip, the size you measure the pieces to be should be 3/4 inches bigger than the finished measurement you need for your machine cover, to account for seam allowances.
Now, let's get cutting!
Step 2: Cut the main body fabrics
Cutting Instructions:
(2) 13" x 17 " canvas front/back
(2) 7 1/2" x 13" canvas side panels
(2) 17" x 3 3/4" canvas top panels
(1) 7 1/2" x 6" canvas side pocket
(1) 17″ x 6″ canvas back pocket
Cut all fabric pieces to the dimensions listed above, using a self-healing cutting mat, a ruler, and a rotary cutter.
Tip: If you have a serger, run the edges of your canvas pieces through it to avoid any fraying during the construction of your project. I like to stitch with a contrast thread for a nice burst of color.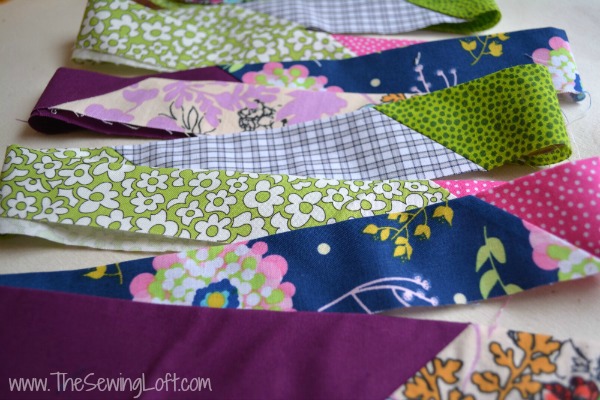 Step 3: Make the Binding
For this project you will need 63" of double-fold binding. You can purchase this at the store if you want, or you can make your own! We've got tutorials right here to make scrap binding, bias binding and straight-grain binding for any project.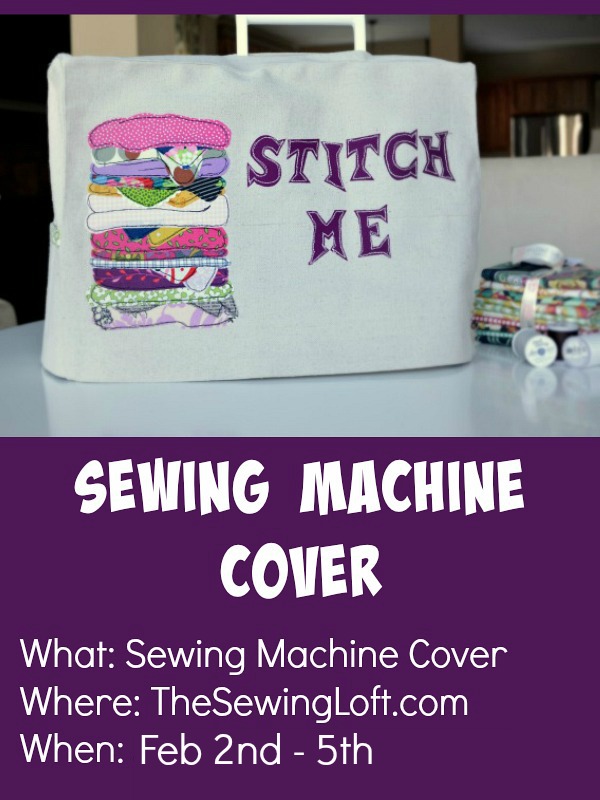 That's it for today! Come back tomorrow when we'll work on the applique design for the front of our sewing machine cover pattern.

ps. It's not too late to sew along with us! You can find all of the previous sewing machine cover instructions here.
Hello! Are you new to The Sewing Loft?

If so, I'm glad you stopped by and hope that something has inspired you to keep your needle moving!  Don't miss a single project and subscribe via email HERE! Bonus- free embroidery pattern with newsletter sign up.  Another great way to connect with me is via Facebook, Pinterest, Twitter, Google+ or Follow along with Bloglovin.  I'm looking forward to getting to know you and creating together!