Are you ready to sew along with me?
Hello, Happy Stitchers! The time has come to discuss a dirty little secret many of us are holding onto: we've got naked sewing machines! Are you guilty of this one, too? Don't be embarrassed; it's a wide-spread problem in our community!
Many of us probably bought a sewing machine that didn't come with a case or cover. Maybe you bought a hard case, but do you use it every day, or only when you travel with your machine? Are you letting your machine remain uncovered on your sewing table, or possibly still using a boring plastic cover that came in the box?
It's time for this epidemic of naked sewing machines to come to an end. Do we need an intervention? Maybe not, but we definitely need a sew-along!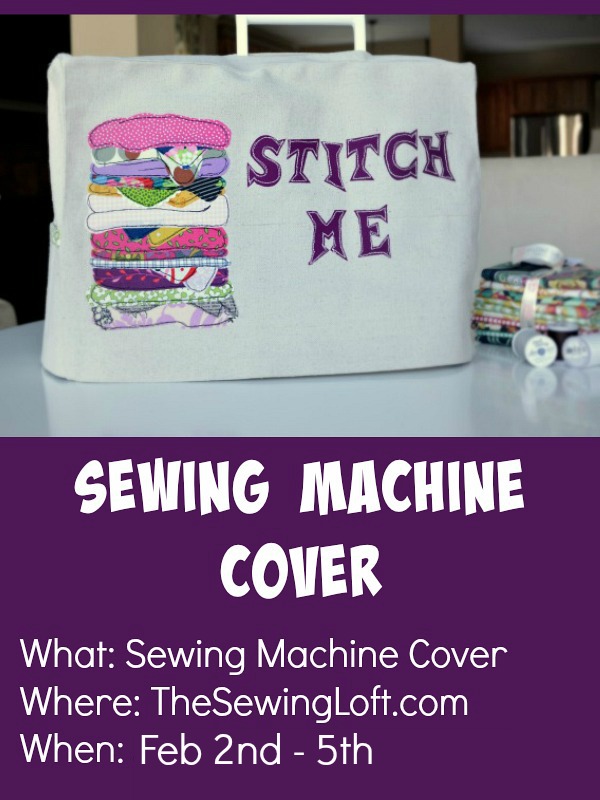 I've put together a great pattern for a sewing machine cover. This protective cover will keep your machine clean, which is essential if you want it to keep working for you, project after project. If you leave your machine exposed, little bits of dust, thread, pet hair, and debris can get into the gears, and over time it will break as a result. Keeping your machine covered is one easy way to prolong its life, and sewing a cover like this one is fun to boot!
So, who's with me?
Sewing Machine Cover Sew Along
Here are the details:
What: A sewing machine cover sew-along, featuring a FREE pattern download from The Sewing Loft
When: Next week! February 2nd  – February 6th
Where: Right here – The Sewing Loft Blog
Who: Anyone is welcome to play along! If you're comfortable with basic sewing techniques and applique, then this project is for you!
If you'd like to participate, it's time to gather your supplies and plan your sewing time. The sew-along will run each day next week, giving you the project piece by piece so you can space out your sewing and participate along with us, or wait until the end and do everything all at once.
Now it's time to dive through your stash or head to the local fabric shop and gather your supplies. Here's what you'll need for the sewing machine cover sew along.
Supplies/tools:
Sewing Machine
Free Motion Transparent Foot
8 oz Canvas Drop Cloth or 3/4 yard of medium weight fabric*
Heat Erasing Pen
6 1/2" Clear Quilter's Ruler
Basic Sewing Supplies
Coordinating thread
Scrap Fabrics
63" of binding
*For those of you interested in using a fun printed quilter's cotton, the fabric consumption is based on a 44″ width. 
Please note: We are sewing a machine cover with finished dimensions of approximately 11 1/2 inches high by 16.5 inches wide by 6 1/2 inches deep. Measure your machine now! If it doesn't fit within these dimensions, you will have to adjust the size you cut your pattern pieces in the first step on Monday.
 I hope you'll consider covering up that naked machine sew along with us! Leave a note in the comments if you plan to play, and if you have any questions.
Sew Along Line Up
Day 1: Announcement & Material List
Day 2: Cutting Out
Day 3: Applique Template
Day 4: Stitching Together
Day 5: Details

Hello! Are you new to The Sewing Loft?

If so, I'm glad you stopped by and hope that something has inspired you to keep your needle moving!  Don't miss a single project and subscribe via email HERE! Bonus- free embroidery pattern with newsletter sign up.  Another great way to connect with me is via Facebook, Pinterest, Twitter, Google+ or Follow along with Bloglovin.  I'm looking forward to getting to know you and creating together!