Many of us share a work surface to sew on. It could be the dining room table, a small desk or even the kitchen counter. (don't judge, I've done it!)
I've tried a bunch of different things to prevent scratching the surface, including a bath towel. This helped prevent scratching but not reduce the noise or the shaking. To help solve my issue, bust through my scrap bucket and stitch something pretty, I made a sewing machine mat. Actually, you could also call it a sewing machine organizer since it has a few pockets to hold goodies that I tend to leave in the other room when cutting.
 Sewing Machine Mat
 This project is for all levels.
Skill Level- 1 Button
Some of the materials are completely unconventional but trust me, they make all the difference!
Supplies:
Shelf gripper paper
Canvas or painter's drop cloth
Tissue paper
100″ of Scrap Binding
Tools:
Basic Instructions:
Cut canvas & shelf gripper 20″W x 18″H. Cut canvas 20″W x 7″H for pocket.
Finish the top edge of pocket with the scrap binding.
Layer pocket along the bottom edge of canvas mat cover and baste in place at sides.
Create a sandwich with tissue paper on the bottom, canvas on top and the gripper in the center. Basically, we want to cover the gripper with paper to make sewing a breeze.
Reduce stitch size slightly and straight stitch all around to join the three layers together. Determine and mark your pocket sizes with a heat erasing pen. Stitch in place.
Adjust your machine set up to a small zig zag. Use this stitch to create reinforcement at the intersection of each stitch line and top pocket edge.
Square up and trim your mat to size, attach binding and tear away the tissue paper.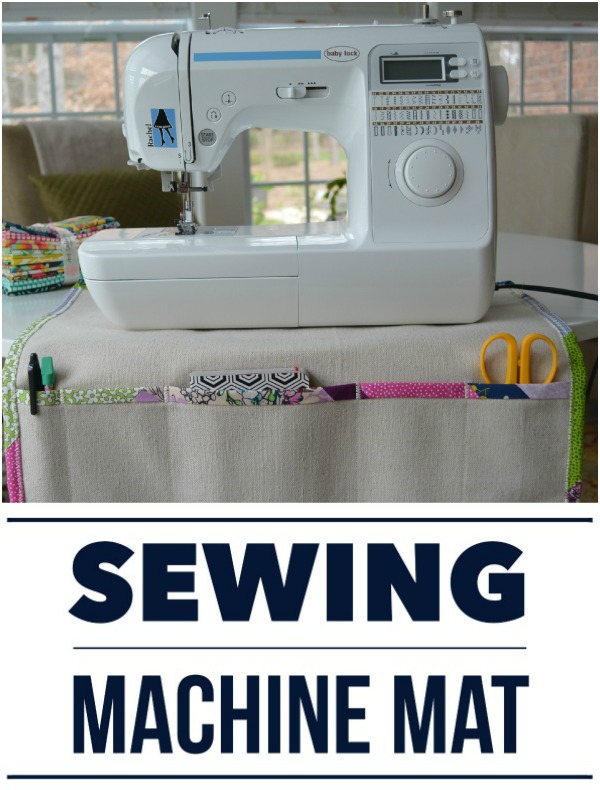 After you have your sewing machine mat stitched up, I'd love to hear if you've ever stitched with an unconventional material. Leave me a note in the comment section below.

Hello! Are you new to The Sewing Loft?

If so, I'm glad you stopped by and hope that something has inspired you to keep your needle moving!  Don't miss a single project and subscribe via email HERE! Bonus- free embroidery pattern with newsletter sign up. Another great way to connect with me is via Facebook, Pinterest, Twitter, Google+ or Follow along with Bloglovin.  I'm looking forward to getting to know you and creating together!