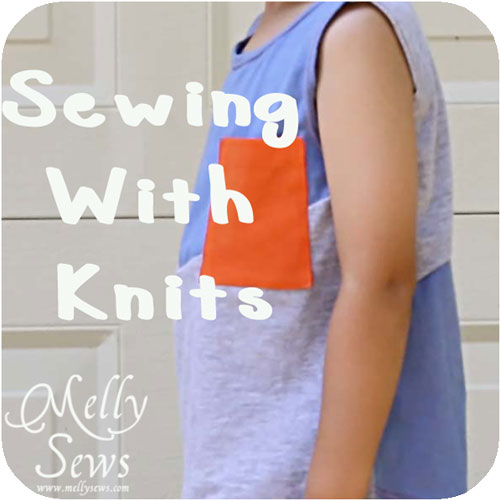 Hello Sewing Loft Readers! Today I'm answering your questions about sewing with knits. Forgive me for paraphrasing some of your comments, but hopefully this way everyone gets the info in an easy to follow format.
Q: What do I do about my knits curling on the edges?
A: Knits like jersey definitely tend to do this, and especially when they are lightweight: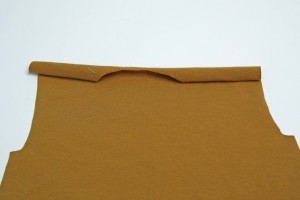 What works for me is spray starch – I use Faultless heavy spray and spray the heck out of my edges, then iron them. The starch adds just enough body to keep the edges from curling too much, and it washes out.
Q: My machine tries to eat my knits – what do I do?
A: First, check your needle (see last week's post). It seems counterintuitive – if my needle is shoving my knit down through the throat plate, shouldn't I use a sharper needle? NO! Make sure to use a ball point or jersey needle – it is made to slide between the stretchy threads instead of catching on them and shoving. You may also need to change to a smaller size; very fine knits need thinner needles.
Next, tissue paper can be your best friend here. Let me show you. This is some lightweight rayon jersey: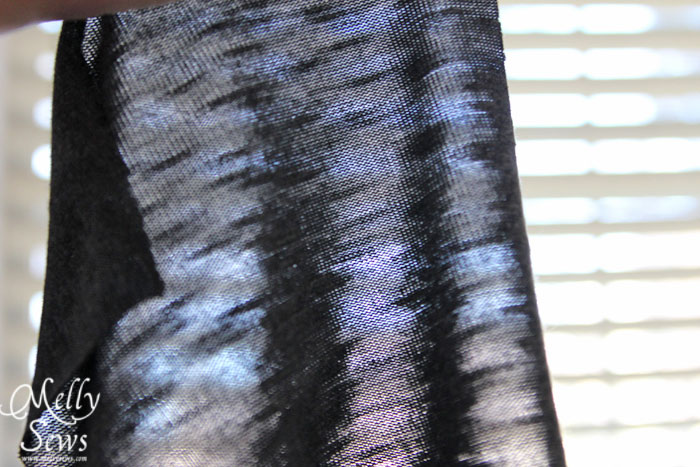 To sew this without my machine eating it I used a size 70 jersey needle, and I placed a piece of tissue paper under it.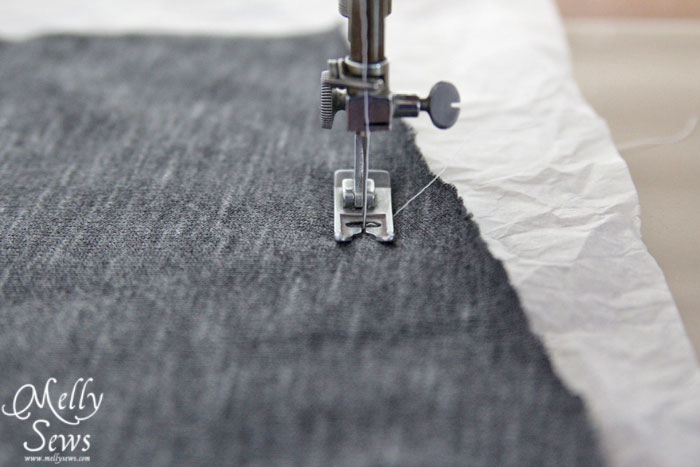 The tissue paper helps keep your needle from pushing the fabric down through the hole in your throat plate. When you're done, you tear it off the back. Unfortunately, this can leave small pieces of tissue paper behind. A tweezer is helpful here. Or you can try the neck trick.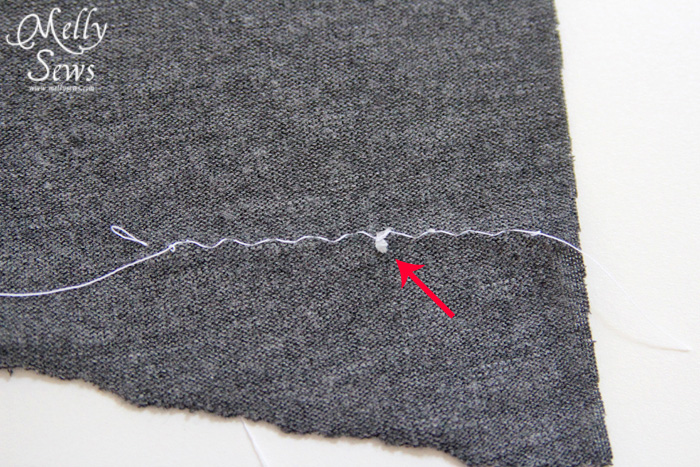 Q: What do I do when I want to embroider on my t-shirt?
This will work both for embroidering and for knits when you don't want to pick tissue paper (or tear away stabilizer) out of your stitches. Pellon has a great new product called Stick n' Washaway. I used it in this project for embroidering some t-shirts – my kids drew on it with washable markers and I sewed over their drawings.
It looks and feels kind of like interfacing with a sticky backing that you peel off.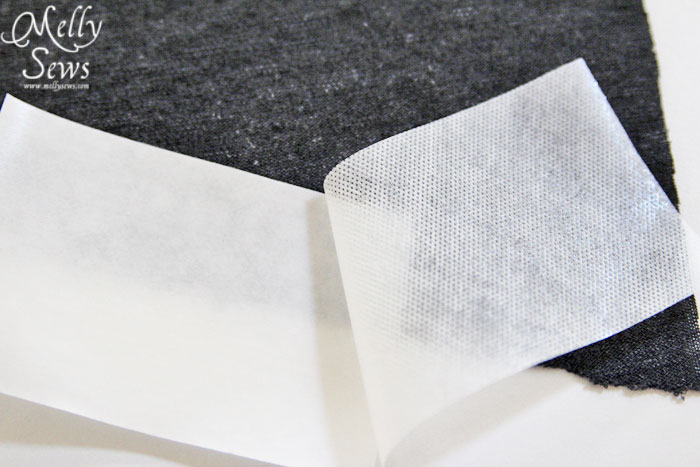 Then you stick it to your work and sew right through it.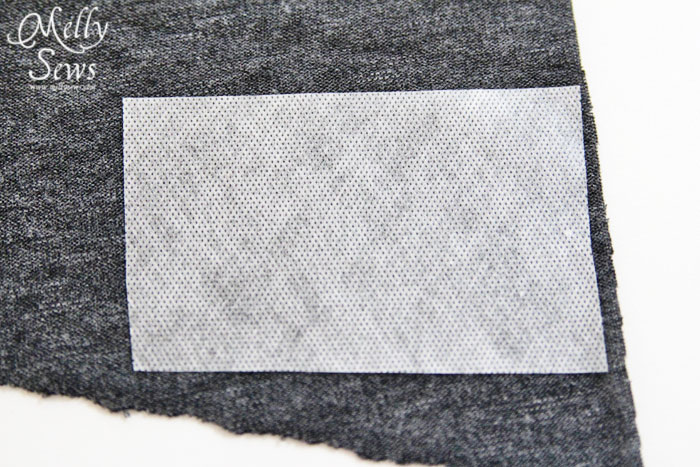 I used it on the wrong side of my fabric for this example, but in the other project I did I stuck it right on the front (right side). The great part about this stuff is that after you're done sewing, you just throw the project in the wash, and when you get it out it's gone, like it was never there.
This is a brand new Pellon product, so it may be a little hard to find at first. Joann just (like as of Feb 24) started carrying this in 8.5 x 11″ packages; if those do well maybe they'll start carrying it to buy by the yard. Otherwise you can ask your local fabric store to order it; they can get it in 10 yard bolts. If you want 10 yards of it, you can also order your own big bolt through Amazon.
Q: What size zig-zag do you use?
A: Well, it depends on how much stretch I need. My default is to go to the longest stitch length and narrowest zig-zag my machine will do (see above) this looks almost like a straight stitch. But it's not the stretchiest of zig-zags, so I use it for side seams and things like hems that don't have to be too stretchy. For a high stress area like a neckline, I'll use a slightly wider zig-zag (mid-range on my machine) and a shorter stitch length (around 10 stitches per inch). This is much stretchier.
So, I hope that helps you and you conquer your fear of knits – I'd say at least half my fabric stash is now knit! Thanks for having me.
[ts_fab]