Welcome back to round 2 of our series on selling your handmade goods at a craft show!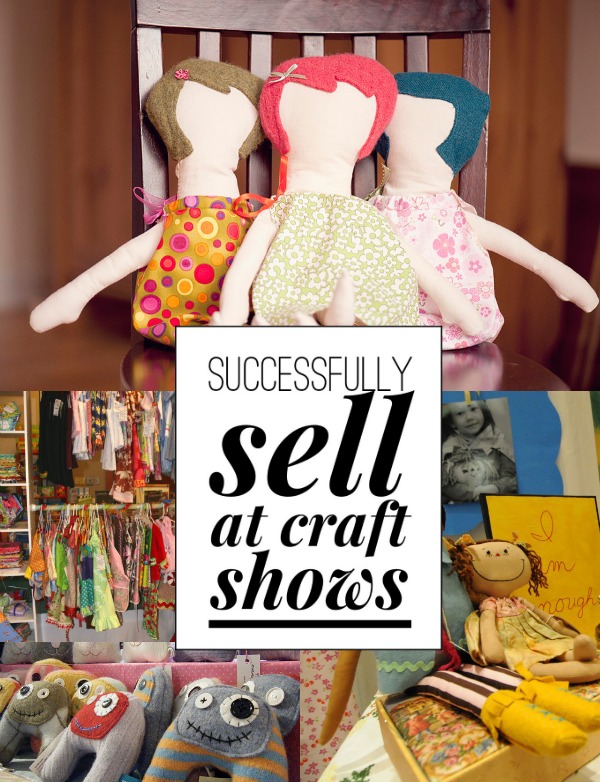 Today we're going to talk about setting up the products you're going to sell.
Tips for Selling at Craft Shows, Part 2: Products & Pricing

MY LATEST VIDEOS
Step 1: Prepare your Inventory
It's time to stock up! For any craft fair, the goal is to have enough inventory to fill your booth, and then some. How many items that is will depend on a lot of factors, including:
the size of your products (how much physical space each one takes up)
the size of your booth space
A good rule of thumb is to focus on making as much as you can (and as much as you can afford to make in terms of the cost of each product), and go from there. There is no such thing as "too many products" for a craft show – you can always keep the extra inventory boxed up out of sight, and then replenish your stock when items sell. And if you feel like you haven't made enough products on the day of the show, you can always add decorative items or larger display pieces to your booth to take up more space on the day of the craft show. (More on that next time!)
Tip: Practice your booth set-up at home, to make sure you can fit everything in the space you're going to have. That way you will also have an idea if your booth looks too crowded or too sparse, and you can adjust your inventory accordingly.
Step 2: Set your Prices
Speaking of profit – before you vend at your first craft fair, you've got to figure out your pricing. A general rule of thumb:
Materials (the supplies that went into making your thing)
+ Labor (paying yourself an hourly wage)
+ Overhead (other supplies and expenses you have to pay for in order to make your thing)
= Cost.
If you sell your item for cost, then you're not making any profit. So add to that number an amount that makes you feel comfortable – that amount is your profit. Some people will double their cost, or triple it. Others will add a standard amount; say $10 per item, as profit. It's entirely up to you!
It's okay to add a different profit margin to each type of product you sell, too – assign a higher profit to items that take more time or are more complicated, and a lower profit to items that are easy and fast.
Here are some examples: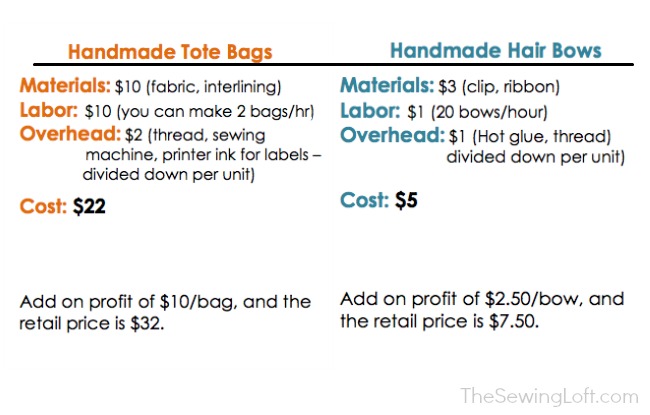 If you really have NO idea where to start, then do a basic Internet search for similar handmade items and set your pricing somewhere in the range of what you find that makes you feel confident and happy. The point is to sell the items and make money, not just get back the cost of what you put into them. And beyond that, just set a price that you feel is valuable for the product you're making, and go for it!
Hang tight for the next post, where we'll cover how to set up your booth.
Want More Craft Show Inventory Tips?
Grab my Craft Show Success 30 page ebook with over 120 actionable tips to help you prepare, sell and make money at craft shows. It includes the world of both Juried and Non-Juried shows, the application process and even special downloadable templates.

Hello! Are you new to The Sewing Loft?

If so, I'm glad you stopped by and hope that something has inspired you to keep your needle moving!  Don't miss a single project and subscribe via email HERE! Bonus- free embroidery pattern with newsletter sign up.  Another great way to connect with me is via Facebook, Pinterest, Twitter, Google+ or Follow along with Bloglovin.  I'm looking forward to getting to know you and creating together!