Are you an sewing addict?  Do you start to feel withdrawal if you've not sewn for a few days?  Do you collect sewing patterns like there is to be a zombie apocalypse and you'll need them to save the world?  well don't worry, you are not alone.  You are a member of a large and often quietly covert club of people who love to sew, are fascinated by all-things-sewing and just can't live a normal life without it.  That gentle buzz of the sewing machine, the rhythmic movement of the needle – it calms us, feeds our sewing addiction.
Sometimes that's not enough.  We might be away from home, waiting for a bus, eating lunch at work, or the sewing machine might be away getting her service.  Now what?  If we can't actually sew, at least we can read about sewing, look at sewing pictures, find and save sewing patterns and projects, and be inspired to sew as soon as we can.  For any 10 minutes where I have nothing to do right now, I jump onto Pinterest.
Visit The Sewing Loft's profile on Pinterest.
Pinterest is great for those who love to sew

If you love to sew, you'll love Pinterest.  It's a visual bookmarking tool where you can save your favorite content in a set of 'boards' so that you can find them easily later by just looking at pictures. So if you love to collect sewing patterns and tutorials, or are looking for a way to save your favorite sewing tips, then Pinterest is for you!
Got plans to sew some more skirts this year?  Then you can also use Pinterest as a visual search engine to find exactly the right skirt patterns for you.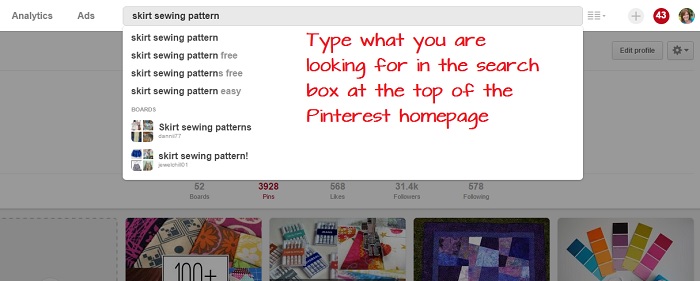 Like magic, up comes a huge list of skirt sewing patterns and it's easy to find one (or more) that you like because you can see the pictures right away.  So much better than using a regular search engine where you have to visit each page to see what the skirt looks like.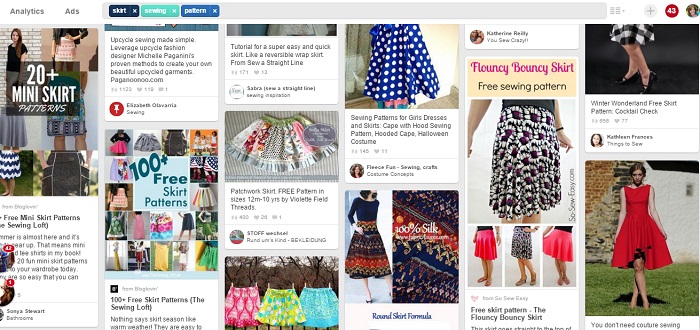 Did you know that you can also search by boards?  It's not very obvious but there is a little grey bar just under the search buttons that says All Pins, Your Pins, Pinners and Boards.  Click on 'Boards' and you'll see boards where other people have collected their own favorite skirt sewing patterns.  Now you can find a board you like and 'follow' it, or browse down through their content to Re-Pin any skirts you like to your own boards and save them for later.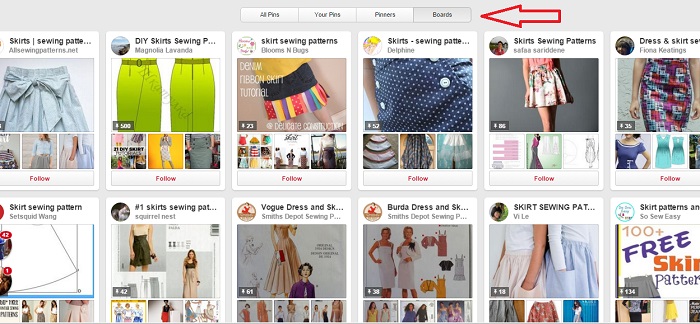 Give it a try, Pinterest is awesome for sewing pins, both patterns and projects and all sorts of sewing tips and tutorials.
The Sewing Loft on Pinterest

We all got really busy over the holiday period and my own Pinterest took a back seat to all the preparations for the holidays.  I'm so pleased that I was able to find time to give it a Spring clean and a brighten up after it had been a bit neglected and I'm back into pinning all the best sewing content with new energy.  I've even set up some new boards that I think you'll like and am gradually adding in new content to fill them up and make them really useful resources for you.
Here's my new look.  What do you think?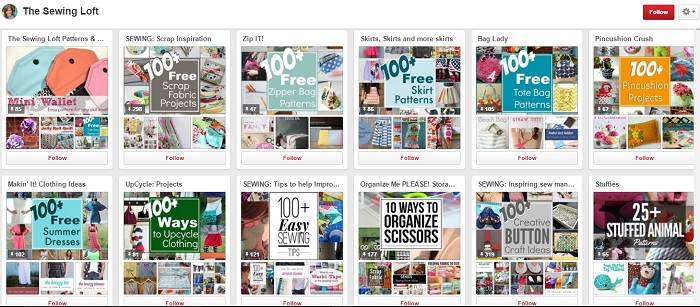 I'd be thrilled if you would follow me.  Go to the Sewing Loft Pinterest profile HERE, and then click on the big red FOLLOW button up at the top right.  If you are only interested in a single style of sewing, just clothes perhaps, then you can also scroll down through all of the boards and just follow the ones you want.  But using the FOLLOW button at the top is the best way to make sure you don't miss anything, and any new boards that I set up too.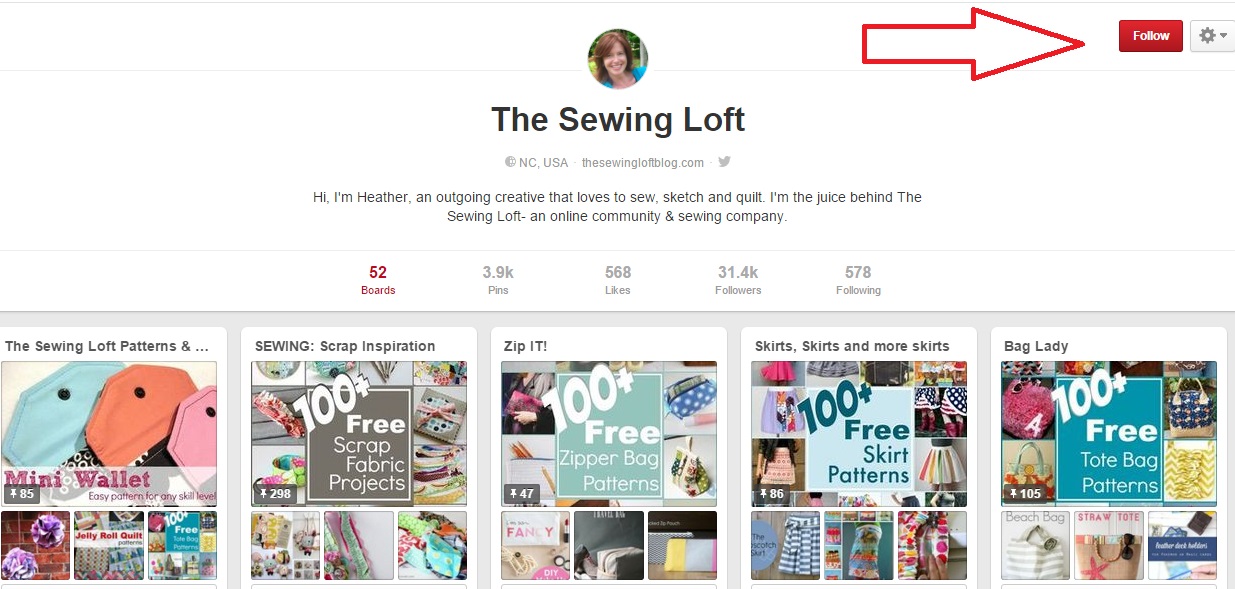 Talking about new boards…

I set up a couple of new ones this month.  A general Quilting Patterns, Tips and Tutorials and another for Learning to Sew, filled with easy patterns and tips for those just getting started in sewing.  So if you have followed some of my boards in the past, do hop on over and follow these new ones as well.  These boards are just starting out, but I'm adding new content all the time.

To make the Sewing Loft Pinterest boards even better, tell me in the comments the sort of boards and content that YOU want to see and I'll try to create the perfect Pinterest venue for everyone.  Thanks again for following along.

Hello! Are you new here?

Do you want to learn more about sewing? If so, be sure to sign up for our newsletter HERE and never miss a stitch! Daily Sewing Tips, Everyday Projects and Fantastic Inspiration delivered straight to your mailbox!

Bonus– free download with newsletter sign up.

Feel free to connect with me on Facebook, Pinterest, or Instagram.  I look forward to getting to know you and stitching up a storm!