Decorative tea towels are so simple to make, great for gift-giving, and easy to make in batches for little to no cost. Just by adding a simple applique design like this love applique, you can change a plain store-bought towel to a special gift. 

Valentine's Day Appliqué
This project is for stitchers of all levels. 
Skill Level- 1 Button
Materials:
Tea Towel
fabric scraps
double-sided fusible
ribbon or lace trim
Tools:
Valentine's Day Applique Template 
**Since I know that many of you like to print out a hard copy of the article to use as a reference while sewing, I have created an optional PDF that's optimized for printing and ad-free. Find more here. The blog post and video are totally free to read, print, and sew! The PDF tutorial & download for $2 is totally optional.
Love Applique Details
Basic Instructions:
To achieve the clean finished double layer of lace trim, I cut lace 1″ longer than the width of my towel.  Then, position the right side of the top lace to the wrong side of the bottom lace layer.  Straight stitch along the edge, turn and press.  This will give you two layers of lace with a clean-finished top edge.
Position and stitch lace in place with a straight machine stitch.  Be sure to fold back the lace at the start and stop of trim placement for a clean finish.
Stitch and press your fabric scraps together to create one large piece of patchwork fabric using this method. Trace your printed love appliqué design in the reverse or mirror image, onto your double-sided fusible. Carefully cut out appliqué.
Position and iron your Valentine's Day Appliqué in place according to the fusible instructions.  With contrast thread, stitch all around the edge of appliqué with a decorative stitch.  I used the blanket stitch for this project.
Apply a fun button or trim detail to the center of the heart with the button lockstitch on your machine.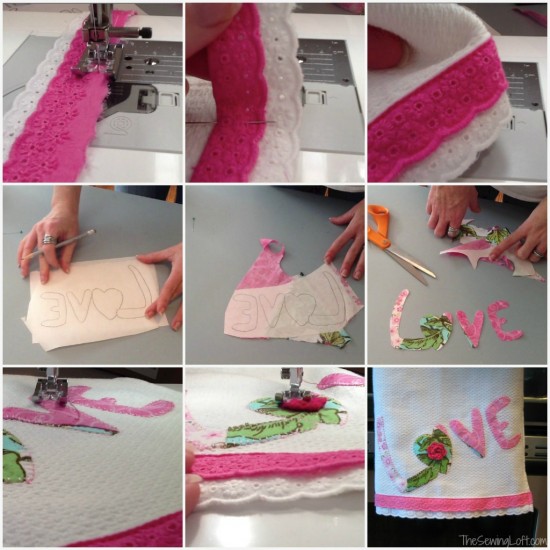 Since these towels are so simple to make, I stitched up a batch and sent them out as gifts.  Fingers crossed Mom is not peeking because one is headed her way!  I hope she likes it.
Join me and the rest of the Cool2Craft team Monday, January 21, 2013, for more fun Valentine's Day-inspired projects.  I will be sharing additional tips and easy tricks for this easy Valentine's Day Appliqué towel.