Lady A and her friends plan on trick or treating this year as super heroes.  They have each picked out someone fun to portray and purchased or made costumes.  When we went to the local party store to check out the costumes, the Wonder Woman Costume was going to ring up to the tune of $50 buckaroos.  It was totally cheesy and way to sexy for my 13-year-old.  It was time to put my sewing skills to the test!
Wonder Woman Costume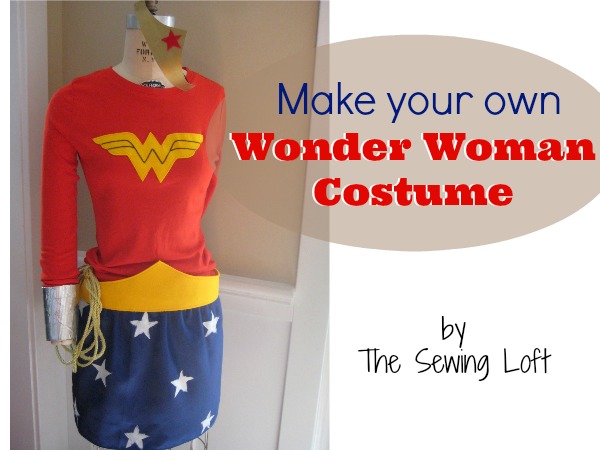 This project is for all levels.
Skill Level- 1 Button
The process was pretty easy and since most of the supplies were already on hand the total cost only – $14.00. Let me break it down.
Supplies:
long sleeve red tee                  Cost: $11.oo on sale at Target
blue satin fabric                                $0  grabbed from my stash
1″ elastic                                          $0 it was left over from my simple skirt project
1/4″ elastic                                       $0  on hand
2 empty toilet paper rolls                   $0  reclaimed from recycle bin
gold felt                                             $0 left over from a past project
white & gold paint                            $0 pulled from kids craft closet
a few feet of yellow rope                  $0 pulled from garage
silver duct tape                                  $0 had on hand
red duct tape                                    $3.79 Wamart
poster board                                     $0 reclaimed old project
sharpie marker                                  $0 in drawer
                                                                  Total Cost: under $14.oo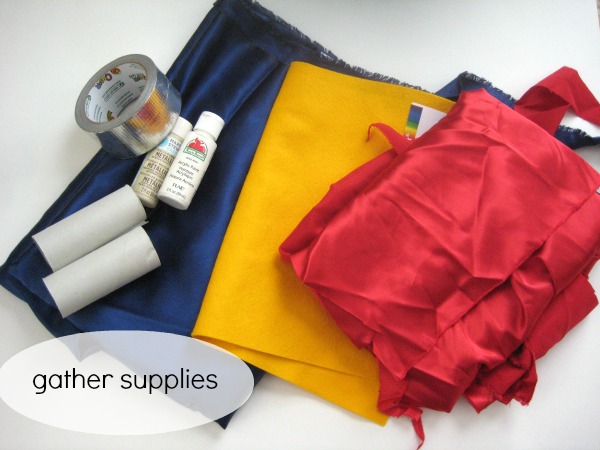 Tools:
sewing machine
pins
scissors
paint brush
ruler
baby hem presser foot
iron and ironing board
Basic Skirt Instructions:
Prep blue satin fabric by painting white stars on it.  I created and printed a star shape using clip art in word.  I know, totally random but I wanted them to all look the same – ish! Trace around them and paint.  Totally easy!
To create the skirt, I basically used the

simple skirt tutorial 

 for the pattern and just made the following adjustments:  added some fullness to the width and added 1 1/2″ to the length.
Using my baby hem presser foot, I put a quick hem along the bottom edge.  This was super quick and I LOVE the way it turned out!
Fold fabric matching right sides and straight stitch from waist to hem, this will form a tube. Press seam open.
Fold over and press the waistline 1 1/2″ towards the wrong side of skirt.  Straight stitch all around leaving a 1″ opening.  Tunnel elastic through and stitch together.  Close opening.
Headband Instructions:
Cut shape from card stock and paint gold.  Glue red star to the center.  (Headband measures 11″ long x 3″ tall at center.)
Measure around your head and cut elastic to fit.  Stitch elastic in place along each side.
Shirt Instructions:
Cut out Wonder Woman symbol from gold/yellow felt.  Then draw with black marker the outlines.
Position and straight stitch in place. Lady A liked the shirt so, we used large basting stitch for easy removal.
Belt Instructions: 
Measure your waist and create the same shape as the headband from gold/yellow felt. I used 2 layers.
Stitch top and bottom together with matching thread.
Add velcro closure at back.
* My felt was not long enough and needed to be pieced together at side seams.
Add rope and you are good to go.
Wrist Bands:
Cut toilet paper rolls down the length and cover in silver duct tape.
Boot Instructions:
We are still working on these but they will be made from poster board and red duck tape in a shin guard style. Will add a few pictures once complete.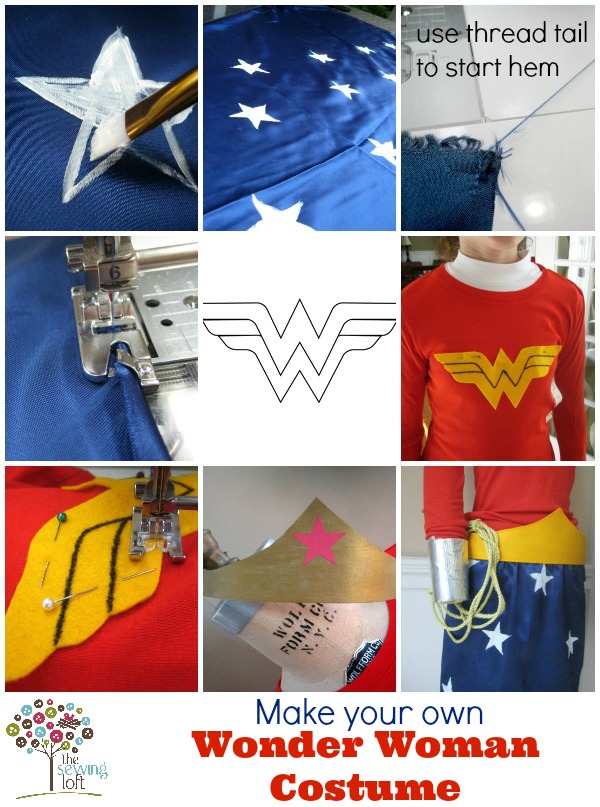 Lady A is SUPER excited with the way that it her costume turned out.  I can not wait to see her dressed with full hair and some make up next week!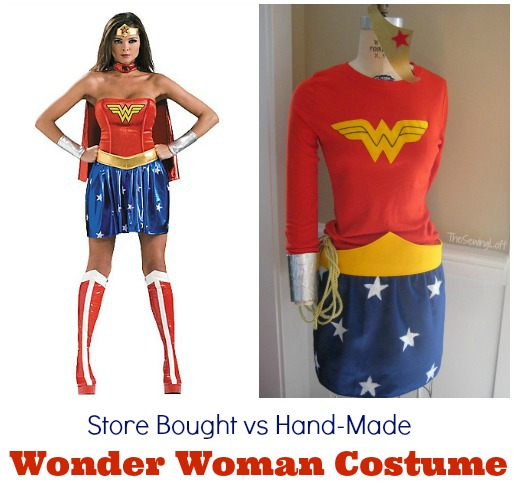 What do you think? How did I do?  Plus, I would love to know…. is your Halloween handmade or store-bought?  I would love to hear all about it!

Hello! Are you new to The Sewing Loft?

If so, I'm glad you stopped by and hope that something has inspired you to keep your needle moving!  Don't miss a single project and subscribe via email HERE! Bonus- free embroidery pattern with newsletter sign up.

Another great way to connect with me is via Facebook, Pinterest, Twitter, Google + or Follow my blog with Bloglovin.  I'm looking forward to getting to know you and creating together!