I think it's fair to say that after the sewing summit I'm hooked on swapping!  So, I thought it would be fun if we held a little sweet swap here on The Sewing Loft.  I know, it's a crazy time of year but I think that it would be nice to receive a sweet gift in the mail.
Sweet Swap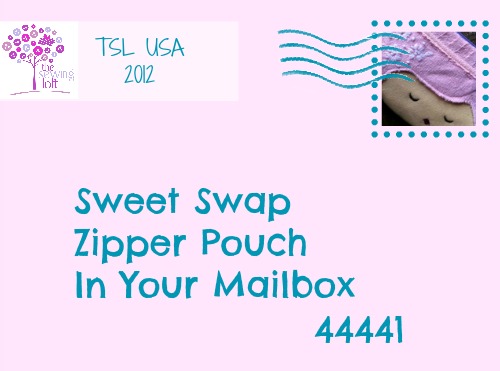 To keep things simple, I am going to have you each fill out this basic form.  The swap will work just like a standard pen pal.  Silly Sarah will exchange with Nancy Needles and vice versa.
Ground rules:
Fill out this attached form. (sorry, sign up is now closed.)
Swap must be a zippered bag.  This bag can be anything that YOU made and displays your creative point of view.  Please take pride in your work and think about how the person receiving this special package will feel when opening.
Sign up is from now until November 12th, 2012.  I will close out the swap at the end of the day and have everyone paired up for Wednesday the 14th.  Let's make this a quick swap and have all bags post marked by December 1st.
A few important things to keep in mind:
Everyone's skill level is different.  Put your best effort forward and expect the same in return.
It is very important that you not only create a pouch but that you mail it on time.  There is nothing worse than waiting for something to arrive and being greeted by an empty mail box each day. (trust me, I have witnessed this many times with my girls.)
Please take pictures along the way.  I will create a flickr group for all to see.
Above all have fun!!
Did you see my little stamp? Well, if you are clever, you will spy a new pattern on the way.  That's right, there is something fun for all.  As a special thank you from me, everyone who sends a pouch will receive a copy of my new Sweet Child Bag.  I'm excited to release this pattern and think it is perfect for the holiday season.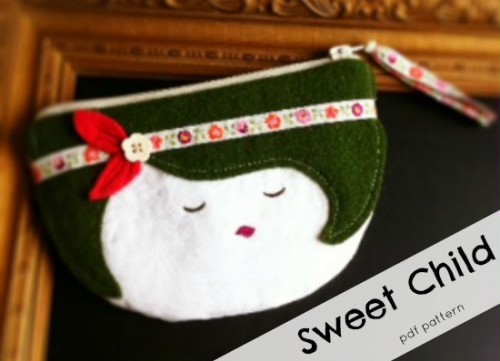 And on a personal note:
To all of you who have sent notes, posted on my wall and had my family in their thoughts/prayers during this crazy storm, I thank you! I am deeply touched by your kind words and thoughtful gestures.  I hope that all have weathered the storm safely and are just in recovery mode.   Rebuilding takes time but it can be done.  My folks keep saying "It's alright, things can be fixed."  These words are so true and I am thankful that it is just "things" that need to be fixed.