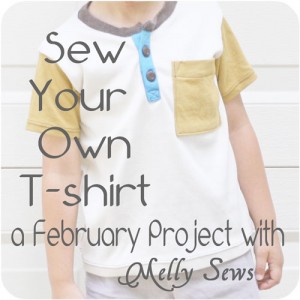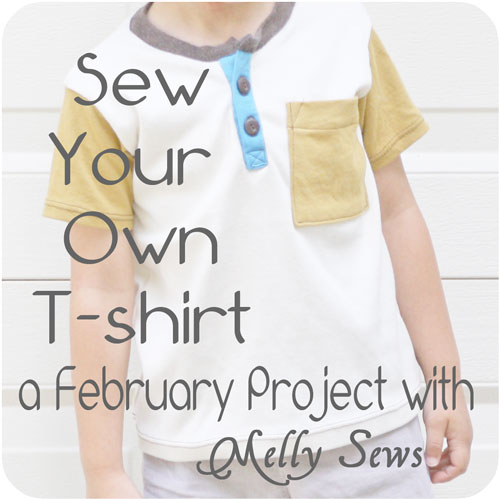 Hey y'all, I'm back to show you how to sew your own t-shirt, and how to make variations to a basic t-shirt pattern to customize it.
First: how to sew a t-shirt. I wrote a tutorial about that here. It's super easy; once you get the hang of this you can knock these out in 30 minutes or less.
Next we're going to talk about how to modify a basic t-shirt for raglan sleeves. Raglan sleeves are the sleeves that go all the way up to the neckline, as seen below.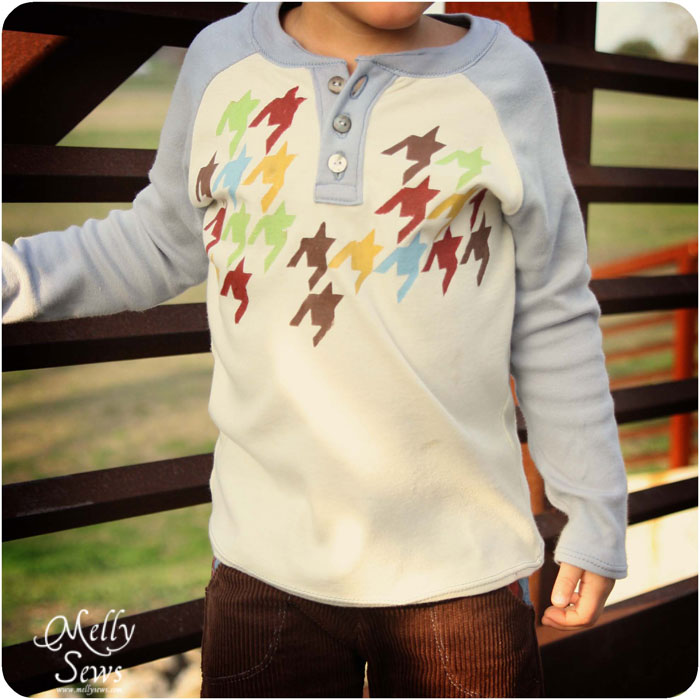 So, start with a copy of your basic t-shirt pattern. Draw a line from the neckline to the armpit, as shown below. Do this on both the front and back pieces.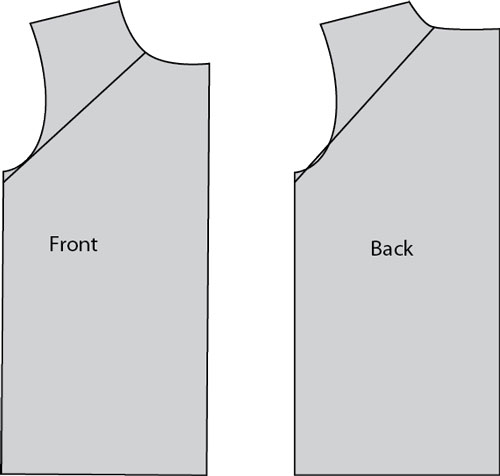 Then I actually sew through the paper to attach the pattern at the shoulder. Lay these out under your paper and trace as show below to make your raglan sleeve.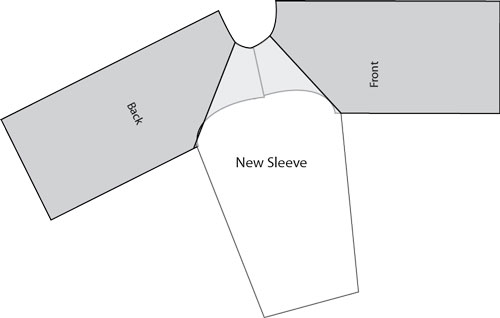 Add seam allowances to the shoulder edges of your shirt front and back pieces and then cut on the seam allowance for your front and back pattern pieces.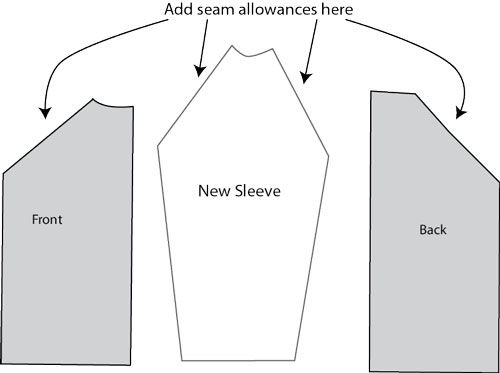 Because the raglan sleeve is part of the neckline, when sewing this type of shirt together, you sew the sleeves to the front  at the shoulder edges first, then sew the shirt back to one sleeve, leaving the other side of the back open.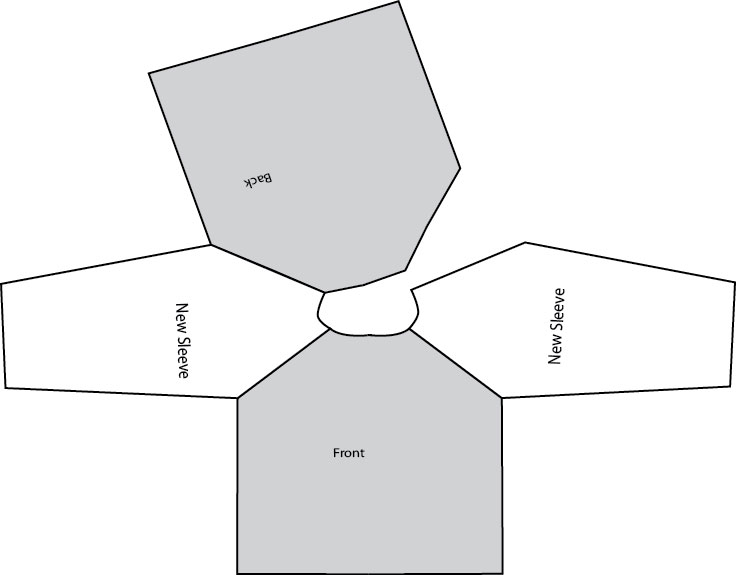 Then add the neckband as in the tutorial for the basic t-shirt. Finally sew the underarm and side seams all in one seam.
Want to add a henley button placket as seen in the picture above? Try this tutorial.
Finally, lets talk about changing the basic t-shirt pattern to something like this drapey t-shirt.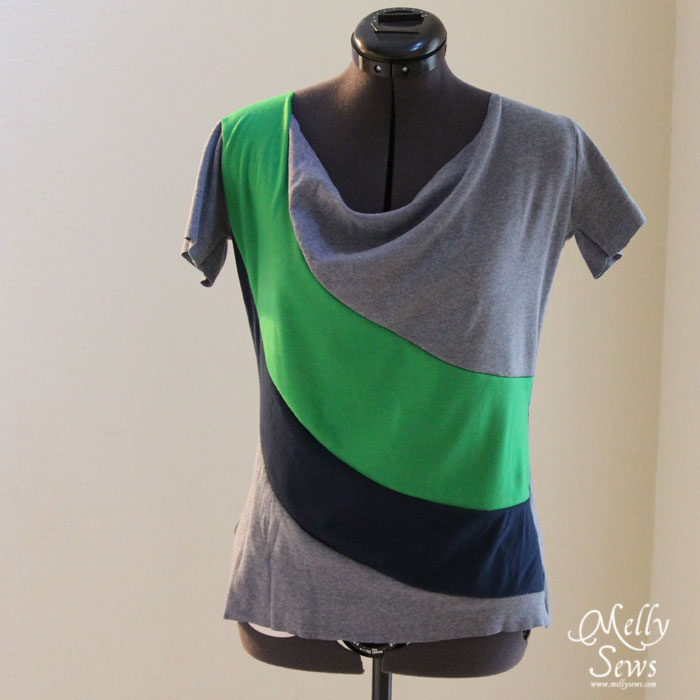 This is actually much simpler than it looks. Start with a copy of the t-shirt pattern front. Slice it down the center. Rotate the pieces out like this and redraw the neckline and hem.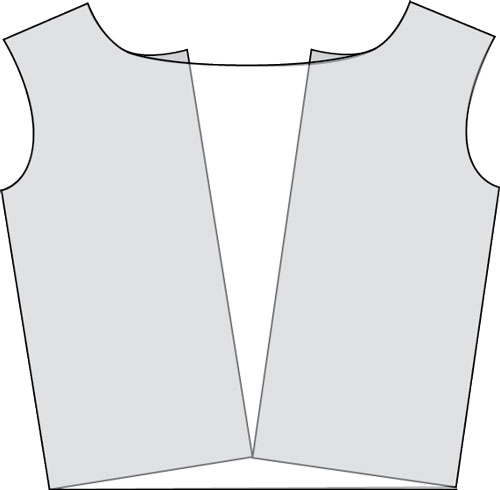 When you sew this piece to the regular shirt back, you will get that draped neckline from the extra width you added there.
To colorblock, you take your t-shirt pattern and cut it into pieces. Add seam allowances where you cut, and voila! You have a pattern for colorblocking.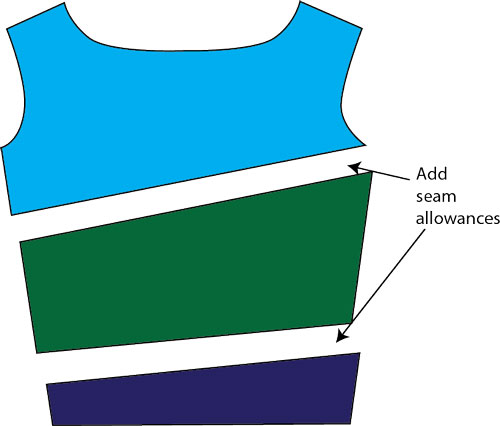 The things you can do with a basic t-shirt are really endless. Next week I'll be here with tips on sewing knits, and I'll be looking for your t-shirt questions. Have a style I didn't cover here that you can't figure out? Bring it. Have a specific secret fear of sewing knits? Spill it so I can put it to rest. Remember you determine what I post about for the last post this month, so try sewing a t-shirt, and save your troubles or questions for me. See ya next Thursday!