Travel Handmade – The Sewing Summit


Tomorrow morning at the crack of dawn, I am heading to Salt Lake City, Utah to attend The Sewing Summit.  "The Summit" as I like to call it, is a conference filled with others stitchers just like me.  Some blog, some design patterns and others quilt but the one thing that we all have in common is sewing!
Since purchasing my ticket there have been many discussions and chatter on who was making what.  There is even an entire flickr group & pinterest board dedicated to traveling handmade. To be honest, I'm feeling some pressure!
I have made a few things but I am in no way as put together as some in this group.  There was just not enough hours in the day to get it all done.  But I thought it would be nice to share a few snap shots of what I will be bringing  on the trip.
Lanyard of sorts.  I made mine smaller to loop around my bag strap and added snaps instead of buttonholes.
A big old gadget bag.  This bag is still in work.  Seriously, I started it yesterday and need to wrap it up fast!  There is nothing like the pressure of designing on the fly.  I need to knock it out or else, I will be stitching it on the plane.  Which at this point does not seem like a bad idea. I have a layover on the way so, it might keep me busy.  Here are a few snap shots… Remember, don't judge.  It is not finished!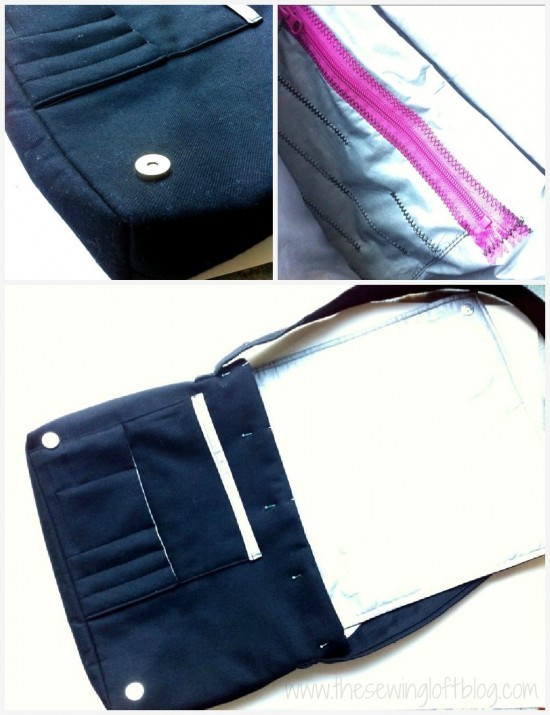 A few highlights to mention:
Pocket for my iPad
Place for pens & pencils, business cards
Zipper pocket on the inside
Magnetic closure flap
And a place for the all important cell phone
Listing these out makes me realize just how much I jammed into this bag!  No wonder I was not able to hand stitch the design on the flap.  That part I am taking with me but am not sure if I will get to it.  That will be my work in progress.
While at the conference, I will be attending a few fun classes, connecting with some on-line buddies and reconnecting with real life buds.  Overall, it should be a blast!
Do you travel handmade? And if so, what do you bring?  I would love to know.  Maybe I can even use some of your ideas for my next trip!