I am so excited to be today's stop on the True Colors Blog Tour.  Last week I shared that a sneak peek of the True Colors Fabric Collection.  That fabric was on my cutting table for most of the day staring at me before I got the nerve to make the 1st cut.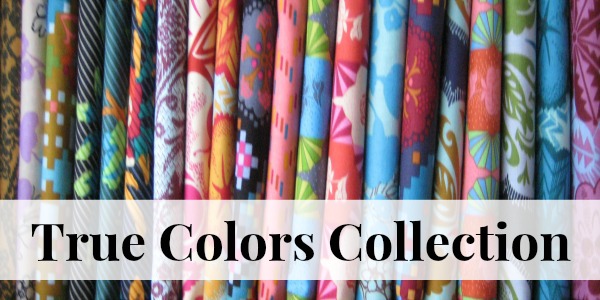 Does that moment of hesitation ever happen to you?  It's not often for me but these fabrics are just so pretty and perfect that I did not want to mess up!   In the end, I was determined to create something that would showcase the collection within my everyday world, an ironing board cover.  We all know just how important ironing and pressing is to our sewing projects and this baby is always in use.
The fabrics I used to recover my ironing board were designed by Anna Maria Horner.  They are only part of the True Colors fabric collection from FreeSpirit.  The collection offers a wide range of versatile blenders created by 4 fantastic designers.  Each designer brings their own unique aesthetic to the collection with five different prints offered in 4 color pallets. Together, they an assortment that is sure to become a much-loved favorite among the sewing community.  (they've already won me over!)
But don't just take my word for it, check out what fun projects these seamstresses are creating during the True Colors blog tour.  The line up is incredible.
True Colors Blog Tour
Still want more eye candy? Check out the video snapshot produced by Creativebug.  (I love the way they always capture the personal side of the story!)  You can also catch Anna Maria Horner on Creativebug making a half-square triangle quilt.

Now, I mentioned a giveaway right!  Well, since everyone had so many fun ideas about what to make with these amazing fabrics, I thought it would be fun to give some away.  That's right I'm GIVING AWAY some of my stash!
1 lucky winner will walk away with a fat quarter bundle of all of Anna Maria Horner's True Colors prints (Uhmmm- Hello, that's 20 fat quarters!), and 2 more lucky winners will win jelly rolls!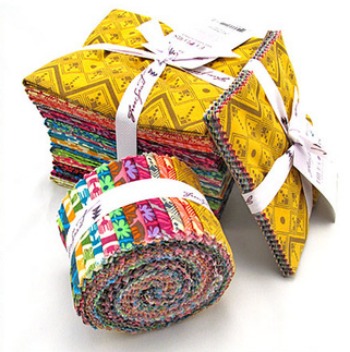 To enter, simply click the link below and follow the instructions.  You can enter once per method, per day, and the winners will be announced on Wednesday, 1/29.

Hello! Are you new to The Sewing Loft?  If so, I'm glad you stopped by and hope that something has inspired you to keep your needle moving!  Don't miss a single project and subscribe via email HERE! Bonus- free embroidery pattern with newsletter sign up. Another great way to connect with me is via Facebook, Pinterest, Twitter, Google+ or Follow my blog with Bloglovin.  I'm looking forward to getting to know you and creating together!