Who would've thought that one little question on Facebook would spark such an amazing conversation? We had a simple question that yielded big results!
Do you use spray starch when sewing?
A few months back, we posted a question to the Sewing Loft Facebook page –
We wanted to know how many of you out there like to use spray starch for your sewing projects, and how many of you don't. We got a lot more than we asked for, and the resulting conversation was really interesting!
Home seamstresses of every type piped up to give us their opinions on starch (in addition to a few comments about sizing spray). What we discovered is that there are as many opinions about starch as there are ways to finish a quilt! Here are some of the highlights.
Of the people who responded to our question, 70% of them were in the PRO starch camp. Here's what they had to say about starching their fabrics:
– Joan said, "When I am making patchwork, I use lots of spray starch. I like my fabric to feel almost like paper before I cut it…. The starch makes precision cutting a breeze, makes the patches easy to line up and sew, and the seams press ultra-flat."
– Lee Ann is a recent starch convert; she commented: "I learned the hard way that these steps [of starching and pressing before starting a quilt] are so much easier than using a seam ripper and trying to realign [my quilt pieces]."
– Andi added: "I don't feel like I can iron correctly without it."
– Pink Mouse Boutique adds, "I use starch and a very hot iron to preshrink all of my cotton fabric. It keeps the colors vibrant, makes the fabric workable and resists wrinkles."
– Instead of using starch for quilt piecing, Stephi uses it for knits: "Starch is fantastic for working with slinky knits that want to slip and slide and stretch out of shape," she says.
– Jenni notes that she is "learning to appreciate the extra effort for a nicer finished product."
However, not everyone was a fan of using starch in their sewing projects. Approximately 18% of respondents said they don't use starch at all, and the other 12% preferred some other product, like a wrinkle releaser or sizing spray. Here are what some of the people from the Con corner had to say:
– Cara says that she can't use starch because she hasn't found one yet that doesn't make her break out into hives, yikes!
– If you tend to put your quilting projects off to the side for extended periods of time, you might want to heed Lesley's warning: "Caution with starch! The silverfish love the residue left and will leave your quilts like confetti if left in a cupboard for any length of time." We checked it out, and she's right – silverfish are attracted to food starches, which are found in spray starch. So if your area is prone to these little pests, be sure to keep your starched fabrics sealed in an air-tight container or in a very cold room while you're not working on them, and wash your finished quilt to remove all the extra starch residue when you're finished with the sewing.
– Terri prefers to use a wrinkle releaser instead of starch. She says "it works great for pressing and the fabric maintains its 'new' quality without being stiff."
Several of the posters on Facebook prefer to use Mary Ellen's Best Press over traditional spray starch; this product comes in a variety of lovely fragrances and has proven itself to quilters everywhere. Some also preferred to use sizing spray instead of starch to limit the amount of shrinkage in their fabrics during the piecing process.
Still, other posters liked to make their own starch using a recipe similar to this one; this is an economical option compared to the cost of traditional starches and sizing sprays, and as long as you keep the basic ingredients on hand then you can always make more when you run out!

There are a variety of products available on the market, with a wide range of prices. Here's the break-down: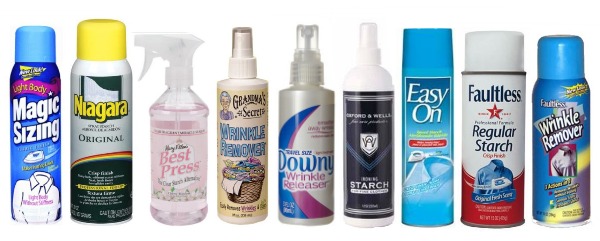 Homemade blend of corn starch & water
Oxford & Wells

 
(These products can be purchased in your local stores but quick links are included above.)
What did we learn from all this? Well, the story on starch is that it has its ups and its downs – but don't we all? Here are the basics: (I thought this would work best in two columns but again I can't format columns here, evidently.)
Pros:
It makes it easier to sew and piece quilt tops or sew quilt sandwiches.
Keeps fabric edge neat when cutting pieces for quilt tops or another form of patchwork.
It also makes finger pressing easier.
Cons:
Attracts bugs because of the food content.
Makes fabrics feel stiff.
May cause allergic reactions for some people.
What do you think? Do you have a starch-filled success story or do you stay away from the stuff? Let us know in the comments below – let's keep the conversation going!
Plus, if you happen to get starch on your iron, you'll want to keep that clean! Be sure to watch my video and see my quick tips here.