You know that moment when you realize that Holy Cow the holidays are less than 10 shipping days away? Well, that's me, this year there are 6 fewer shopping days until Christmas and it's total crunch time. Are you feeling the pressure??  Well have no fear, The Sewing Loft is here!  (sorry, could not resist) with easy, breezy, fun and affordable gift ideas!
I have rounded up 10 gift ideas for stitchers that are under $30.  This way, you can give a friend or yourself a wonderful treat that won't break the bank!
10 Gift Ideas for Stitchers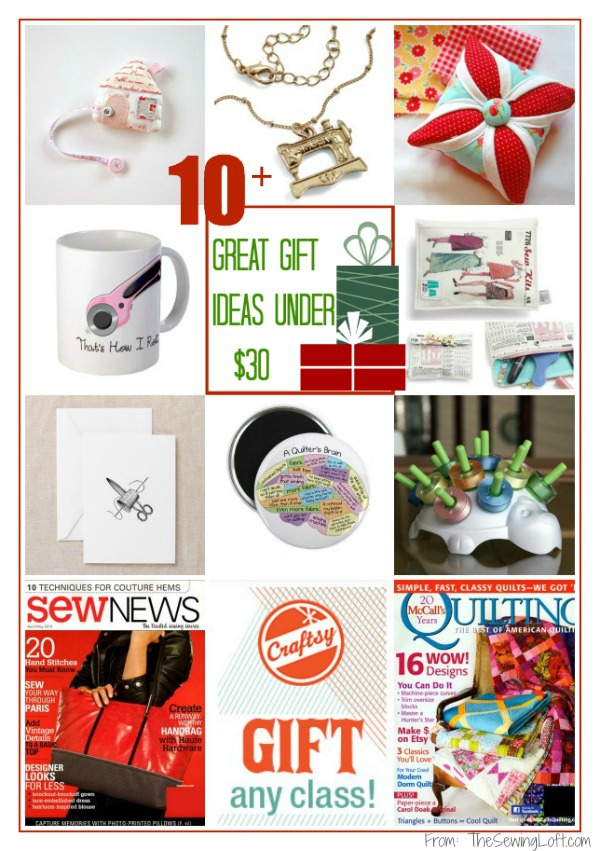 Starting from the upper left corner clockwise.
These are just a few quick and fun finds for the stitchers in your life….I can totally see grabbing a
10 pack of those magnets
and handing them out to my sewing circle.
I think any stitcher would be all smiles to recieve one of these gifts under the tree or in their stocking.  Actually, I already bought myself a gift.  I picked up a subscription of Sew News and can not wait for it to arrive.

Hello! Are you new to The Sewing Loft? 

If so, I'm glad you stopped by and hope that something has inspired you to keep your needle moving!  Don't miss a single project and subscribe via email HERE! Bonus- free embroidery pattern with newsletter sign up. Another great way to connect with me is via Facebook, Pinterest, Twitter, Google+ or Follow along with Bloglovin.  I'm looking forward to getting to know you and creating together!