We are in luck today!!  Not only is Molly from Craft Idea's Weekly joining us as a special guest but she is sharing 15 free Christmas Appliqué Designs.  That's right, you can download 15 free Christmas Appliqué Designs to embellish all of your holiday projects with.  Molly is showing us how to turn an everyday store-bought item into a handmade treasure!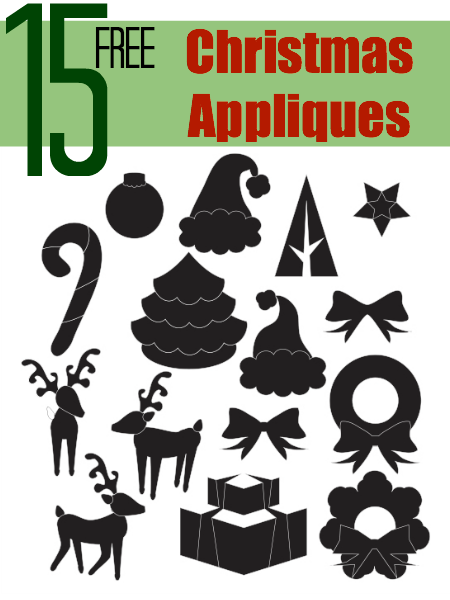 15 Free Christmas Appliqué Designs
This project is for sewers all levels.
Skill Level- 1 Button
Materials:
Applique Pattern Template
Felt Scraps
Cloth Napkin
Tools:
Embroidery Hoop
Needle and Thread
Embroidery Floss
Basic Instructions:
Print out appliqué template and cut around the shape you have chosen. This will make it easier to pin. Pin the template to your felt and cut out as shown.
Use a small pair of scissors for best results. They make an easy job of cutting out fine details. Once you have your pieces cut out, remove the paper pattern.

Position napkin in the embroidery hoop, making sure it is tight enough to make the fabric lay smoothly.

Pin the felt appliqué pieces in place and hand stitch all around. I used an appliqué stitch for this.  Start your needle coming up through the fabric, then stitch back down and towards you.  Then come back up through the fabric and repeat until you have nice little stitches all the way around appliqué. It will look like this-
Add any additional overlay pieces and sew them in place with the same hand applique stitch.
To add details such as eyes or nose, you will need to do a bit of fancy embroidery stitching.  The eyes here are simply 3 french knots.  These are made by bringing the needle up through the back, then wrapping the floss around it twice before stitching back down into the fabric.  The nose is just two straight stitches, knotted at the back.
When finished, the back will look like this.

This project is an easy way to dress up inexpensive napkins or add holiday flair to tons of different items.
A special thanks to Molly from Craft Ideas Weekly for sharing 15 free Christmas Appliqué Designs with us today and her quick napkin project.  After you download the designs, be sure to stop by and pay her a visit.

Molly shares a ton of crafty projects to help keep you inspired and her community Facebook Page is always hopping!

Hello! Are you new to The Sewing Loft?

If so, I'm glad you stopped by and hope that something has inspired you to keep your needle moving!  Don't miss a single project and subscribe via email HERE! Bonus- free embroidery pattern with newsletter sign up. Another great way to connect with me is via Facebook, Pinterest, Twitter, Google+ or Follow my blog with Bloglovin.  I'm looking forward to getting to know you and creating together!