Cross stitching has gained popularity in the last few years – it's not just for samplers and handkerchiefs any more! If you've ever wanted to learn more about cross stitch and how to incorporate it into your regular sewing projects, read on!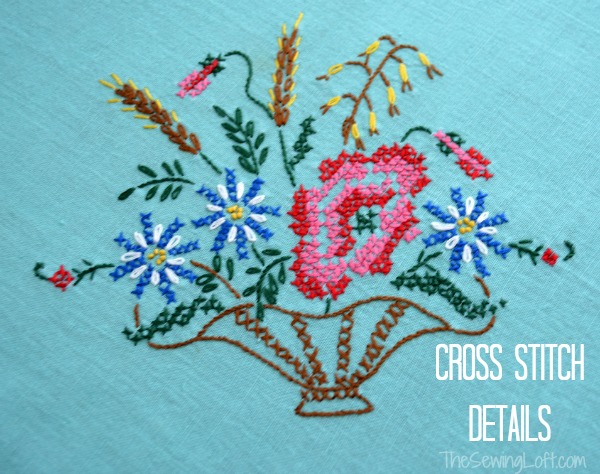 Let's get started with a basic definition:
Cross Stitch
noun.
a

stitch

in

which

pairs

of

diagonal

stitches

of

the

same

length

cross 

each

other

in

the

middle

to

form

an

X

.

embroidery

or

needlepoint

done

with

this

stitch.
How to Cross Stitch
1. Gather your supplies – you'll need to collect the following materials:
2. Set up your stitching – get ready with your materials:
Insert your fabric into the embroidery hoop or frame. Pull it taut and tighten the frame as needed.
Cut your embroidery floss into a length that is approximately 24-36 inches.
Separate the embroidery floss into 3 groups of 2 strands each. Keep one and set the other two aside for later.
Thread your floss onto your needle and tie a knot in one end.
3. Begin to stitch:
Pull your needle up from the back of the fabric to the front, going through a hole at the corner of one square. Pull until the knot in your thread is snug up against the back of the fabric.
Make your first stitch by moving diagonally upward and to the right, poking your needle back through the fabric from top to bottom that is at the top right corner of the square you started in.
Bring the needle back up from bottom to top of the fabric, this time coming through the hole that is directly underneath the last one used (the bottom right corner of the square). Pull gently until the thread is snug against the fabric on the top and bottom.
Complete the stitch by inserting your needle into the top left corner hole of this starting square. Your stitch should look like an "X."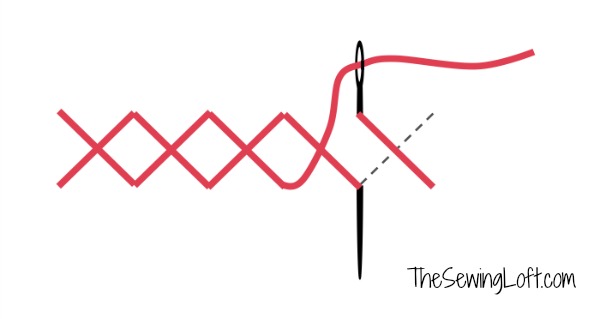 Tips for Cross stitching:
When working with a pattern or design, you will need to count the number of squares needed for the whole design. The pattern you follow will look like a grid, that corresponds to the squares in your fabric.
If you find it difficult to count a pattern and make a grid on a blank piece of fabric, you can purchase stamped cross stitch kits where the design is pre-printed onto the fabric for you to stitch over it.
Most cross stitchers start from the center and work outward toward the edges of a design. This helps to keep the design centered on the fabric.
Try to plan your work so that you use one color of floss for several stitches before switching to the next color.
For stitching across a row, start by making all of the right-slanted stitches all in a line, then come back down the line from right to left to make the left-slanted stitches.
If you are looking for pattern inspiration, any grid-based, pixelated, or 8-bit image will easily translate itself into a cross stitch design! Just think of every square in the image as one "X" in your stitching. To come up with your own designs, pull out that graph paper and get coloring!
Using Cross Stitch in Everyday Projects
If you want to incorporate cross stitching into your regular sewing projects, here are a few ideas:
Create a cross stitched edging on a pillowcase.
Use a cross stitch design as the center panel in a throw pillow cover or quilt block.
Cross stitch the bottom hem of a skirt.
Cross stitch the neckline or hem of a top.
Make a small cross stitch piece and use it as the center for a pin cushion or sachet.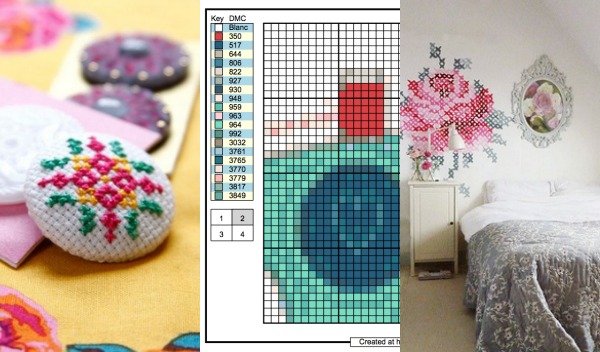 Cross Stitch Resources
If you're looking for patterns or ideas and inspiration, look no further!
 As you can see, cross stitching is not just for handkerchiefs anymore. How will you add this fun detail into your next project?

Hello! Are you new to The Sewing Loft?

If so, I'm glad you stopped by and hope that something has inspired you to keep your needle moving!  Don't miss a single project and subscribe via email HERE! Bonus- free embroidery pattern with newsletter sign up.  Another great way to connect with me is via Facebook, Pinterest, Twitter, Google+ or Follow along with Bloglovin.  I'm looking forward to getting to know you and creating together!