Summer is right around the corner and it's time to shift the focus to our outside space. You know that place where we spend our time hanging with family and friends during the next few months. Well, my space needs some updating. Actually, what it really needs is a few pillows to liven things up. After looking around in a few of my favorite catalogs, I found these.
Aren't they pretty! Pretty Expensive that is!
Decorative pillows are a great way to liven up your space on a shoe string budget. Since I already have a ruffle flag pillow in my line up, I'm going to focus on the Americana star pillow today. I promise, they are really easy!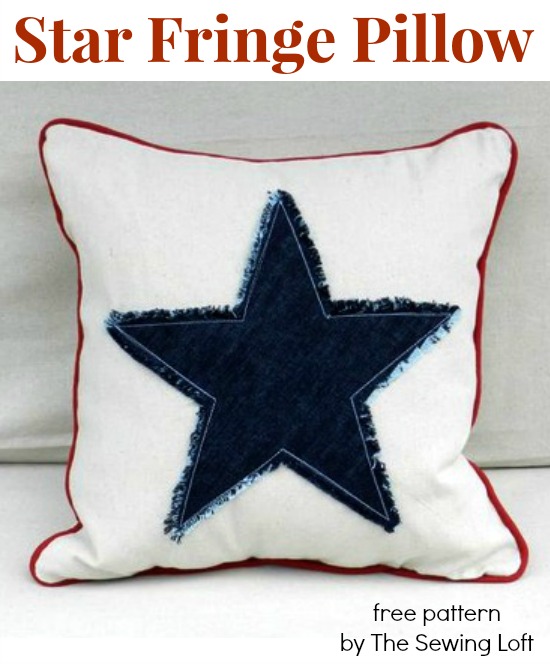 This project is for all levels.
Skill Level- 1 Button
 Supplies:
canvas fabric
11″ square denim fabric for star
70″ of coordinating piping
20″ zipper
Tools:
sewing machine
zipper foot
basic sewing supplies
Instructions:
To make things easy, I am going to refer back to my zipper pillow cover tutorial. This Americana Star pillow uses this pattern closure construction.
Draw star shape on your denim. *Clip art is your friend… just print it out to size. I needed to print mine in 2 pieces and tape together. Download star template here.
Trace star shape on wrong side of fabric. This is your stitch line. Straight stitch all around star outline. I like to use a small stitch. When you hit a corner, leave you needle in the down position; lift your presser foot up and turn fabric. Continue straight stitching all around. *This is your stay stitch.
Cut all around the star leaving 1/4″ denim fabric past seam. Next clip fabric in 1/4″ to 1/2″ sections at right angles to seam; fringe with your fingers.
Create colored piping with a long continuous strip of bias folded in half over cording. Attach your zipper foot to machine and straight stitch as close to cording as possible. You want this to be a semi snug fit.

Click here

for additional help on making custom piping in 4 simple steps.
Start piping in the middle of your Americana pillow and stitch all around. When you get to the other side, clip the cording insert and overlap.
Position the star in the center of your pillow and pin in place. Stitch all around. Actually, since this is an appliqué patch, I stitched twice.
Insert zipper closure, stitch front and back together,  and you are all set.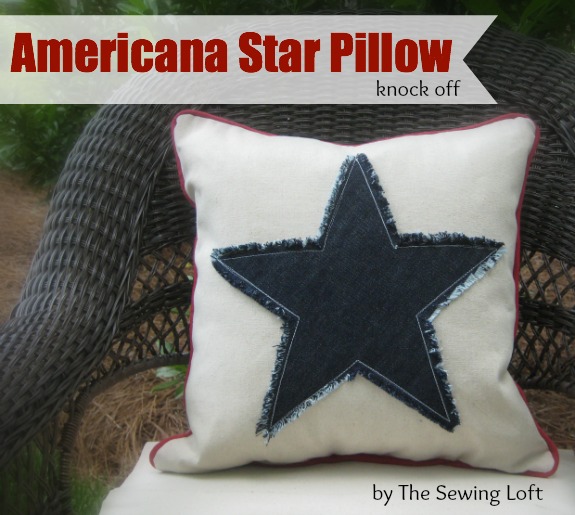 Okay, let's break it down: Original Americana Star Pillow: $95.00 plus shipping my version of the Americana Star Fringe Pillow: under $10.00.  By my math, I think that's a home run!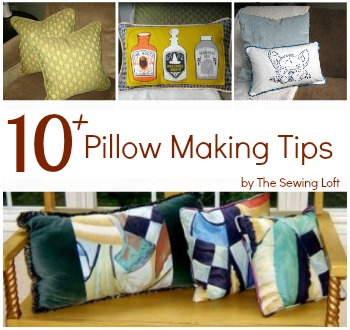 Check out my top 10 pillow making tips for more ideas for decorating your space on a budget.

Hello! Are you new to The Sewing Loft?

If so, I'm glad you stopped by and hope that something has inspired you to keep your needle moving!  Don't miss a single project and subscribe via email HERE! Bonus- free embroidery pattern with newsletter sign up.  Another great way to connect with me is via Facebook, Pinterest, Twitter, Google+ or Follow my blog with Bloglovin.  I'm looking forward to getting to know you and creating together!