If you share your sewing space with children, this post is for YOU!  Jenelle from TrashN2Tees shares one of her favorite tools in the workspace fabric markers.  I swear, she is the coolest mom on the block!
I'm so excited to be here with all of you celebrating National Sewing Month for a second year. Last year I wrote an ode to the rotary cutter, which happens to be one of my all time favorite crafting tools. I can not wait to try out the Circular Rotary Cutter Tara Dara shared earlier this week too. The best part about NSM here on The Sewing Loft has been connecting with a wonderful creative community and learning about these awesome tools and techniques! Today we're playing with fabric markers!
As both a fashion designer and mom I seek refuge from the daily chaos in creating. Maker-ing is magic in every form… well except for maybe my cooking. (I could use some practice there!) I love creating art with my two little dudes and believe it is one of the most important gifts I can pass along- and they're ready to make their mark all the while bringing back the 80's!
Easy Artwork Pillows
Materials you'll need: 
Fabric
Fabric Markers (I used ones available from Crayola)
Cutting Tools
Fiber-Fil
Sewing supplies
1. I laid out fabric material for the kids to draw on using the fabric markers. You can always pre-measure for specific shapes or sizes. Tip: Iron freezer paper to the backside of material to help stabilize for easier drawing- additionally you can tape or weigh down the corners.
2. Cut out you pillow/softie shape through 2 layers of fabric and don't forget to factor in your seam allowance!
3. Heat set the artwork. Tune your iron in on the cotton setting. Cover ironing area with paper. Iron on the reverse side for a few minutes.
4. Pin right sides of fabric together before sewing. Leave enough room to turn project. *I tried to coax my oldest son into sewing his own pillow using a plastic darning needle and thread (or yarn) but he wasn't interested.
5. Add fiber filling of choice, making plush items is a great way to utilize any scrappy snippets or thread ends you have saved up, and use a ladder stitch to close the seam.
Quality fabric markers are an awesome accessory to have in your creative arsenal- whether they're being used to upcycle tshirts, simply add a name tag into your child winter coat, or add finishing touches to a beautiful quilt. The $100 question of the day, do you recognize the creatures on my couch?
Have you used fabric markers for a project in the past? Share your best tips, project, and favorite brands in the comments below! I'm looking forward to connecting with you there!
Jenelle is a designer who is changing the way we consume and create. Her brand, TrashN2Tees focuses on recycling and reuse of textiles to create one of kind styles for boys and has diverted more than 34 tons of clothing from our waste streams.  I personally love the way Jenelle always infuses her sense of style and spunk into her designs.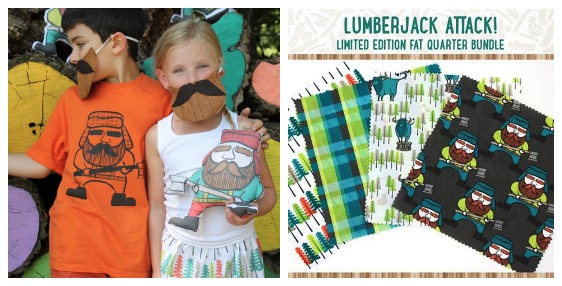 LumberJack Attack is one of her latest creations and it just makes me smile every time I see it!  Bonus- a limited edition fat quarter bundle will be included in the giveaway.  (Total Score!)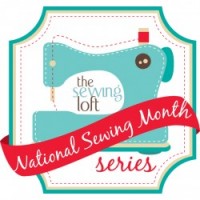 Special guest Cheryl from Nap Time Quilter will be joining us tomorrow.  Her favorite tool is one that I have never heard of before.  That is just one of the many reasons, I love National Sewing Month!