I am excited to have the Alison Glass with us today sharing a much loved tool in her work room.  The Q-Snap Frame.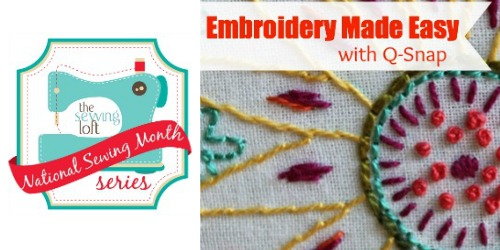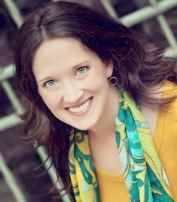 Hello! Happy Sewing Month! I am so glad to have the opportunity to participate in this series. Thanks Heather! My name is Alison Glass and I design fabric for Andover Fabrics. If you would like to see more of my work please visit my website, www.alisonglass.com, blog, and shop, where I sell embroidery and quilt patterns, art prints and cards, and small fabric bundles. There are a number of new, exciting things in the works, and also a lot of fabric arriving in shops this fall.
So, a favorite tool. That's a good question. Upon reflection I realized that I don't have a ton of special sewing tools. I love scissors and I guess have a small collection going, I'm into thimbles and of course use my rotary cutter almost daily. I like things that are both pretty and functional, and I guess that if I'm not using something I tend not to keep it. However, with the launch of my new embroidery patterns I decided to get serious about finding a hand stitching frame I really like and find easy to use. Enter Q-Snap!
If I'm being honest I am generally drawn to things with a more natural, less plastic look (which I know is fairly silly), but for me the way these frames work completely make up for the aesthetic. First, they come apart, so they are easy to store and travel with, and they come in a bunch of sizes and are pretty much mix and matchable. Also, they don't pinch the fabric like a typical hoop does, which I love. The fabric doesn't end up with those funny pulls and circle shapes, and you don't end up with already embroidered places getting stretched by the hoop.
The Q-Snap frames start with four light weight tubes that connect together with four connector pieces to make the frame. The fabric is laid over the frame, then a second layer of four partially open tube clamps are fitted over each of the four sides with the fabric secured in the middle. The outer tubes can easily be rotated to adjust the tension evenly as the project progresses. It makes the hand stitching process easier to manage, and to me, a lot more enjoyable. I like to sit up to a table, resting the frame on the edge, which makes it possible to have both hands available for stitching, rather than hoop holding. The frames are intended for quilting as well as needlework.
The above photo is the Q-Snap in action! This project is a pretty large floral circle from one of my embroidery patterns. It was so much easier and faster with this frame. Finished project below!
Here's a quick pic of the patterns. Three sets: Animals, Crafts, and Flowers, all base on my upcoming fabric line, Clover Sunshine, arriving in shops in the coming weeks.
If you're looking for a hand stitching frame this is a great one! I highly recommend it. Thanks again Heather for having me!
Thank you Alison!  This Q-Snap tool really wasn't on my radar as a must have.  I had only seen the big one in action and thought I had no use for it.  That was until I stumbled across the Q-Snap Frame 8"x8"
 in my local store last week, I knew I needed to take her home with me! It is super light weight and portable, two of my favorite things!  You really inspired me to step out and try something new!  Not to mention that I am totally CRUSHIN' on the new designs!!  The playfulness of colors is just calling me.
Which is why I am super excited to share that 3 lucky winners will receive a fat quarter bundle of the new fabric line plus, 3 embroidery patterns… I  think it is a total score and wish I could enter already!
Up next is Jenelle from TrashN2Tees with a fun project to keep the kiddios inspired.  

Hello! Are you new to The Sewing Loft?

If so, I'm glad you stopped by and hope that something has inspired you to keep your needle moving!  Don't miss a single project and subscribe via email HERE! Bonus- free embroidery pattern with newsletter sign up.

Another great way to connect with me is via Facebook, Pinterest, Twitter , Google + or Follow my blog with Bloglovin.  I'm looking forward to getting to know you and creating together!