We all know that binding has a variety of uses in the sewing room – from finishing the edges of quilted items to hemming garments. In general, the term "binding" just applies to a folded piece of fabric that goes over or around the edge of something, but there are two main types of binding – bias and straight grain – and there's a good bit of debate about which type is better for certain projects.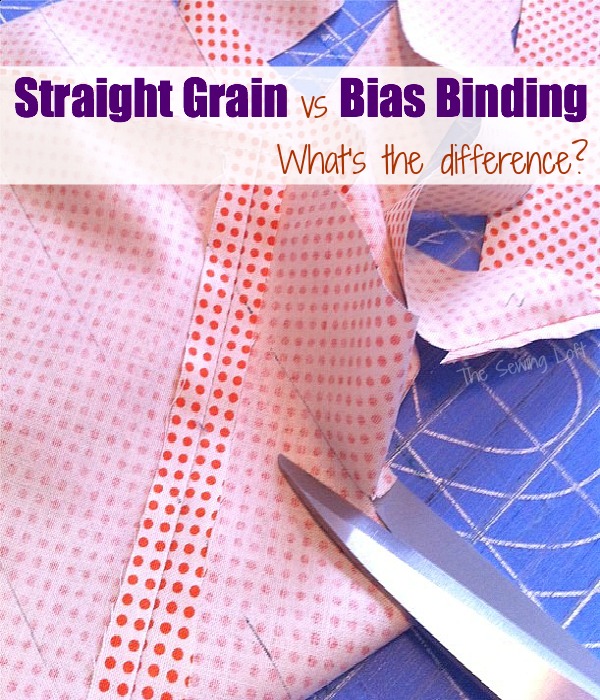 Bias Binding vs. Straight Grain
Time to weigh in! Here's the break-down:
Bias Binding
1. Works for curved edges and straight lines equally well.
2. Creates a sturdier edge because it puts the fold on the cross-section of the woven threads instead of lining up the fold with the grain of the fabric.
3. Somewhat more complicated to make.
4. Requires a bit of math to calculate yardage.
Straight Grain Binding
1. Only works for straight line edges; will not hug curves.
2. Creates a weaker edge because the fold lines up with a single thread (or just a few) on the grain of the fabric.
3. Easier to make than bias binding – simply cut selvage to selvage.
4. Easy to calculate yardage requirements.
Bias binding may be more difficult to make, but the result is a binding that serves any purpose and is nice and strong. We've got some tips here on the blog to help you make continuous binding, turn it into piping, and calculate the yardage you need for it, so you're covered either way.
Straight-grain binding is easier to make, and calculating yardage for it is also a snap. However, it's probably best suited to things like wall quilts that won't get a lot of wear and tear over the years.
So, what's YOUR bias? Do you have a preference for a binding style? Share it with us in the comments below!

Hello! Are you new to The Sewing Loft?

If so, I'm glad you stopped by and hope that something has inspired you to keep your needle moving!  Don't miss a single project and subscribe via email HERE! Bonus- free embroidery pattern with newsletter sign up.  Another great way to connect with me is via Facebook, Pinterest, Twitter, Google+ or Follow my blog with Bloglovin.  I'm looking forward to getting to know you and creating together!