Now that you know how to create a continuous bias strip, let's learn how to calculate yardage.  Now, I'm not just talking about determining the total amount of bias needed to bind your quilt.  I mean, how much material is actually needed to create that continuous bias strip used to finish your project.  This way, you are not left guessing.  You can head to the store with confidence and purchase that fabric! Or if your anything like me, you will be digging through stash!
Continuous Bias Formula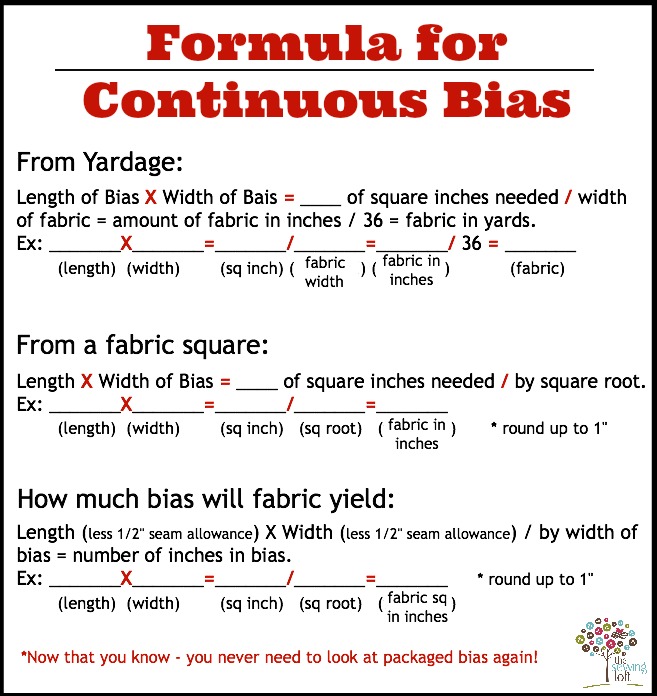 This project is for all levels.
Skill Level- 1 Button
You can calculate the amount of fabric needed using the above formulas.  The above chart walks you through a few different ways to calculate your fabric.

Example:
360″ of bias x 4 1/2″ wide = 1620  ÷ 42″ wide fabric = 38.57″ ÷ 36 = 1.07 yards of fabric.
220″ of bias x 3″ wide = 660 / 42″ wide fabric = 15.72″ / 36 = 0.436 yards

Example:
325″ bias x 2″ wide = 650 =  25.49″ or  26″ square of fabric
150″ bias x 3″ wide = 450 = 21.21″ or 22″ square of fabric

Example:
15″ (14.5″) x 18″ (17.5) = 253.75 ÷ 2 1/2″ bias = 101.5″ bias
20″ (19.5) x 22.5″ (22) = 429 ÷ 4″ bias = 107.25″ bias
I know what your thinking, this math stuff is for the birds.  I just want to sew!  But to be fair, sewing and pattern making actually requires a great deal of math.  Ask any sticher how much fabric is needed to complete a pattern and they will have to do a few quick calculations.  They are instantly thinking, how wide is the fabric.  Since fabric comes in different widths, this measurement is key when calculating yardage.
Continuous Bias Cheat Sheet
To get everyone on their merry way of stitching, I have created this easy cheat sheet.  To make things easy for you, I have created this cheat sheet. First, I suggest knowing the total amount of bias needed for your project.  Refer to your pattern or measure the total area.  Then, using the chart above, match up the total bias length with the total width.  Find the cross point on the chart and this is the magic number of square inches needed to create your continuous strip of bias.  You will see that it really does not take that much fabric.  For example, less than 1 yard is needed to create 300″ of 4″ wide bias.  (That's pretty wide bias in my book.)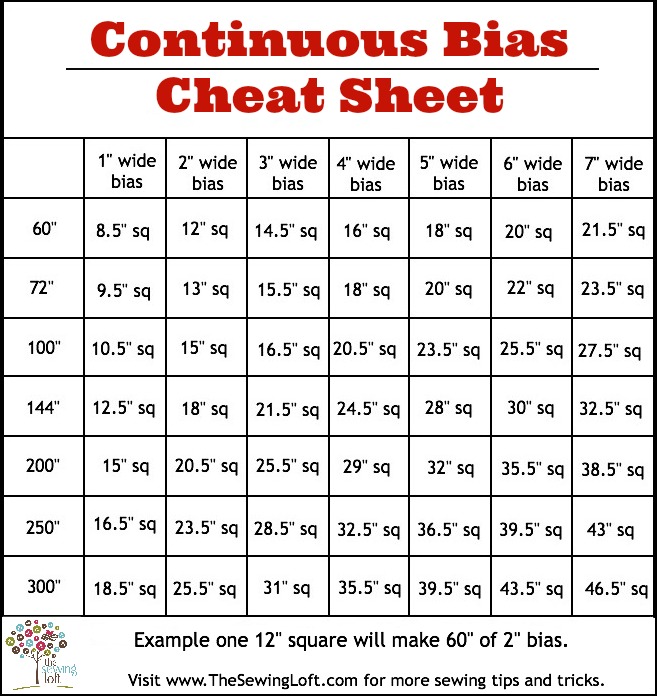 Let me show you an example:
My project requires 72″ of bias 2″ wide along the outside edge. By finding those numbers on the chart, you can see that I will need a 13″ square of fabric to create the needed bias strip.    That means, that I need less than a fat quarter to create the bias strip.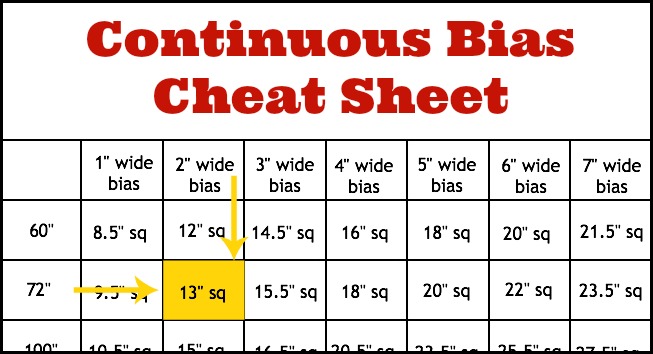 Creating custom bias is a great way to give your project that personal touch and creative flair.  The key is not to be caught short on fabric.  With a few minutes of prep work and simple calculations, you can be stitching with bias in confidence and complete your project with little fabric leftovers.

Hello! Are you new to The Sewing Loft?

If so, I'm glad you stopped by and hope that something has inspired you to keep your needle moving!  Don't miss a single project and subscribe via email HERE! Bonus- free printable with newsletter sign up.

Another great way to connect with me is via Facebook, Pinterest, Twitter, Google + or Follow my blog with Bloglovin.  I'm looking forward to getting to know you and creating together!