There are so many different uses for a stripe of continuous bias.  You can clean finish your seams with it, hem a cuff, create piping and sew much more.  Today, I am going to show you how to take a fat quarter and turn it into a quick and easy continuous long strip of bias.  Honestly, once you get the hang of it you will wonder why you have been buying those pre made packages of bias tape all these years.  It's that simple!
Continuous Bias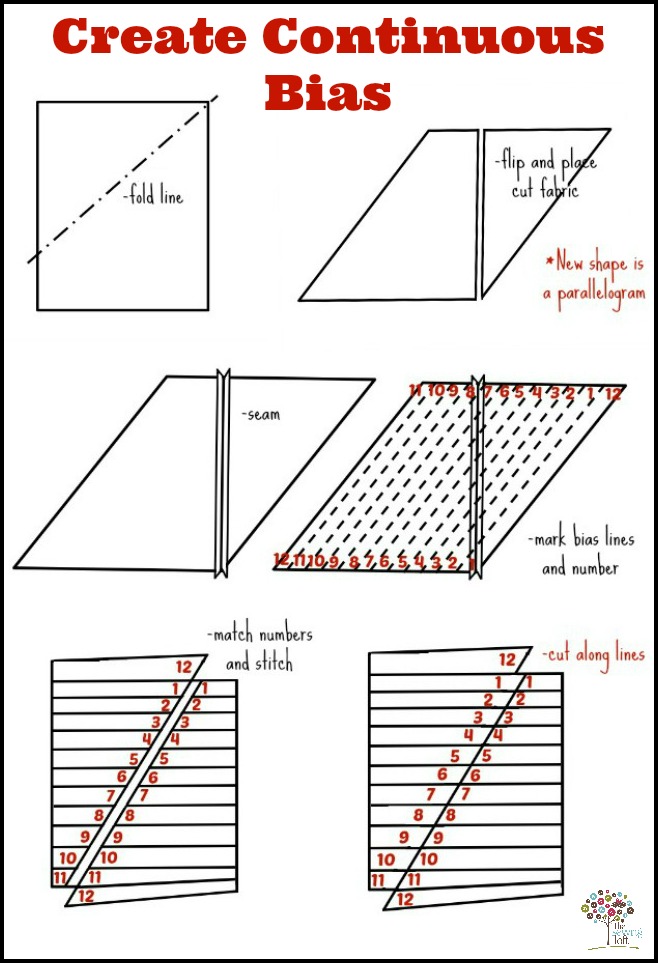 This project is for all levels.
Skill Level- 1 Button
Basic Instructions:
Fold fabric on a 45 degree angle.  Cut on fold. 

Shift your cut piece over to the other side. This will create a parallelogram. Pin right sides together, sew and press seam open. *Tip: I like to reduce my stitch length since this area will be cut into small sections.
Along on bias edge, mark with ruler your finished bias strip length. Number the lines as shown.
Fold parallelogram as shown to create a rectangle shape tube.  Cut the 1st row about 4″ in.
Align and match numbered lines with right sides together; pin.  Sew seam together being sure to match all numbered lines. Press seam open.
Cut in a spiral direction from top of tube to the bottom.
Now to be clear, the amount of continuous bias that can be made from a fat quarter will depend on the width you cut your bias.  On average 1 3/4″ wide stripes will yield 5 yards and 2″ wide strips will yield 4 yards. Do you want to learn more about how to calculate bias yardage for your next project? Than be sure to check out my
calculating continuous bias
post where I share formulas and an easy cheat sheet.
Plus, you might be interested in my 
fat quarter
 post for more fun facts.  This post is jam packed with different ways to use your standard fat quarter.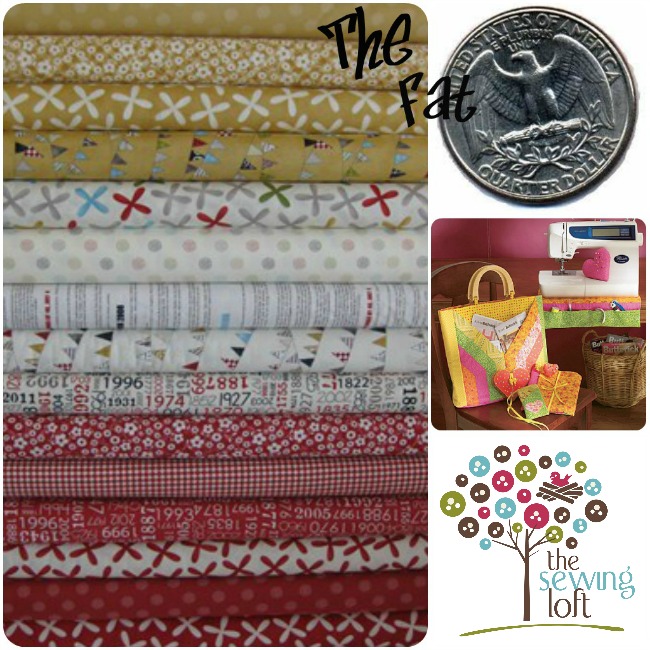 Hello! Are you new here?

Do you want to learn more about sewing? If so, be sure to sign up for our newsletter HERE and never miss a stitch! Daily Sewing Tips, Everyday Projects and Fantastic Inspiration delivered straight to your mailbox!

Bonus– free download with newsletter sign up.

Feel free to connect with me on Facebook, Pinterest, or Instagram.  I look forward to getting to know you and stitching up a storm!