April showers bring May flowers but these fabric flowers will forever be in bloom! They only take a few materials and I'm pretty sure you can even find them around the house. Making this a zero to a low-cost project!
Fabric Flowers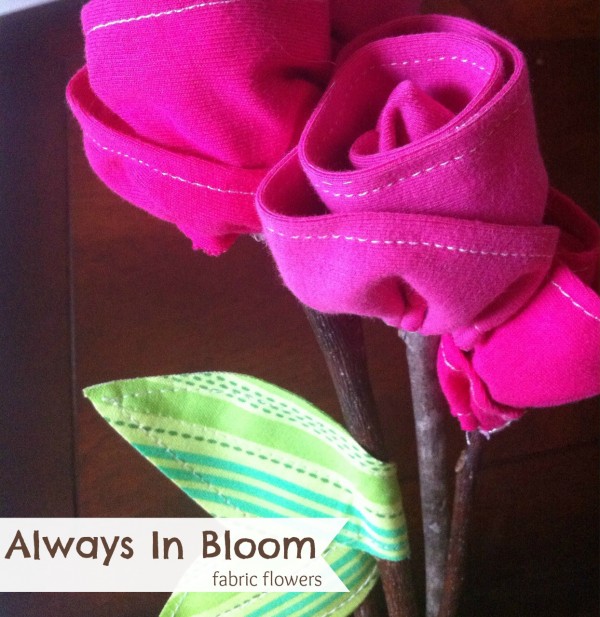 This project is for all levels.
Skill Level- 1 Button
Materials:
Outgrown clothing
spray starch
twigs/branches
Tools:
hot glue gun
sewing machine or needle & thread
**Since I know that many of you like to print out a hard copy of the article to use as a reference while sewing, I have created an optional PDF that's optimized for printing and ad-free. Find more here. The blog post and video are totally free to read, print, and sew! The PDF tutorial & download for $2 is totally optional.
Basic Instructions:
To create your flower, cut clothing into 14″ strips long x 4″ wide; spray with spray starch and iron for added stiffness.  Fold the strip in half to create a 2″ wide strip by 14″  long. 

Straight stitch along the folded edge. *Note: this step can be done by hand or machine, consider using a contrast color thread.
With a long basting straight stitch; start at the folded edge; stitch along the length of strip edge, curving back to end at the corner.  You will notice that it creates a half a half-moon shape.  Leave the threads long at each end. Trim excess fabric away.  Pull the top thread of your basting stitch to create gathers.
Apply hot glue to the top of your twig and attach your flower fabric.  Twist and turn the twig applying glue as needed.  Tuck the tail of the flower at the base of the bud/twig.
If you with like to attach a leave, cut a leave shape on fold; glue in place, wrapping around the twig.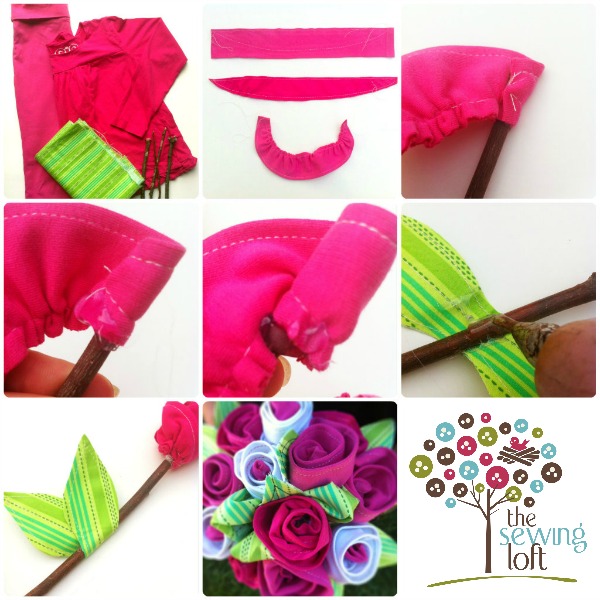 I think these look great when grouped together.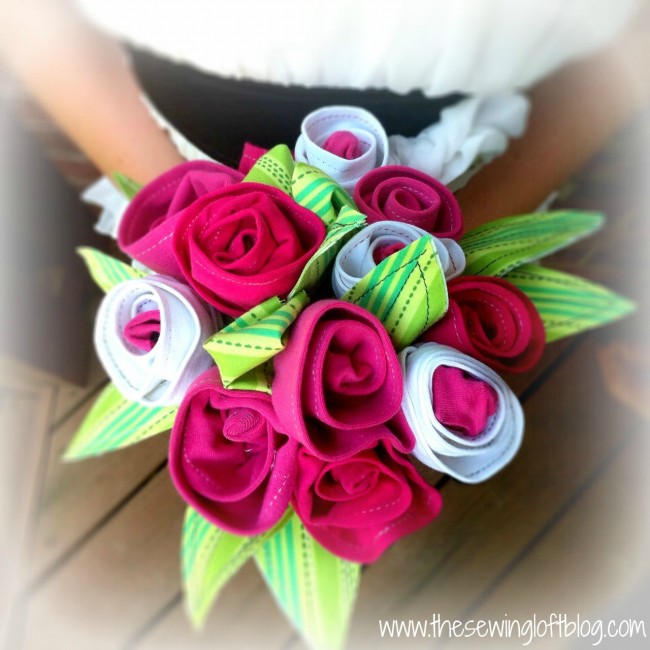 EASY TO MAKE FABRIC FLOWERS
Here are a few ideas on how to use them:
Create a keepsake from your child's favorite clothes. 

Use vintage sheets to create an amazing flower girl bouquet.  This would be perfect for an outdoor wedding or maybe used for the rehearsal dinner for the flower girl.
Take that wedding dress out of the box and create a wonderful bouquet.  Scary to cut into I know, but just think of what an amazing keepsake they will create. Anniversary, a child's birth, Christening, or any special day!
I created these fabric flowers for the May 2012 issue of Green Child Magazine.