I know that I've mentioned my little fabric addiction in the past and now, I'm totally enabling you to join me.  (Sorry but I need company!) Actually, when I started the discussion on Facebook I had no idea you would have so many amazing places to suggest.  So, to help everyone find fabric with ease, I have put together this incredible list of fabric shoppes.  This post is sure to be a resource guide that can be used over and over again. Feel free to pin it for easy findings later!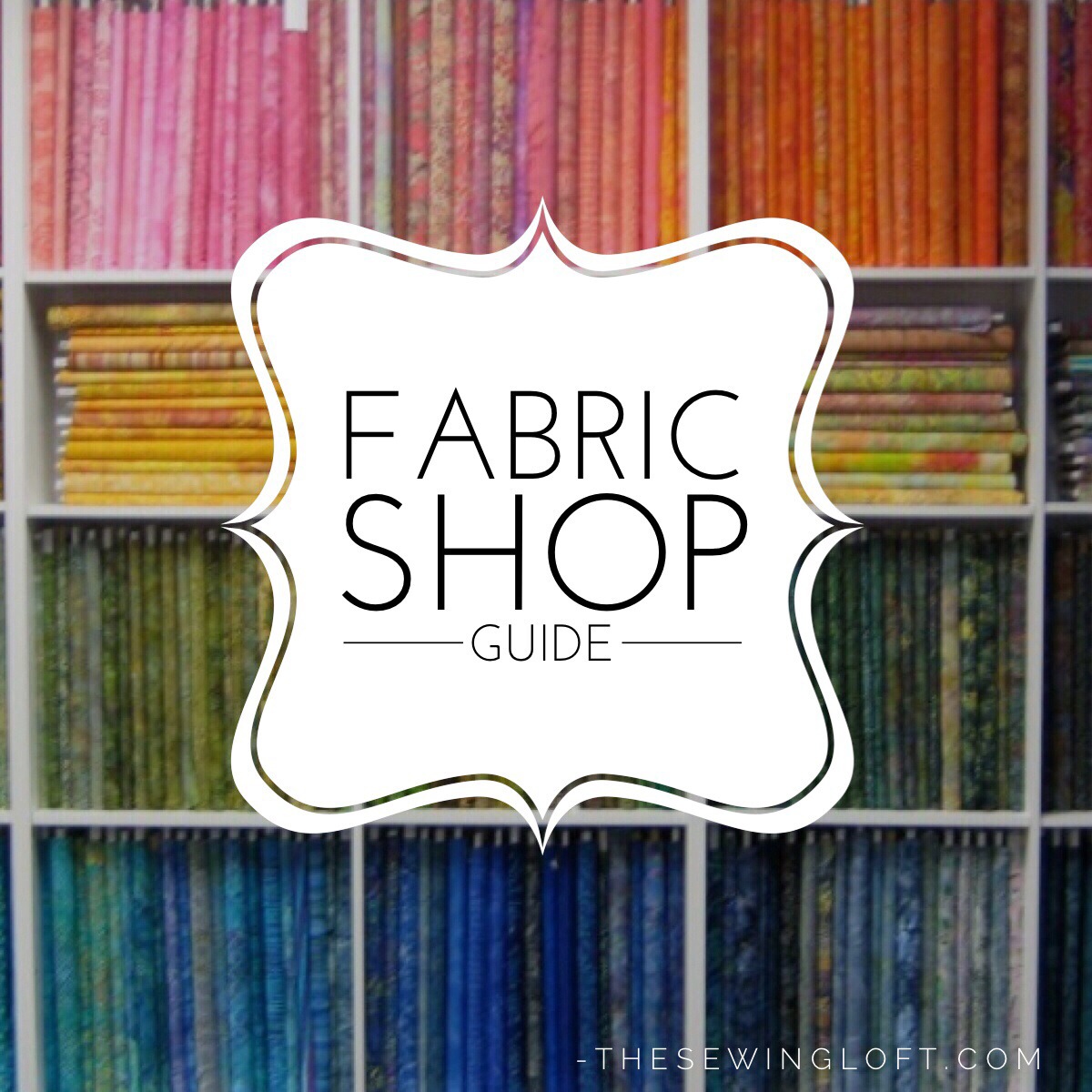 You will find everything on this from knits, cottons, leathers and sew much more! I promise, it's here.  Plus, be sure to drop me a line if you have a favorite shop/site that you love and think would be perfect addition for this fabric shoppe resource guide.  Alright, let's dive right in and get shopping!  *Just click the shop name and open in a new tab or window to pay them a visit.
  Fabric Shoppe Resource Guide  

MY LATEST VIDEOS
Contemporary Cloth carries a variety of cotton fabrics for all your quilting or other sewing needs, in addition to home decor weights. Their real specialty, though, is a line of fabrics specially designed by independent fiber artists. These original fabrics will make your project extra special with their unique beauty.

Cotton Bliss offers quality designer quilting fabrics at an everyday discount price. Think charm packs, jelly rolls, layer cakes, bundles and more.

You may know Craftsy for it's online video classes but did you know that they also offer sewing supplies? That's right, with just one click you can have all your sewing supplies delivered to your door.

Emma One Sock specializes in designer fashion fabrics; they carry pretty much any type of fashion or apparel fabric you could possibly need. Don't get lost in a sea of quilting fabrics – go straight for the fashion knits, suiting weights, rayons and more with Emma One Sock. Their site is full of informative articles and they offer free swatches of any fabric, no matter where you live.

Don't let the name fool you: EQuilter has a little bit of everything! They do carry mostly quilting fabrics but they also stock fashion fabrics, home decor, minky, and silks. Every fabric listing tells you the names of the colors in the print, which makes it nice to match up fabrics for projects. When you check out you can designate a charity and they will donate 2% of your purchase to that charity – what a great way to give back!

Etsy.com is a marketplace for handmade goods, vintage items, and supplies for making. The community is made up of independent creative businesses from around the globe.

Fabric.com sells a little bit of everything! Of course they cover the basics but they also have sewing machines, notions, patterns, knit/crochet supplies and even a list of free projects and tutorials in their Creativity Headquarters. Plus, all orders over $35 receive free shipping!

The Fabric Cafe is a fabulous resource for frugal quilters everywhere. This shop carries a variety of fabrics, but they specialize in quilt kits that use only 3 or 5 yards of fabric each, making them an economical choice for the quilter on a budget.

Fabric Depot is one of the largest and most complete local fabric stores in the country! This Portland-based company also has a web site that carries cotton, home decor, apparel, patterns, kits, notions and gifts for crafters.

Fabric Empire boasts a really comprehensive collection of fabrics – here you'll find all the usual things plus hard-to-find treasures like burlaps and even wool pelts! If you post a picture of an item you made with their fabric on Facebook you'll even get 15% off your next order!

Fabric Mart offers a wide selection of apparel fabrics at discounted prices. They have been in business for 35 years and ship throughout the United States and Canada.

Fabric Worm has a collection of fresh, modern fabric. Their web site is bright and inviting – it's just begging to be explored! You'll find modern fabrics, kits and bundles and you can search by just about any characteristic imaginable.

The Fat Quarter Shop offers a wide selection of designer fabrics and patterns.  This shop specializes in quilting cottons and is sure to have just the right print for your next project! While there, be sure to check out their daily FLASH Specials. They are so fantastic that you'll want to shop everyday!

Are you looking for knit fabrics for your next garment sewing project? Girl Charlee's got you covered. They have a fabulous selection of high-quality fabrics in prints you'll LOVE that you can't find just anywhere. They've also got bargain lots, half-yard cuts and patterns, and all orders over $99 ship free!

Hancock Fabrics offers an online experience to parallel their brick and mortar stores. Browse great fabrics, special offers, sewing machines and more at this comprehensive one-stop shop web site. They even have a selection of team fabrics and free projects to inspire your next crafty adventure.

Hawthrone Threads offers a selection of quilting & home decor fabric, thread, patterns & kits. They offer tiered pricing, so you can get a discount if you order multiple yards of the same fabric print. Their color grid allows you to search for fabrics that match just the color you need, and they have a list of "just in" fabrics right on the home page so you can always find the newest offerings easily.

What's a hypernoodle, you ask? Well, it's an overactive mind! If you dream of whimsical, bright prints for all your sewing works in progress (and let's face it, there are probably several of those in your sewing bin right now!), look no further than Hypernoodle Fabrics. Hypernoodle carries all your favorite designers plus knits, trendy prints and much more.

The Intrepid Thread shop carries quilting fabrics and patterns. They'll create a kit from any pattern they sell, to take the guess-work out of that process for you! They also feature a variety of clubs so you can build up your stash in rainbow colors, bold main prints or blender prints each month.

At J and O Fabrics, you'll find fabrics of every category from craft felt to mid-century to NFL licensed fabrics. They've also got a wide selection of notions, trims, and sewing machines. All orders over $40 ship for free!

Almost everyone has had the experience of shopping for fabric at JoAnn's, so now you can bring that experience to your fingertips with online shopping at Joann.com. Browse JoAnn's wide selection of fabric & craft supplies online; all your coupons are good for these purchases, too and they often have free shipping sales to boot!

This shop specializes in homespun fabrics (rustic prints and materials, primitive style, flannel, burlap, and more). If you're looking to make a quilt that's full of pioneer spirit then this is your shop! They even have a page on their site for Weekend Projects, full of tutorials and instructions for quick projects you can finish in a weekend.

Keepsake Quilting carries quilting fabrics, patterns, and notions. They have a wide variety of quilting kits for you to choose from, and something unique about this shop is that they have "a year in squares" available for purchase. Essentially, they have put together a collection of 2,013 4-inch squares of cotton quilting fabric to represent 2013. If you buy that set of fabrics you'll have enough to make two king-sized quilt tops to commemorate the year!

Koshtex is one of the leading retailers of quality fleece, knits, woven fabrics and stretch fabric in the United States. They accept all major credit cards and ship internationally.

Leather Hide Store offers leather at wholesale pricing directly to the public. That's right, you can grab a hide for 25% to 50% less than the competition. The inventory is made up of both closeout and regular stock items.  They also are proud to support the DIY community and others that need leather material for small projects – be sure to check out the Leather Remnants category where these partial hides are sold.

Lemon Tree Fabrics provides designer fabric at affordable prices. There attentive customer service will keep you coming back for more. Sign up for the rewards program and earn 5% of your total purchase in rewards points!

Offering a wide range of upscale luxury fabrics, haberdashery and gift items.  Fabrics range from home decoration to apparel.  Each collection is like a work of art. 


Linton Tweed boasts a selection of the world's most innovative fabrics and unique yarns. Their line of couture dress fabrics (they specialize in tweeds) is on the higher end of the price scale, but that high price comes with the quality you'd expect from the original makers of the Chanel fabric lines.

Marmalade Fabrics carries quilting and home decor fabrics plus kits and patterns for a variety of sewing projects. They also feature a monthly bundle deal where you can get a collection of solid or print fabrics (or both!) in a particular color. What a fabulous way to build up a rainbow of a stash!

Mary Jo's Cloth Store has a big selection of a variety of fabrics, notions, irons, and more. Search for fabric by style, keyword, or description. The staff stands at the ready to find any fabric you need, even if they don't have it in stock!

Missouri Star Quilting Company is not your grandmother's quilt shop. They carry primarily quilting fabrics with a huge selection, and they have a great rewards program to reward loyal buyers. Their site also features helpful video tutorials, and an "Iron Quilter" contest for fun and games. Don't miss their daily deal, which offers one special product at a huge savings every day (and product descriptions that'll leave you in stitches!).

At Modern Yardage, you'll find unique fabric prints you can't get anywhere else. They work with fabric designers to offer you fabrics in a variety of sizes (for instance, you can get a large or small version of the same print) and colors. They print on a high-quality cotton poplin fabric and they use the extra-large selvages to give you bonuses on every fabric cut – these might be anything from pattern ideas to stories from the designers. They print on demand so they'll always have the yardage you need, too!

Mood Fabrics

Do you want to shop like the contestants on Project Runway? Maybe you can't make it to the Big Apple for a shopping spree, but good news: Mood delivers! Swatch and the gang will wrap up your order of fashion or home decor fabrics in a jiffy. Thank you, Mood!

 

At Online Fabric Store, browse a wide selection of craft, quilt, home decor and apparel fabrics by brand or color. Sign up for their newsletter to receive sale information and coupon codes.

 

This shop is a brick and mortar store in Michigan that also brings quite an online presence. Here you'll find a little bit of every type of fabric, monthly clubs, in-person classes, and more. They host a sewing retreat called Camp Stitchalot if you want a littel fabric getaway while you're at it!

 

Pink Chalk Fabrics is a brick and mortar store with a fabulous online presence. They carry quilting fabrics and fashion fabrics, and they have a very active blog and newsletter to go with their online shopping site. Show off your projects made with Pink Chalk fabric or pattern purchases and you could win a gift certificate to the shop!

 

Sew Baby specializes in sewing for kids: fabrics, patterns, and notions with your littlest ones in mind. All the fabrics they carry feature juvenile prints, and they also feature downloadable patterns for instant gratification!

Sew Lux offers a wide range of designer fabrics but what I am most excited about is their subscription bundles.  It's like having a surprise gift delivered right to your mail box every month.

Shabby Fabrics carries quilting fabrics, pre-cuts, books, patterns, and kits. They have a bright and attractive web site where you can search by pre-cut style, or peruse the yardage by manufacturer, collection, color and design. They have a loyalty discount program and offer free shipping on all US orders over $100.

Skye Reve's fabric shop is a pastel paradise! The store carries quilting cottons and pre-cuts, with an emphasis on shabby chic paradise. Let your inner girly girl out to play in this patchwork paradise!

Southern Fabric offers quilting fabrics, patterns and notions. All orders over $200 placed within the US get free shipping! They have a bright and modern web site that is easy to navigate and fun to shop.

At Spoonflower, you can custom print your own fabrics or search through a really awesome selection of prints you won't find in other places. The prices are high ($18/yard for Kona cotton) but you can get fabrics that have been created by independent designers, so the value is built in with these unique prints. They have several types of fabric for printing, and they also have monthly themed design competitions. You can even design your own wallpaper and gift wrap!

 

SuperBuzzy isn't your typical fabric shop – in fact, in addition to fabric they also carry things like yarn, paper crafting supplies and gift items. If you're looking for adorable Japanese prints for your sewing projects, though, Superbuzzy has them! They organize their fabric offerings by style, theme, designer, and type so you're all set to find just what you need. Bring the cuteness of kawaii into your sewing room with help from SuperBuzzy.

The whimsical design of The Fabric Fairy's web site just invites you to come in and play! This shop specializes in knits, children's and teens fabrics and they're sure to have just the juvenile fabrics you need for your next brightly-colored sewing project. You can even buy by the bolt if you need a larger quantity for a big project.

Don't let the name fool you! This place is so much more than ribbon. On top of the ribbon selection, they offer a wide range of designer fabrics, patterns, flowers, notions and trims.  The Ribbon Retreat ships both domestic and internationally.

 

The name says it all – this web site is whimsical and fun! Whimsical Fabric carries cotton, knit, flannel, pre-cuts, kits, and even clothing blanks. They have a nice selection of fabrics for sewing projects for babies and kids featuring bright and juvenile prints and all your favorite designers. Their tiered discounts will let you save up to 25% on your sewing pattern purchases, so bundle up and save!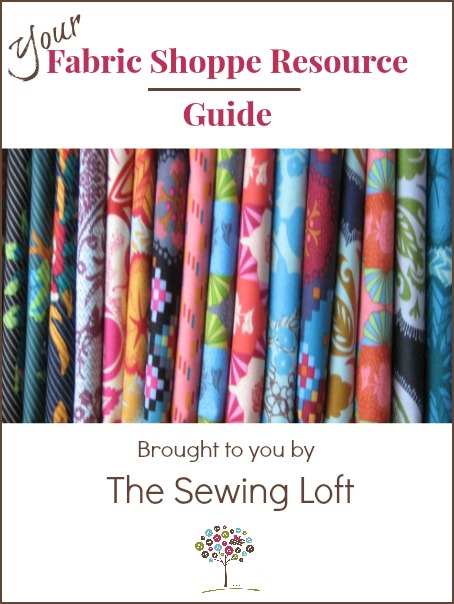 Wow, that is one long list right!  Don't forget to pin this post for future reference. I will be updating it as new and exciting shops come on the scene!

Hello! Are you new to The Sewing Loft? 

If so, I'm glad you stopped by and hope that something has inspired you to keep your needle moving!  Don't miss a single project and subscribe via email HERE! Bonus- free embroidery pattern with newsletter sign up. Another great way to connect with me is via Facebook, Pinterest, Twitter, Google + or Follow my blog with Bloglovin.  I'm looking forward to getting to know you and creating together!