As part of our Basic Sewing Essentials series, today we're going to explore the different types of cutting tools available in the sewing market today. Don't just grab any old pair of scissors and start cutting – having the right tools for the job is essential.  It will help elevate your sewing project by giving it a more polished and professional look.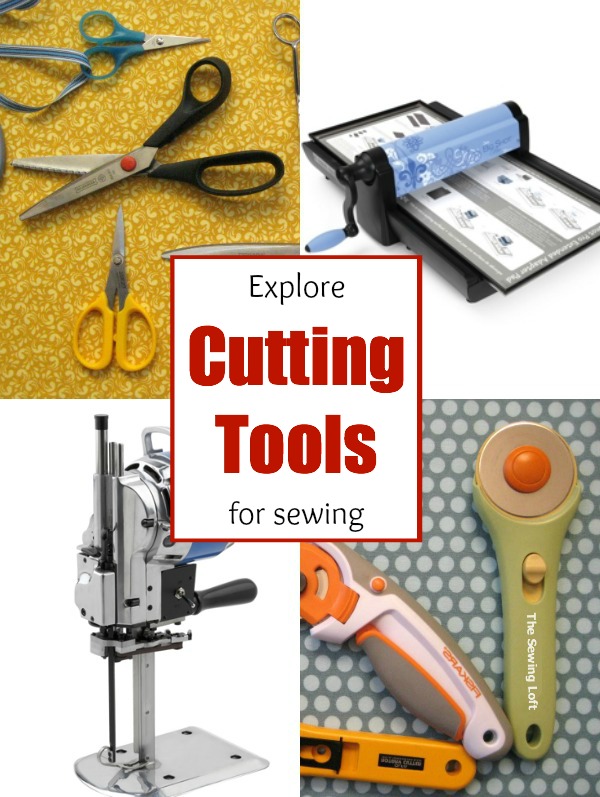 Cutting Tools For Sewing
Let's take a look at the sewing tools you should have handy in your sewing room:
Scissors – They come in all shapes and sizes, but there are a few specific pairs you should keep at the ready:
Rotary Cutting Tools – If you're a quilter, then these rotary cutting tools are must-haves. Even if you don't have a passion for patchwork, rotary cutting tools can make quick work of fabric cutting so you can get right down to the business of sewing.
Shape Cutting Machines – If you cut a lot of shaped pieces for quilting (or really, any sewing project that uses applique), you might want to consider a quilt cutting machine. Most of these machines use dies that are cut in specific shapes to cut through layers of fabric all at once. Do you want to add hearts to your next Valentine quilt, or pumpkins at Halloween? These machines and their dies will cut specialty shapes for you within minutes. Here are some examples:
AccuQuilt GO! Baby – The Accuquilt GO! Baby is a small, portable machine that won't take up too much space in your sewing area but will deliver big-time results. It will cut through six layers of fabric at one time and will give you perfectly shaped pieces of fabric without all the stress of tracing and cutting by hand.

Sizzix Big Shot Pro – The Sizzix Big Shot Pro will cut fabrics or other materials up to 13 inches wide. It has an embossing feature that will help you not only with your sewing projects but with paper crafts, such as card-making, as well. It's compatible with a variety of accessories for any shape or occasion.

Brother Scan and Cut

– The Brother Scan and Cut will cut fabrics and other materials up to 11.7″ wide.  It has over 600+ built-in designs and the ability to scan virtually anything, meaning that no cartridges or PC is required.
Industrial-strength cutting tools – Most home sewists wouldn't have much of an opportunity – or a need – to use industrial sewing and cutting tools. However, if you ever get a chance to watch a professional factory-style fabric cutter in action, it's something to see! With these machines, you stack the fabric several inches high and place the pattern on top, then saw through the fabric much like a band saw cuts through wood. These machines require a high level of skill but are essential in production-level sewing.
Armed with some of the tools listed above, you'll be able to cut your way through any sewing project in a flash! Stay tuned for Cutting Tools Care & Keeping coming up next.
Do you have any tips to share? Have we forgotten your favorite cutting tools? Please share in the comments below – we'd love to hear about it!

Hello! Are you new to The Sewing Loft? 

If so, I'm glad you stopped by and hope that something has inspired you to keep your needle moving!  Don't miss a single project and subscribe via email HERE! Bonus- free embroidery pattern with newsletter sign up. Another great way to connect with me is via Facebook, Pinterest, Twitter, Google + or Follow my blog with Bloglovin.  I'm looking forward to getting to know you and creating together!