Basket weaving is nothing new in fact, it was one of my favorite summer activities at girl scout camp. Like so many other things in life, this technique is making a comeback and I thought it would be fun to put a personal spin on it.  So, let's do some fabric weaving today.
Fabric Weaving – Pincushion Project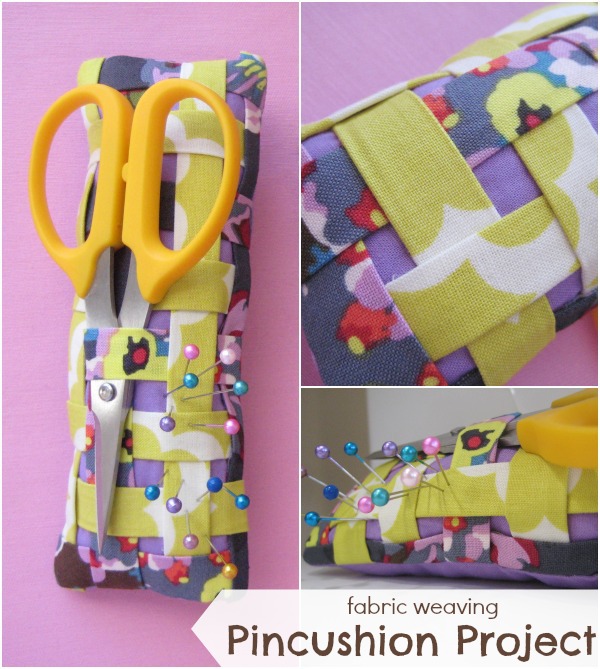 This project is for all levels.
Skill Level- 1 Button
Supplies:
Tools:
basic sewing supplies
sewing machine
Basic Instructions:
Cut 2 3 1/2″ x 8″ rectangles for the top and bottom of your pincushion.  6 strips 1 1/2″ wide by 22″ will be your fabric strips to create the fabric weave pattern.  (I cut 3 strips from 2 different fabrics.)Fold, fold, fold….press, press, press.  This triple fold will create clean edges on the sides.  To keep things in place, I used steam a seam and sandwiched it together. I gave each fabric strip extra body. (total bonus.)  Cut strips in half to create 12 1/2″ x 11″ strips.  
Lay all of your horizontal pieces and pin in place.  To keep  things easy for me, ran a quick row of straight sticking along the edge. Then start weaving in your vertical strips.  Alternating rows and pinning as I worked across the fabric.  Since I wanted the purple to peek through, I left 1/4″ spacing between each row.
Once you have everything woven in place, run a quick stitch all around and trim away excess fabric strips. 

Then your pincushion is pretty straight forward. Just like sewing a pillow together.  Pin right sides together; stitch around 3 sides leaving an opening for turning.  Clip corners and turn right side out.  

Stuff, stuff, stuff!! I like to over stuff my pincushions.  Stitch the

 opening closed with needle and matching thread. A simple ladder stitch is perfect for this last step.  Need a refresher on the ladder stitch?

Click here

.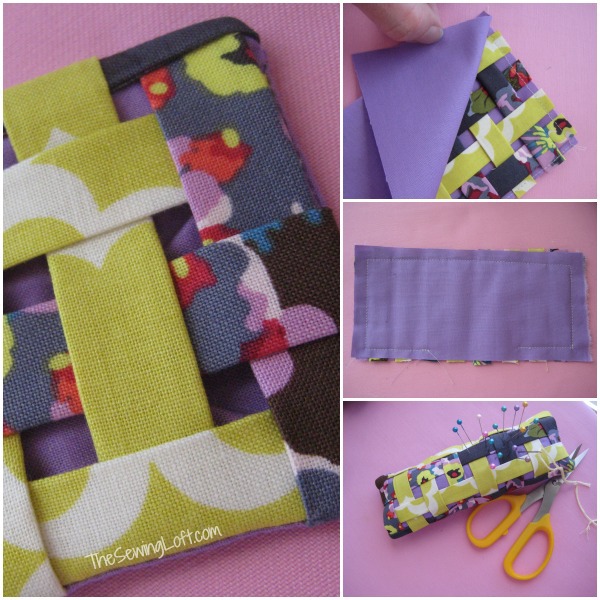 So, how did I do?  Do you think fabric weaving will make a come back?  Or should the technique be left to baskets and hemp?  To keep the conversation going, I have teamed up with a few friends! Becky from Patchwork Posse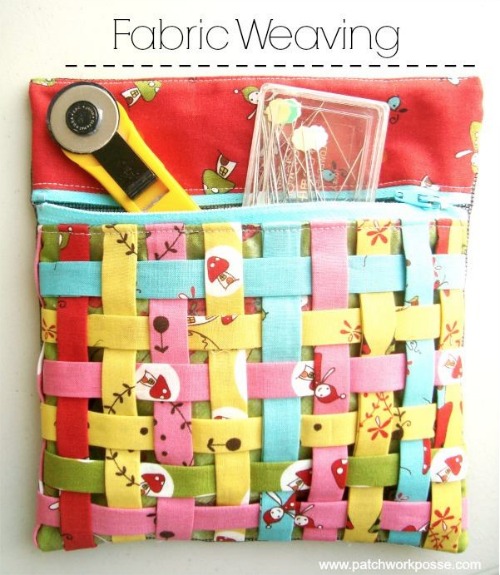 Deby from So-Sew-Easy.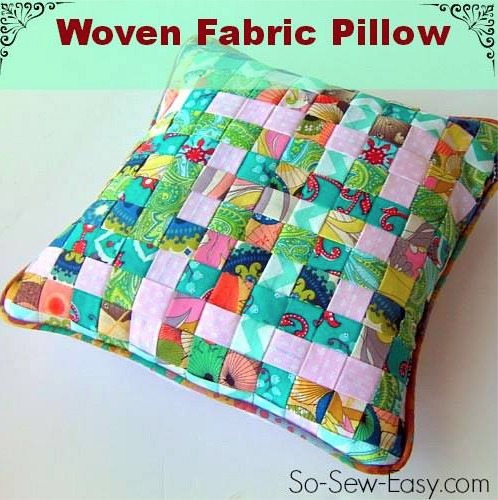 Be sure to check out what fun things these gals made with their fabric strips.

Hello! Are you new here?

Do you want to learn more about sewing? If so, be sure to sign up for our newsletter HERE and never miss a stitch! Daily Sewing Tips, Everyday Projects and Fantastic Inspiration delivered straight to your mailbox!

Bonus– free download with newsletter sign up.

Feel free to connect with me on Facebook, Pinterest, or Instagram.  I look forward to getting to know you and stitching up a storm!