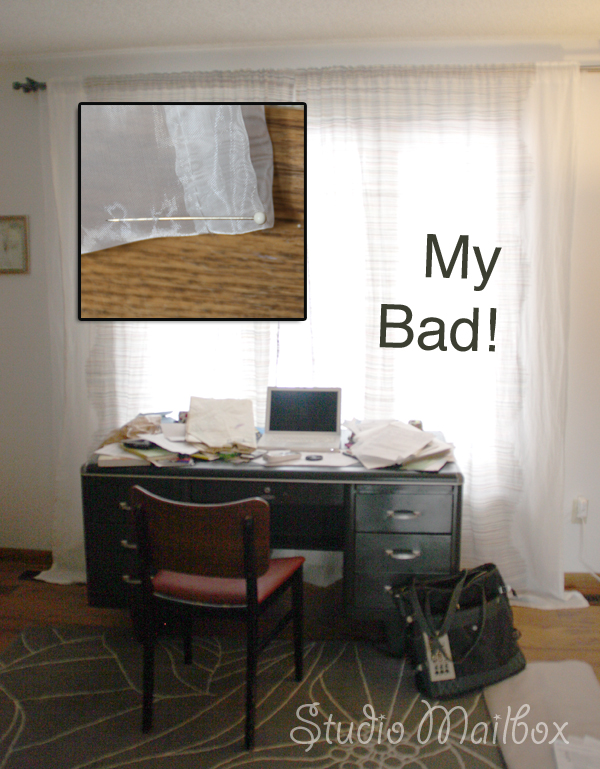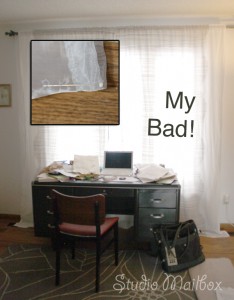 Hello faithful friends of First Fridays at The Sewing Loft!
Last month I popped in to announce that I would be sharing the story of my denim quilt project.  And during this process something funny happened that made me realize I needed to come clean and be honest about the way any big project gets undertaken around here.
It usually starts with a mass cleanup.
It struck home when I took in my desk that looked as if it had been ransacked.  Of course the "thief" didn't take much because chicken-scratch notes and piles of fabric and books aren't exactly hot commodities on the black market.  And instead of taking actual action and let's say, cleaning anything up, I just called Heather and whined about how much I had to do.
Since we both decided to get dogs in January (who does this?) my life has been turned upside down.  Unlike Heather who lives in the south and got a fully trained rescue dog, I went to a Wisconsin farm and took in a puppy to bring back and housebreak in Minnesota.  Insert evil laugh.  I told Heather how my curtains were never properly hemmed and were just pinned where they needed to be taken up.  I admitted to a near heart attack when I caught little Lucky smacking and smacking until I pried his mouth open and found a big white-headed pin stuck on his tongue.  Heather quickly spelled it out for me; "forget the quilt TJ, you have to hem your curtains!"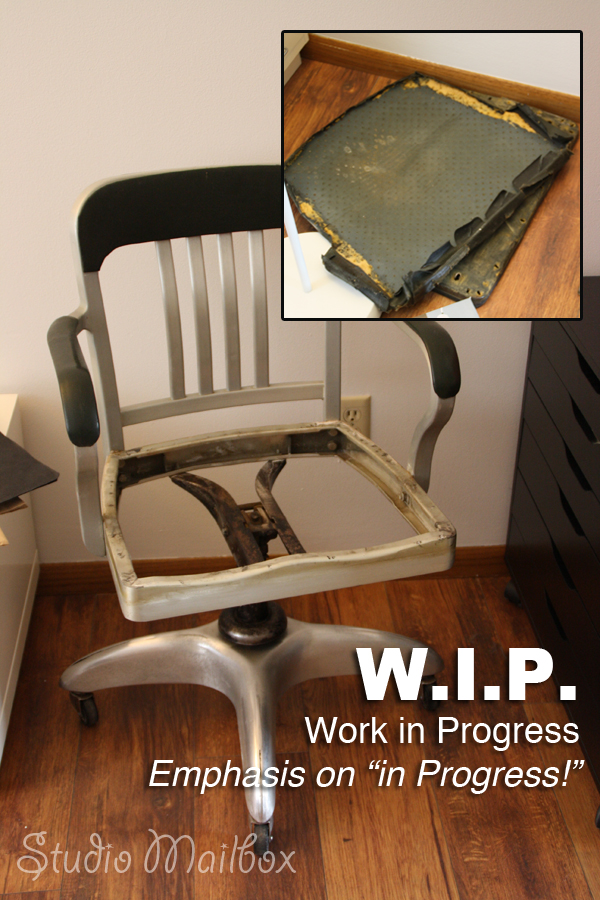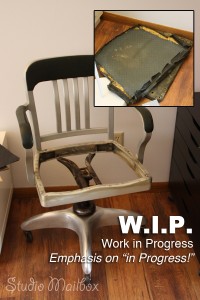 But I had already made a deal with myself that I wasn't going to do anything until I finally finished the chair seat that was laying in the corner of the room unfinished.  Each day I would come in my office to work, look at the beautiful vintage steel chair that matches my Craigslist tanker desk and think about recovering the seat.  I had already used my coupon at JoAnn's and bought a new cushion for it.  I had bought an electric knife on clearance way back after Thanksgiving so I could cut the cushion to the right shape.  I unpacked a bunch of fabric until I found the oilcloth I bought on a trip to Berlin when I lived in Germany.  Everything was there, all that was missing was ambition.
Many times I've worked on something intensely for days with the carnage growing in proportion to the scale and complexity of the project.  I am a person who likes to pick up where I left off the last time I touched it.  I have heard of people who clean up their workspace every day but I cannot relate to that.  I do not even throw my garbage away in case I need to go in and dig for something I accidentally threw out!  So by the time I finish something, I stand up and look around in a daze, much like a soldier who picks himself up from a bloody battlefield.  Then and only then, when all the enemies are confirmed dead and the coup has been counted do I begin cleanup.  And I ALWAYS clean up and bring the whole environment right back to the state where it could be photographed for Better Living.  It's my routine, my reset button.  I cannot "get into" anything else until all the tools are where they are supposed to be and there are no piles of crap that will fall over or sneak attack like landmines.
If I was really going to sew this denim quilt, then I had to get my space back to a state where I could work in.  Not to mention take pictures in (no pressure!)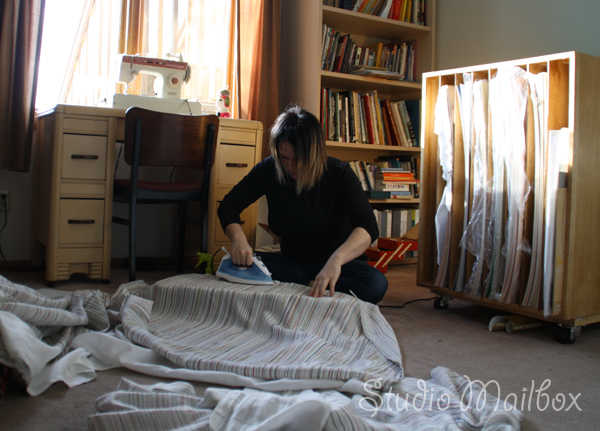 So even though I don't own a normal ironing board (I still have my table-top model I had from our temporary apartment we lived in downtown), and even though I have a 6 dollar Walmart iron, I showed those curtains who's boss.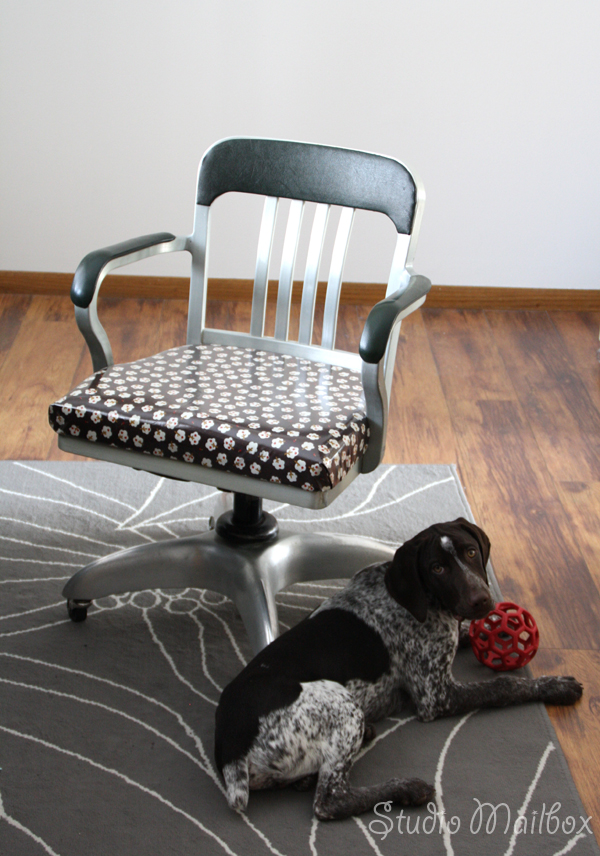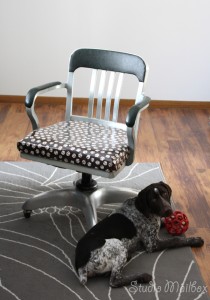 And even though the chair cover ended up being more of an upholstery project than a sewing project I still went through acrobatic lengths to stand on the seat from the backside to squish down the cushion so I could pull the German oilcloth over and secure it to the bottom.
Lucky (as in Lucky he ain't dead) has had no more pins in his mouth.  I have room to assess my materials for the quilt and I am clutter free so I can shoot some good shots and give the impression that I'm super neat and organized.
Just don't tell anybody that I can't find the screws to re-assemble the seat to the chair…that's between us!! Shhhh… they're here somewhere…