Have you ever looked at a fabric collection and knew exactly what to make? Well, that's how I felt about the prints in the Land that I Love collection by Michael Miller Fabrics. Allow me to introduce the Rails & Ribbons quilt design.
The fabric collection is a star-studded, All-American vibe and bursting with pride. From the Freedom print panels to the Red, White and Boom prints. It all reminds me of July 4th and the many that protect and serve our country.

In keeping that feeling of love of country front and center, I knew I needed to design something to give back. So, I designed an easy-to-make quilt that meets the requirements of the Quilts of Valor Foundation.
For those of you unfamiliar with the Quilts of Valor Foundation here are a few details:
First and foremost, the mission is simple- Cover Service Members and Veterans touched by war with comforting and healing Quilts of Valor.
These quilts are quality, handmade quilts that are machine or hand quilted. They are awarded to a Service Member or Veteran who has been touched by war. The Quilt says unequivocally, "Thank you for your service and sacrifice in serving our nation."
To have a quilt be considered a "Quilt of Valor", it must meet specific size requirements, have a label with the required information, awarded to a Service Member (they are not a gift) and it must be recorded.
It all started in 2003 with a dream and with over 10,000 volunteer members across 600 groups and 50 States, it has been going strong ever since!
As an American quilter, it has long been on my list to make and donate a quilt to this organization. So, I say, there is no better time than today!
Rails & Ribbons Quilt Pattern Details:
I recognize that each maker is donating their time and wanted to keep that front and center during the design process. That is why I designed the Rails & Ribbons quilt pattern with easy-cutting instructions. The pattern is jelly roll and full width of fabric friendly. Plus, you can always group your red, white, and blue scraps together. It's really Maker's choice.
The block is a very simple patchwork construction and allows the creator to focus and enjoy the process. Being able to just sit and sew was such a fantastic way to spend the afternoon.
I just love the way it came together. Seeing it float in the breeze reminds me of our flag and just makes me smile!
To show my continued support to the Quilts of Valor Foundation, I am offering the Rails & Ribbons quilt pattern for free download. I hope that as you download the pattern, you take a minute to remember the Service Members and Veterans that protect and serve our nation every day. Their service is often overlooked. Please consider making a small donation or quilt to show them an act of simple kindness for their unwavering service.
Download Rails & Ribbons Quilt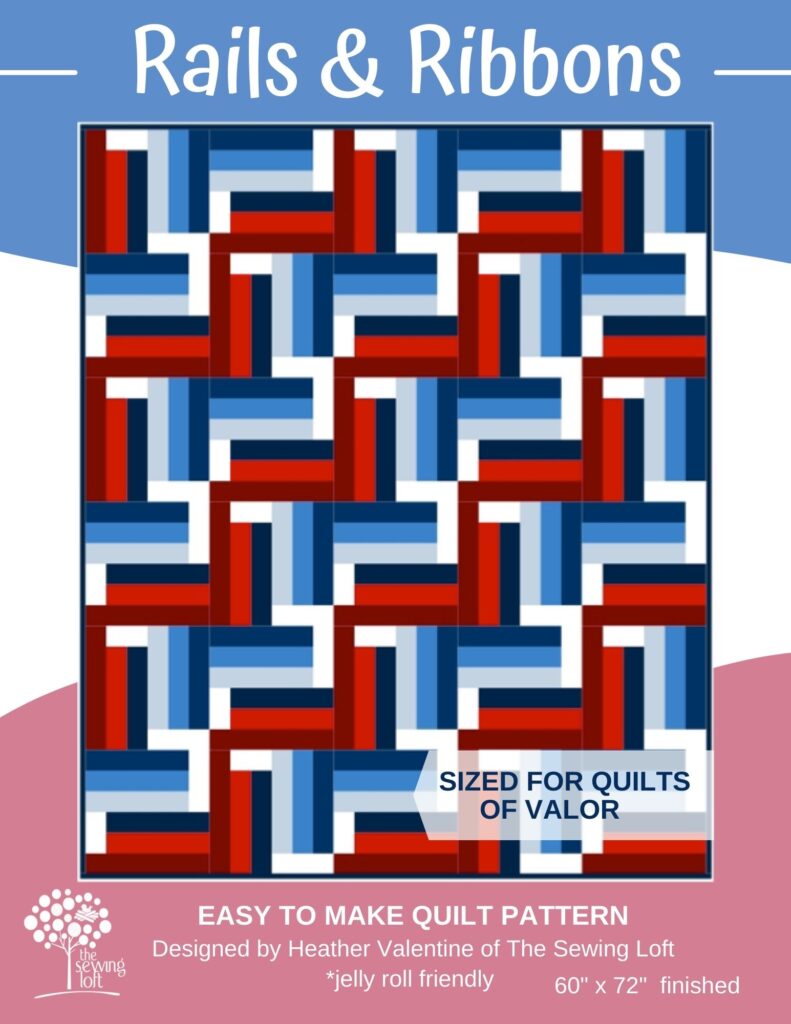 Now my quilt still needs to be quilted before it can be considered for an award. Luckily, after chatting with my friend Nancy McNally about the project, she graciously volunteered. If you aren't familiar with Nancy's work, she is an amazing quilter that offers edge-to-edge quilting as well as design services. We met through our teachings with Annie's Creative Studio and I'm thrill to call her a friend! So, be sure to swing by her site and check out all of her amazing pieces of work!
I hope you enjoy the quilt design and consider stitching a quilt to support the Quilts of Valor Foundation. You can find the Land that I Love fabric collection by Michael Miller here online and at your local quilt shop. A big THANK YOU to them for sending the fabric my way and including me in their Ambassador program.