I know it's July and I know the weather in the US is super hot but I'm using it as an excuse to start thinking about the holidays! So I say, let's keep the Christmas in July spirit going with a holiday-themed SWAP.
After a quick poll in my private Facebook group for scrap lovers like us, the general consensus was anything holiday-inspired but I wanted to narrow things down a bit further. So, I asked and you answered with table toppers and table runners.
Holiday inspired can mean many different things so here are some general guidelines. It can be anything related to Christmas, Hanukkah, or the winter celebration in your world. But let's not forget that all of my SWAP's allow for the Maker to have creative license over their project. Be sure not to rule out festive color pallets, snowmen, and gnomes. I say, just have fun with it!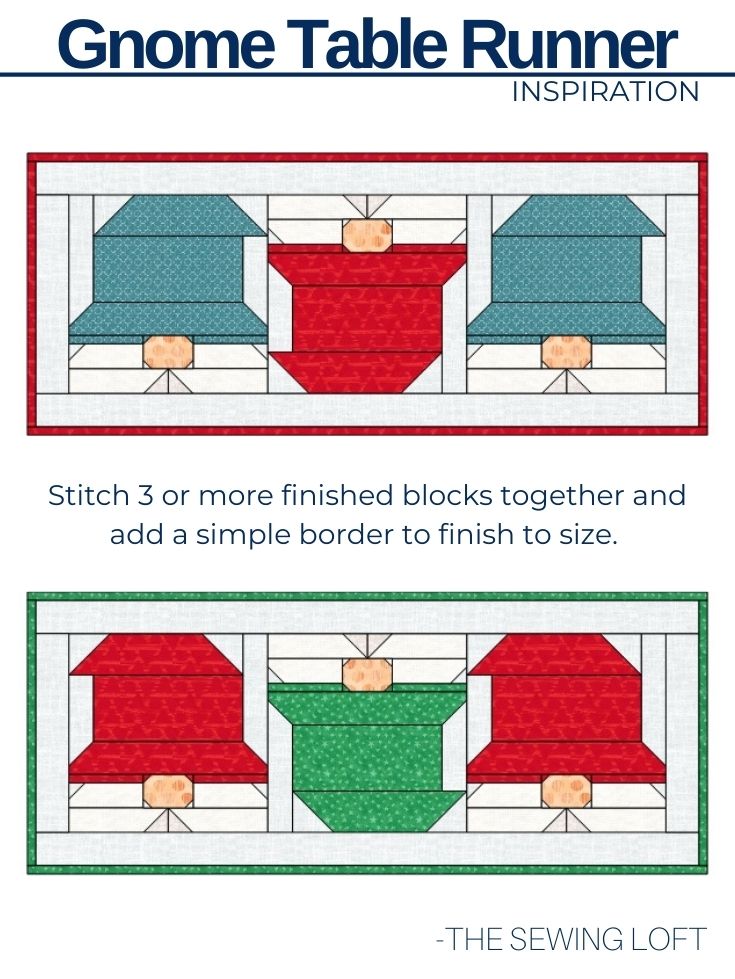 Now for those of you who are new to SWAP's or have never made a table runner before, have no fear, this is easy and I am here to help. For the most part table runners and toppers are just like mini quilts. Table runners come in all different shapes and sizes are perfect for using up our scraps. They are easy to make and a great project for testing out a new block design. I consider them a go-to quick-hitter sewing project that can be made during one session at the machine.
Holiday SWAP Details:
WHAT/SIZE: Every participant will make and receive a holiday-inspired table topper or table runner. The pattern/style is "Maker's choice" and can be anything that displays your creative point of view. For this SWAP it is highly encouraged that you keep your design "scrappy".  Some basic guidelines- The finished table runner should be around 36″ long by 12″ wide but feel free to chat with your partner for special requests.
WHEN: Sign Up's are happening NOW through July 23rd, 2021, or earlier.* All packages must be shipped to partners by September 3rd, 2021.
WHERE: Everywhere! My SWAP events are open to everyone. Each participant will be paired with a partner in their general area to keep shipping costs low.
WHO: All fabric scrap lovers and stitchers are welcome! Please remember when joining any swap, your partner may have a different skill level. Along the way, I share helpful hints, technique-based tutorials and because of the community atmosphere, you are able to get help and ask questions along the way.
Price: $5 per SWAP  – I am often asked about the fee and want to clarify this right upfront. Running a SWAP of this size and caliber requires a tremendous amount of effort behind the screen. There are many hours spent organizing, emailing, and following up on participants. Not to mention being a SWAP Angel when a partner falls out at the last minute. This is the reason for the small fee.
PS  – I almost forgot to mention, as my gift to you, all sign-ups will receive a free copy of my Brrr mini quilt/applique pattern.
*Please note that space is limited and the event is likely to sell out. Be sure to join the fun while you can.
Scrappy Girls Club Group: As many of you know fostering community is very important to me. To help encourage this atmosphere, I have formed a private Facebook community to chat directly with you and offer a safe space for everyone to get together.  Inside the group, you can share projects you are working on or have finished, meet and get to know the members from around the world, share inspiration, and participate in additional group activities. Everything is in one spot- simple and easy to use on your computer or smartphone. Please feel free to click the link to join the community.
Here is how the SWAP will work:
The Holiday themed SWAP is open for sign-ups until July 23rd, 2021.  Once signed up you will be sent a quick questionnaire to help me pair you with the perfect sewing buddy.  Then I'll be digging in with my team and getting to work partnering you with the perfect sewing buddy. All participants will receive an email with their partner information by the end of the day, July 30th, 2021.
Not sure what to make and need inspiration? Never fear, here are some of my favorite table runner patterns, and if you have never made a table runner before, here is an easy-to-make option. Remember, you can stitch up a few of your favorite quilt blocks, or just be inspired by prints in your stash.
If you have never joined a SWAP before I have a great article on SWAP Etiquette and how they work. In the meantime, remember my Scrappy Girls Club Community is always open. Feel free to stop by anytime to chat with other members and share how you are using your scraps! You can share any time during the day, we are always open.
Please remember that SWAP's like this are all about having fun. No one is putting your work under a microscope. Instead, I just ask that you take pride in your work by trimming off any loose threads and think about how the person receiving this special package will feel when opening it. Consider including a small treat, sewing notion, or even a mini bundle of scrap fabrics. I am sure it would be much appreciated by your partner!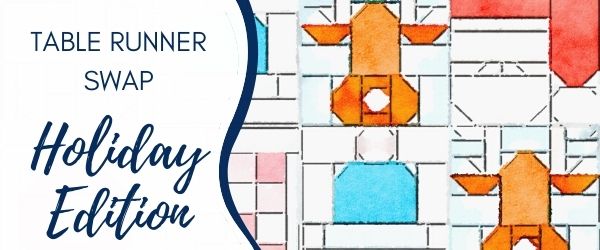 Why should you be part of "the holiday theme SWAP"?
Who doesn't love a handmade gift?! By joining the Holiday theme table runner SWAP, you will not only be exchanging a table runner or topper but you will be partnered with a sewing buddy that shares your passion, understands your need for fabric, and totally cringes when cutting into their favorite fabric. Basically, someone who "get's it"!
This is a swap that fits your schedule, has members who are passionate about sewing, and gets you excited about starting your next great project.
I encourage you to keep in touch with your new sewing buddy after our minis have been exchanged and welcome you to join our private Facebook group here. Inside the group, you can upload pictures, ask questions, and meet other members. If Instagram is more your speed, be sure to share your projects & happy mail using the hashtag #scrappygirlsclub you can follow on Instagram here.
Come join the fun with me and Scrappy Girls Club!
Still, have a few questions? Leave me a note in the comment section and I will reply shortly.
I can't wait to meet my new partner and see what everyone makes!
ps- You can also grab a button below: for your blog sidebar, Facebook/Instagram, or whatever you like to invite your friends to join the fun. I just ask that you please link to this page so that they can find it easily.