Cool crisp weather is on the way and before you know it we will be pulling out our scarves from last year. This simple accessory is easy to make and always fits no matter what size is written on your label.  To kick start the season, I have rounded up over 100+ free scarf patterns to get you inspired.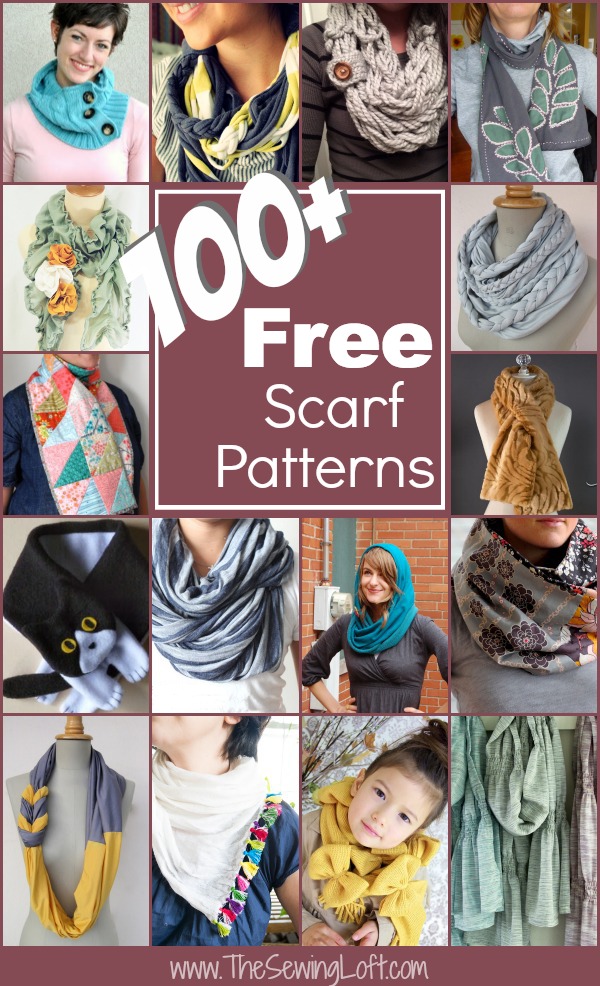 100+ Free Scarf Patterns
This list is pretty AWESOME! I never realized that there were so many varieties.

1. Bow Scarf – (pictured)
2. Cat Scarf – (pictured)
3. Claw Mitten Scarf – perfect for the little devils in our lives!
4. Cozy Flannel
5. Foxy – great for any age!
6. Hoodie Scarf– So stinkin' cute!
7. Pom Pom Cowl – super quick
8. Scarf Bib

10. Fleece Fringe
11. Fluffy Fringe
12. Loopy Scarf
13. Love Song – fantastic idea
14. No Sew Fringe
15. Pom Pom Fringe
16. Rainbow Tassel – (pictured)
17. Running Stitch – this would make a fantastic gift
18. Simple Scarf– I love the lace detail.
19. Stamped Chevron
20. Tassel Scarf

22. Basic Infinity
23. Bow Stripe
24. Braided Infinity– crazy cute (pictured)
25. Cate's Cowl– I need to make this ASAP!
26. City Cowl
27. Double Braid Infinity– (pictured)
28. Faux Fur – So soft! This would be great for kids.
29. Hood Tube – This is really cute! (pictured)
30. Leather Wrapped
32. Linen & Lace
33. No Sew Infinity– love the look of this.
34. No Sew Infinity 2 – Transform any scarf into an infinity
35. Patricia Infinity – (pictured)
36. Sequin Infinity
37. Tie Dye– Includes video

38. Braided Edge
40. Bubble Scarf
41. Buttoned Up Cowl
42. Circle Scarf– Is it a scarf or a wrap? You decide. (pictured)
43. Faux Fur– with bonus gloves. (pictured)
44. Long Knit Scarf
45. Lucet Scarf– No Sew
47. Pocket Scarf
48. Pom Pom Scarf– you will not believe how they created them.
49. Random Shirring– this has my teenager written all over it!
50. Raw Edge– love the layered look.
51. Scoodie – Hood Scarf
52. Spring Scarf – Easy to make!
53. Stencil Scarf – This technique can be used  to jazz up any scarf.


54. Floral Patchwork
55. Happy Scrappy Scarf– Love how fun this one is!
56. Patchwork Scarf
58. Stamped Scarf
59. Winter Scarf – This is a great gift idea to make with smaller scraps.

60. Anthropologie Scarf – just gorgeous! (pictured)
63. Easy Peasy– seriously easy!
64. Flower
65. Knit Ruffle
66. Lace – can be made by hand
67. Layered Ruffle– I can picture this made in an ombre.
68. Mama Ruffle
69. Quick Cascade
70. Ruffled Infinity
71. Ruffle Flower
72. Saturday Morning Scarf – perfect for fleece
73. Simple Scarf
74. Smocked Scarf– (pictured)

75. Button Up Cowl– Love how chunky this is! (pictured)
76. Cut Up Scarf
77. Endless Scarf

78. Katniss Cowl– so cool
79. Loop Scarf
80. Pieced T Shirt
81. Pillowcase Scarf
82. Plaid Neck Wrap – I need one of these.
83. Recycled Braid – (pictured)
84. Scarflet
85. Scarf Necklace
86. Shirt Scarf -You might remember this baby from Project Runway.
87. Stripe Fringe
88. Sonji Infinity
89. Sweater Infinity
90. T Shirt with Applique – (pictured)

91. 30 Minute Arm Knit Scarf– check out the video (pictured)
92. Arm Knit Cowl (free video with Anne Weil)
94. Crochet Scarf
95. Loom Scarf

97. No Knit Scarf

98. Camera Scarf
99. Dog Scarf
100. Kimono Wrap Scarf– great for the summer
101. Scarf Cardigan Child Size | Adult Size
102. Scarf Shawl– I AM making this! (pictured)
103. Wrap Cardigan 
104. Hanging Scarf Organizer  – Keep all your new scarves looking fresh and wrinkle free with this easy make closet organizer.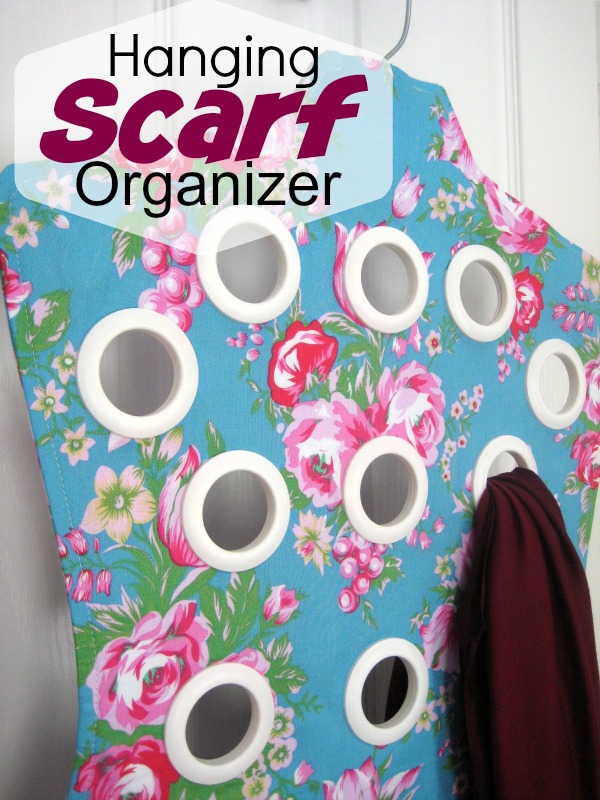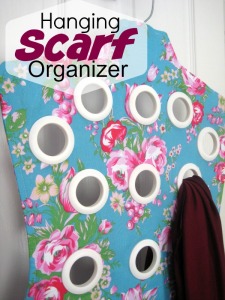 Don't have time to look at each one? No worries, PIN IT for later!

ps- be sure to check out our other round ups for free patterns and projects.
Hello! Are you new to The Sewing Loft?

If so, I'm glad you stopped by and hope that something has inspired you to keep your needle moving!  Don't miss a single project and subscribe via email HERE! Bonus- free embroidery pattern with newsletter sign up.  Another great way to connect with me is via Facebook, Pinterest, Twitter, Google+ or Follow my blog with Bloglovin.  I'm looking forward to getting to know you and creating together!