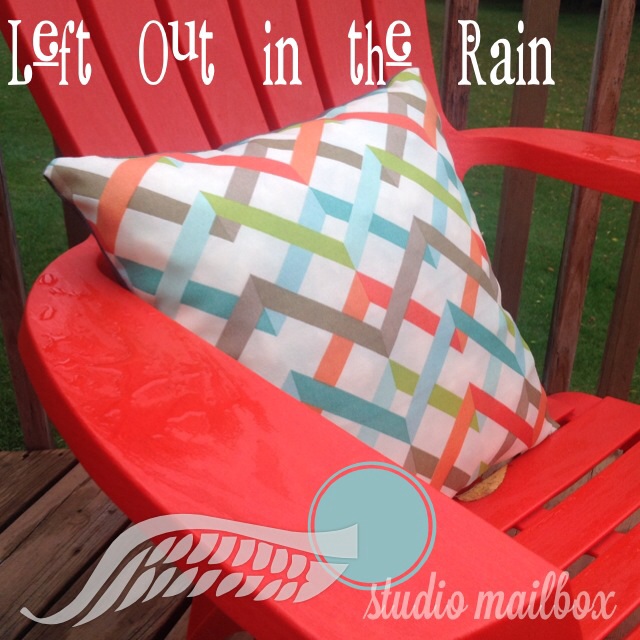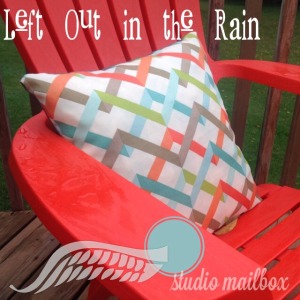 Hello Friends of First Fridays! It's TJ from Studio Mailbox here to update you on my year-long journey with denim. Can you believe October has rolled around already?  As it gets dark earlier and earlier I can't help but think that it's nature's way of telling me to get sewing.  If this isn't the perfect time of year to start a project that requires some handwork in front of the TV at night, I don't know when is.
As some of you may recall I finished my first "tester" quilt in August.  It felt like the heavens opened up and shined on me as I saw it come to fruition.  I learned a lot and have a pretty good idea about the "big quilt" that I want to tackle.  In the meantime I looked at my white living room with it's new white furniture and decided that it was resembling an insane asylum.  But as I shopped for throw pillows I got discouraged.  Although I've found a lot of pretty prints or designs, I hate the bounciness of them.  I love feather cushions and found myself dragging my pillows from my bedroom to the couch whenever we settled in for TV time.
I got the wild notion that I could make my own cushions.  So before I could change my mind I ran to Ikea and bought a bunch of their feather pillow forms.  Then I started digging through my stash finding pretty florals I've saved forever and tried them on next to different denims I had.  I figured if the backsides of the cushions were denim, it would totally tie in with the quilt.
And this is when life started to get terribly complicated.
Earlier in the summer I had gone and bought a bunch of outdoor UV fabric for pillows.  There were also about a half dozen bags of foam scraps I bought to stuff those outdoor pillows.  As I dropped the new pile of Ikea feather pillows in the sewing room they had to be stacked onto the old pile of supplies for the outdoor pillow project.  Suddenly I was totally and utterly choking on pillow shame.  Every time I would walk in there I would see a huge pile of stuff to make pillows with.  I started thinking about those white packages as my Scandinavian babies with really weird names.  "(Why hello Fjadrar!  Mommy's here.  I know it's lonely but mommy needs to sew you a cover before you can come live with the rest of the family!)" My life had turned into a craft version of Flowers in the Attic.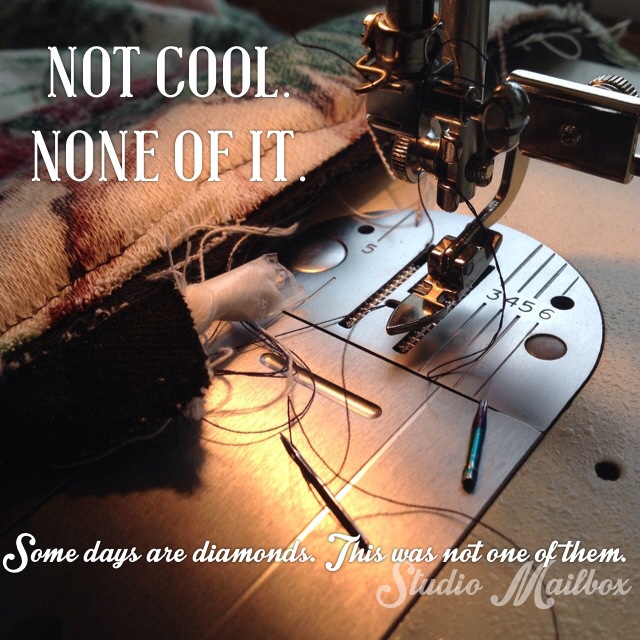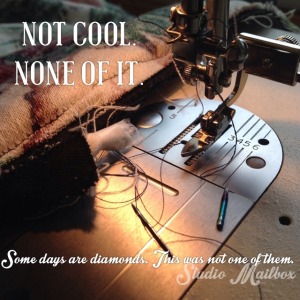 This got me thinking about transition projects and the things we need to "whip out" or "finish up" or just plain get over with.  How many times do I go to sew something and am met with a small pile of clothes on my chair that I need to patch first?  Or the hockey gear that needs a couple stitches on a strap, or the pocket that literally needs one inch of stitching to stop the coins from falling out?  I realized that these kinds of projects along with hoarded pillow supplies are why nothing else gets done in life.  The mountains of crap we need to navigate and step over in order to get to our machines need to be brought to their knees.  I thought about creating a Facebook group and starting a revolution but instead I just started sewing pillows.
I realize I typed that last sentence as if at that moment I actually knew how to sew a pillow.  So what if I'd never sewn a zipper?  How hard could it be…?  So what if a felt cupcake pillow I made in 7th grade Home Economics was the extent of my pillow expertise?
Now this is where you might take a sip of your coffee and predict that I made my pillow covers and lived happily ever after.  Well that's where you'd be wrong.  This is the point in the story where the rubber met the road.
I started with the outdoor cushions.  I figured I'd master zippers on those and if they turned out kind of crappy it really wouldn't matter because they'll be rained on and the kids will probably set them up in the yard for an obstacle course and drive their bikes over them.  The chunky outdoor foam stuffing was all lumpy and weird.  Heck I didn't like my outdoor cushions and I hadn't even made them yet!  What better way to learn how to put in a zipper? You practice on something you really don't care about.  And do you know what?  It really wasn't too bad.  Of course I screwed up a few times.  The worst was when I managed to sew into the zipper itself so that once it was all done the pull couldn't get past the place where there was a stitch in the teeth.  I ripped it out and tried again.  I banged out four cushions in two days time.  I chuckled about how I finished the summer pillows when it's almost too cold to sit outside in Minnesota anymore.  Typical me, why get them done in May when we could have enjoyed them for months?
At this point I'd made four zippered pi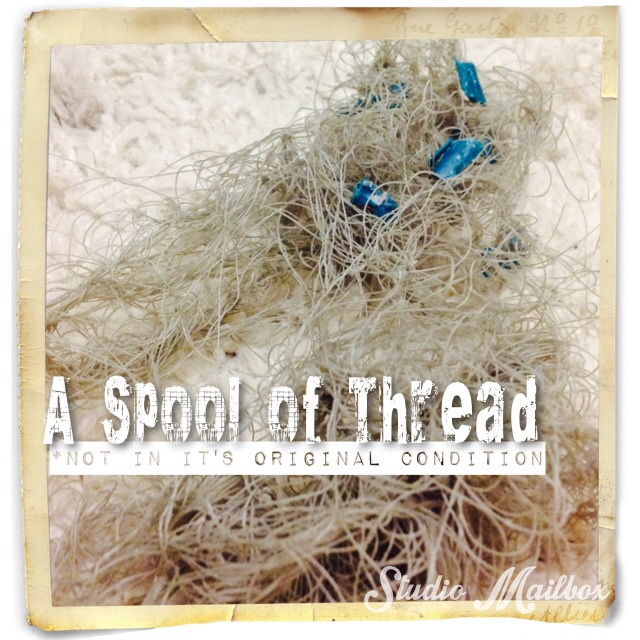 llow covers and one felt cupcake pillow.  I was rawking! *Insert air guitar*  I felt like I could take over the world with my pillow skills.  Maybe this is why I thought I could master some piping and take it up a notch for my cushions in the living room.
The first disaster was that my little ski foot broke.  A brittle plastic piece just snapped off from the foot.  I tried to limp it along like I would if I was really skiing but it wasn't long before I knew I had to hang up my poles and make a trip to the sewing center.  The first store I went to didn't carry zipper feet.  Why I have to even type that sentence is beyond me.  A sewing store that carries markers, magazines, candy bars, and decorations does not carry all the basic things a person needs when actually sewing.  When I asked an associate about a zipper foot the answer was, "when we get in zipper feet we tend to sell right out of them!"  I smiled with a look on my face that said, "by all means, whatever you do, DO NOT stock them then."  My day was shot and I wouldn't get a chance to try another store until the next day.
The next day was better but still a little frustrating.  Maybe it's because I have one of the oldest machines on earth, maybe it's because I cannot communicate what I actually need but somehow I came home with a foot that fit the shank of my machine but when the presser foot was down, the little semi-circle did not line up with my needle.  The new foot had two adjustments on it.  One loosens and tightens the foot to the shank and the other moves the ski foot left or right.  The alignment problem I was having could not be solved with a L-R adjustment but if I moved it far enough over then I could still use the foot, I just couldn't sew as close into the piping or the zipper as I'd have liked to.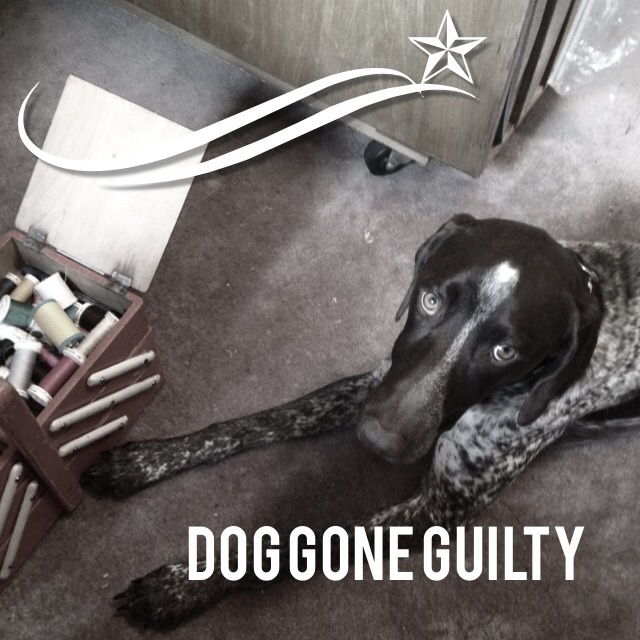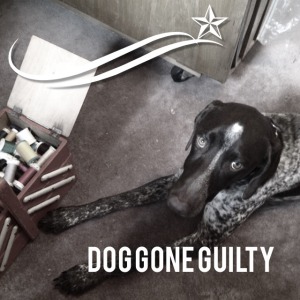 These are the moments when you should probably call your machine's manufacturer and order the part you actually need.  If you take anything away from the story please file that one away.  But of course I would never wait for a part.  I had decided to get sew baby Fjadrar his covers!!  I was cleaning out the sewing room!!!  I have a denim quilt to make!!  I have cushions to coordinate!! Back when I only knew how to make a cupcake pillow I might have stood for this but I am not that same person anymore!  Stand aside people, I'm sewing anyway.
When you reach a point in a sewing project where you consider digging through the garage to find your safety glasses because needles are flying, it is time to stop.  When you are sewing so intensely that your dog steals a spool of thread and destroys it in the next room because you are in a zone of oblivion, it is time to stop.  When your bobbin thread won't stop tangling and things are going from bad to worse, it is time to stop.  When you discover that your machine cannot go through the giant piping you chose, it is time to stop.  When you realize sewing a zipper into something that has piping is a whole other ball game, it's time to stop.
So that's where I'm at.  Stopped.  I've stopped and I'm waiting for my ski foot to come in.  The next time you hear from me that pile of pillow supplies should be completely transformed into actual pillows.  Not to get ahead of myself but if that pile is gone that means I can get my hands back into my piles of denim which are sitting there waiting to become a quilt.
*This pic is for Judy H. who liked my saying!  Thanks so much for leaving comments. You guys are so supportive, helpful and fun.  Until next month, tj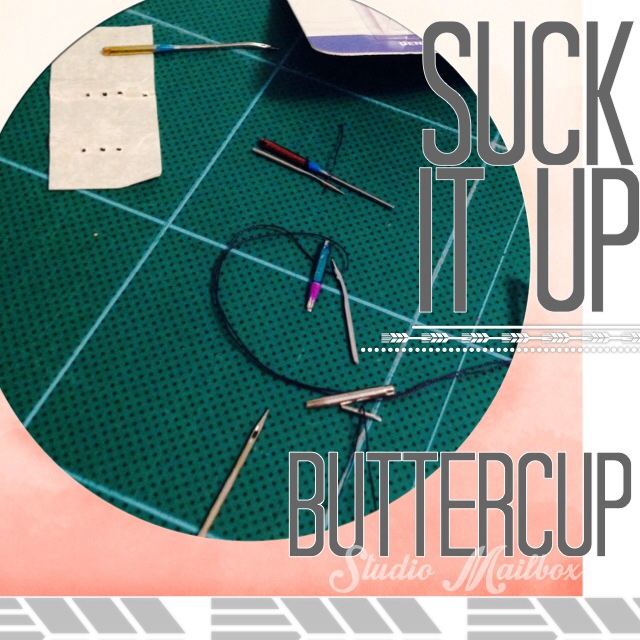 I did manage to get two big cushions done, the front sides a beautiful fabric I scored at a rummage sale and  the backside a dark blue denim.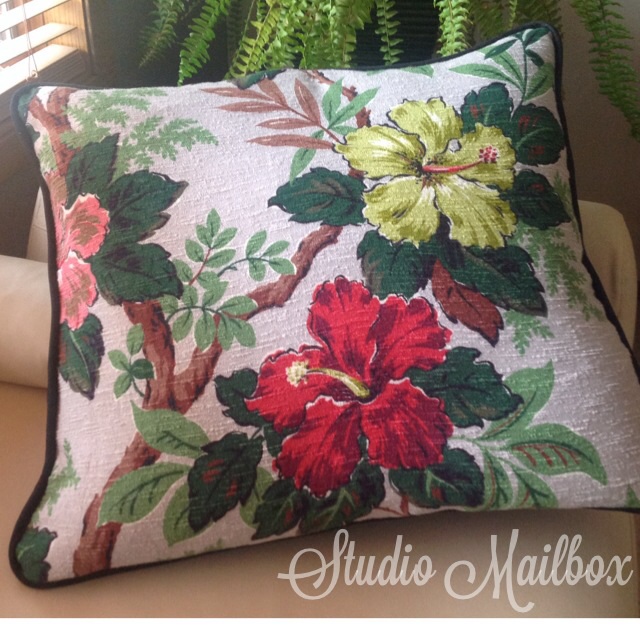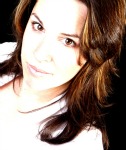 TJ Goerlitz is a mixed media artist who pretends to be a seamstress whenever possible.  Come connect with her on her site, Studio Mailbox, her Facebook page, or in Pinterest.  Join in the story of the denim quilt every first Friday of the month where she will share her progress (or non-progress) right here with the readers of The Sewing Loft.