Did you know that one of the most useful tools for your sewing room can actually be found in your local grocery storer kitchen drawer? That's right – freezer paper has a variety of uses in the world of sewing, and once you learn to use it properly you'll want to keep a box handy all the time!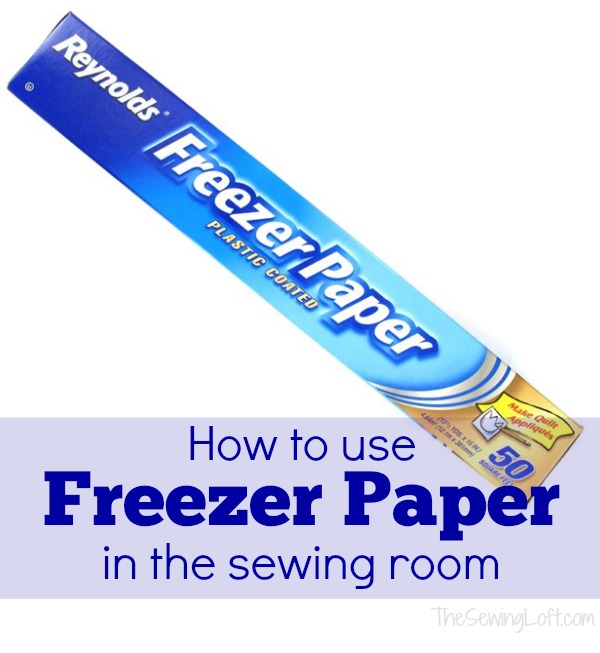 Tips for Using Freezer Paper in Your Sewing Projects:

Use freezer paper to help you cut shapes out of fabric! Draw a design on the dull side of the freezer paper and cut it out. Iron the paper (shiny side DOWN) onto a piece of fabric, then cut around the design. You can reuse the same shape over and over – just peel it off and iron again! This is a great way to create easy applique pieces for quilting, too.

Use it as an embroidery template. Using the same process as the last step, draw a design onto the paper and iron it onto a piece of fabric. Pop the fabric into your embroidery hoop and stitch right over the design; when you're finished, you can peel and tear away the paper but the stitches will remain.

Use it as a paint stencil. Draw a simple shape onto freezer paper and cut out the shape only, leaving the outline in place. Position this outline onto your T-shirt and iron it down, then sponge fabric paint into the space where the shape was removed. When the paint dries, peel off the paper and your stencil is complete!

Extend the life of your sewing patterns. Pull out enough freezer paper to completely cover a sewing pattern piece, and position the freezer paper with the shiny side down. On the dull side, use a pencil and ruler to help you trace the pattern outlines and markings onto the freezer paper, then cut them out and use them. That way you get to preserve the original pattern for future use, and the freezer paper is more durable for cutting out your fabric pieces, too.

Use it as your foundation for English Paper Piecing. Cut out several shapes from freezer paper as your template for hand stitching, or cut out and iron the shapes onto the paper to create your templates.

This standard household item can be cut into 8 1/2″ x 11″, fused the shiny side of freezer paper to thethe wrong side of fabric and cut fabric to size. The freezer paper will provide enough stabilization to allow the fabric to run through the printer. WOW, it will help you print on fabric. Allow the ink to dry and peel away the paper. Set ink with a hot iron.
Who knew that a simple household pantry staple could be so useful in sewing? Do you have any favorite uses for freezer paper? Share them with us in the comments below!

Hello! Are you new to The Sewing Loft?

If so, I'm glad you stopped by and hope that something has inspired you to keep your needle moving!  Don't miss a single project and subscribe via email HERE! Bonus- free embroidery pattern with newsletter sign up.  Another great way to connect with me is via Facebook, Pinterest, Twitter, Google+ or Follow my blog with Bloglovin.  I'm looking forward to getting to know you and creating together!