Holiday time is always so busy that sometimes, it is hard to start a new sewing project. Well, today's project is so simple that you can start and finish it in one quick session behind the machine. That's right, this holiday mug rug is that easy!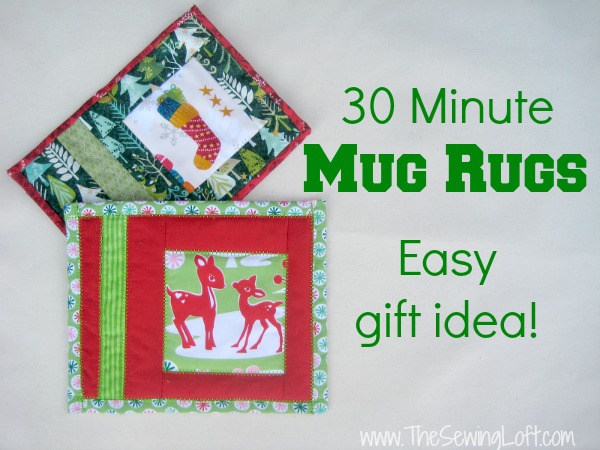 Holiday Mug Rug
This project is for all levels.
Skill Level- 1 Button
Materials:
fabric scraps cut into strips 7 1/2″ long
batting 7 1/2″ x 9 1/2″
backer fabric 11 1/2″ x 9 1/2″
Fussy Cutting Template (6″ template was used for this project)
Tools:
Sewing Machine
Iron/Ironing Board
basic sewing supplies
Instructions:
Cut out all fabric pieces including your "fussy cut" using the template. Create a fabric sandwich like so: backer fabric wrong side up. layer of batting and your fussy cut fabric cut positioned in place; right side up.
Position the 1st strip of fabric in place right sides together and stitch 1/4″ from edge; flip fabric strip over and press. This is called the stitch and flip method. **You are stitching through all layers.
Repeat the process all the way around your fussy square, overlapping each layer as you sew. Continue across the balance of batting.
Add decorative stitching along seams. I suggest branching out and trying a new stitch in your machine. I used Hemstitching on this sample.
Create the self binding by folding over and pressing the excess backer fabric 1/4″. Fold again to clean finish. Pin and stitch in place. Trim all loose threads.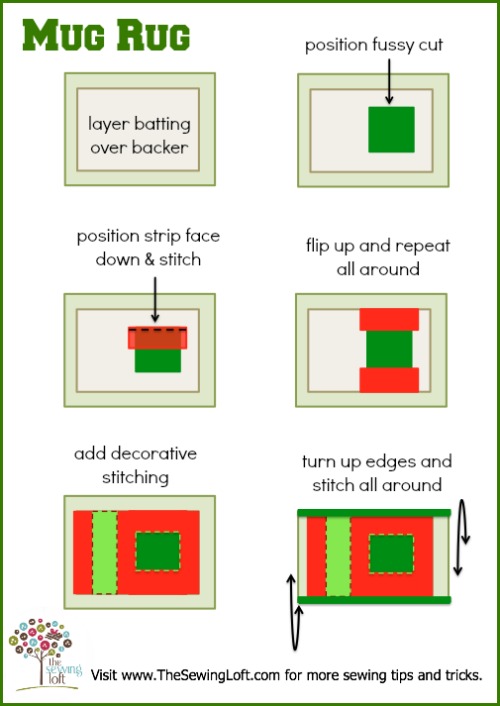 Now, even though it's the holidays, this mug rug is perfect for anytime of year! Just swap out the colors and insert your favorite fabrics or heck, go wild and use up some scraps. Just start stitching and whip a few of these babies together!!  I made each of this in about 30 minutes with just a few extra fabric scraps and the fussy cut templates.

Hello! Are you new to The Sewing Loft?

If so, I'm glad you stopped by and hope that something has inspired you to keep your needle moving!  Don't miss a single project and subscribe via email HERE! Bonus- free download with newsletter sign up.

Another great way to connect with me is via Facebook, Pinterest, Twitter, Google+ or Follow along with Bloglovin.  I'm looking forward to getting to know you and creating together!