A simple scented pin can be an instant reminder of a special day.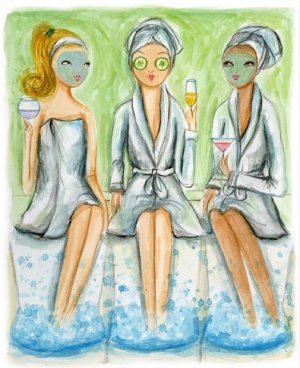 With summer winding down, I thought it might be fun to try to sneak in one more "girl thing" before the madness of school, sports and life kicks back into full swing.  One of the 1st things that came to mind was a day at the spa.  I love having a "Spa Day" with the girls… But seriously, this rarely happens.  Since the stars were not aligned and our schedules could not connect, I thought it would be fun to create something that reminded us of a special day at the spa.
For me, the spa is all about the amazing scents and place of calm.  So, I wanted to create something that could instantly bring me to a relaxed state.  These simple scented pins are perfect and the bonus, you can take them anywhere.

This project is for all levels.
Skill Level- 1 Button
Materials:
scraps of sweater or material
embroidery thread
lavender
pin
button/trims
Basic Instructions:
Cut out 2 pieces of your basic shape.  I used a heart and rectangle.
With straight stitch, machine stitch all around leaving a 1 1/2″ opening to fill.  *Note: I used contrast thread here for fun.
Fill shape with lavender or other scented product.  Stitch area closed.
With needle and embroidery thread, I added a simple running stitch all around the outside edge.  Then I added a few fun trims.
Attach your pin to the back and you are all set.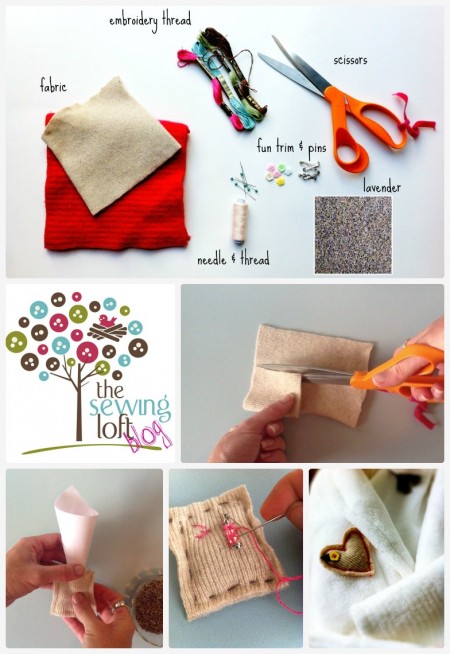 I think these scented pins can be used for so many things.
on a present
tucked in the car as an air freshener
on your jacket
remove the pin and tuck them into your drawers
For more fun Spa Crafts join the Cool2Craft episode on September 17, 2012.  Will post the video after the show.