With school back in session, my girls are always wearing jeans.  So, I thought it would be fun to reclaim a few D rings and make a fabric belt!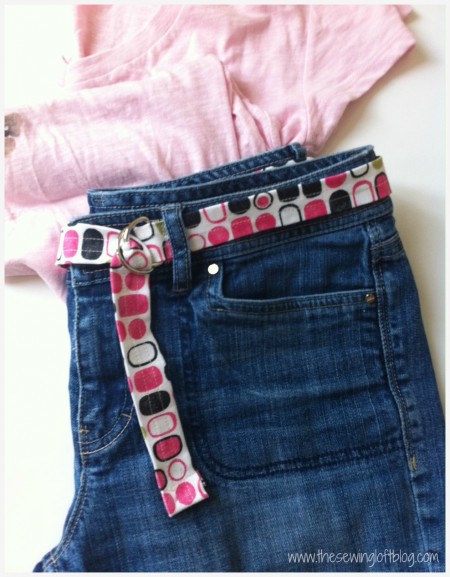 This project is for all levels.
Skill Level- 1 Button
Materials:
fabric
2 D rings
interlining  *depending on the weight of your fabric
Basic Instructions:
Measure your waist and add 12″.  This will include all seam allowance and extra for the tail.  (Waist + 12″ = X)
Measure the inside of your D ring.  Minus 1/8″ – this will be your finished belt width.  (Inside ring – 1/8″ x 2 + 1″ = Y)
Cut fabric X" by Y".  If your fabric is light weight, cut the same size piece of interlining.
Fold under 1/2″ seam allowance each side and press. Fold in half and stitch along each side.  Have fun here and get creative.  Think about using a decorative stitching, embroidery thread or even adding a layer of ribbon.
To clean finish the tail end, double fold and press. Stitch in place.
At the loop end, fold & press 1/4″ seam allowance; stitch in place.  Slip 2 D rings through; fold back and stitch in place. Be sure to back-stitch here for stability.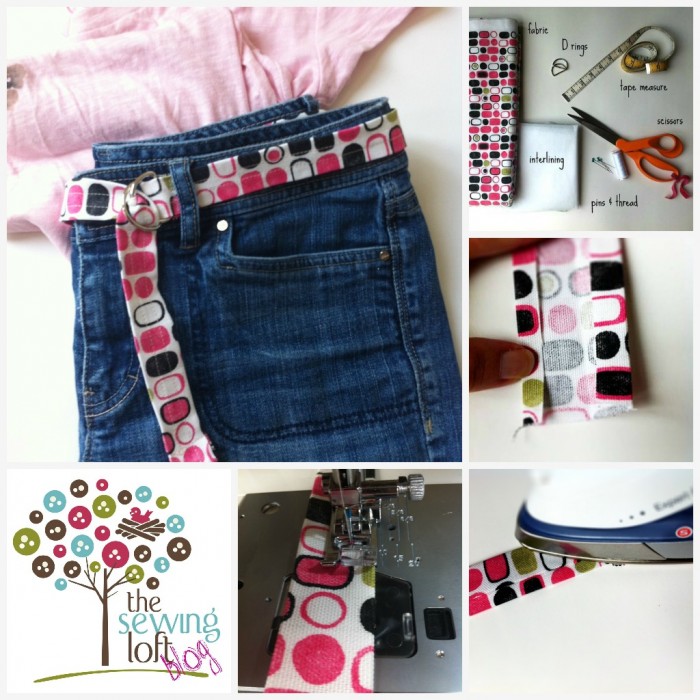 Grab your favorite jeans, toss on a tee and you are all set!
**Looking for a no sew option- no problem! Just just some double sided fusible in place of stitching.  
ps- if you are wondering where I reclaimed the D rings from – they are from an old apron used to make this tote bag.