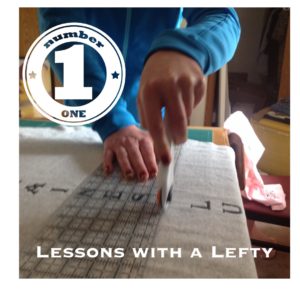 Hello Friends of first Fridays!  It's your old pal TJ from Studio Mailbox here to bring you your December dose of monthly sewing humor. Can you believe it's the end of another year?  I can imagine just how busy you've all been, wrapping up those holiday projects.
As you might recall, I've spent this year tackling random acts of sewing kindness or RASK for short.  The whole thing started when my friend Christa mentioned she had a sewing machine that she didn't know how to use and I insisted I could teach her.
Over the past few months we've scheduled times that we'd later cancel, frazzled with the ups and downs of work and life.  Finally a couple of weeks ago Christa managed to come over so that we could tackle her project.  We are probably the only two people in the world who need an entire year to make one small pillow cover.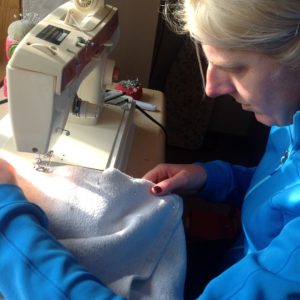 It started out easily enough. I explained how we needed to cut up the sweatpants she wanted to use (they were a vacation souvenir and she wanted the logo to be on her pillow cover).  But right out of the chute when I set her up on the cutting table I had forgotten she was a lefty.  A lefty who had never used a rotary cutter.  It's not rocket science, but I admit it took me a moment to think it through, that a lefty is also going to use the left side of the ruler.  Within moments she was rocking that thing with her dazzling holidays nails!
When it came time to work on the machine it was the same song and dance.  Suddenly I realized there is no easy way to set it up if you're not right handed.  You can hardly flip the machine around and use it backwards.  I tried jamming all the fabric in the neck of the machine so her stitching was happening on the left side of the project but that was actually harder than setting her up with the project hanging off the machine to the left side and just letting her steer with her right hand.
Another rookie mistake I made is that I had pinned up the sides for her the way I've always done it.  It wasn't until I sat her down that I realized the pokey end of the pins were facing left.  "Hang on a second," I said as I snatched it away and re-pinned.
The other thing I'd never thought about is that if the project is hanging off the machine to the left you can hardly set the pincushion there.  This means that every time Christa pulled out a pin with her left hand she had to reach across her own body and the machine to return it to the pincushion on the right.  It was almost like that disco move everyone busts into when they hear the opening notes of, "Staying Alive."
"This is just another instance of a lefty living in a right-hand world," Christa explained.  The struggle is real people.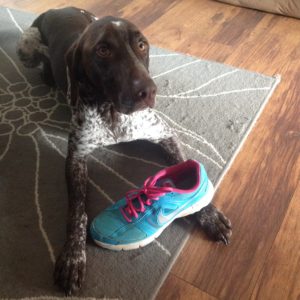 Every few minutes my dog Lucky would try to interrupt us by taking Christa's shoe, but eventually she was able to finish the straight seams on all four sides.  By the third corner she was pivoting her work like a boss.  There was only one time where she tried to take off again while the presser foot was still in the air.  "Nailed it!" she cried as she closed in on the final stitches.
"Now what?" she asked as she reached across herself to the right side of the table for the scissors to cut the threads from the machine.
"We have to turn it inside out," I explained.
You could almost hear a drum roll in the background and I swear a sun's ray penetrated the crack in the curtains and shone down on her pillow cover as she worked it right-side out.  Even Lucky sat down and patiently waited.  I held my breath hoping that there weren't going to be any puckers or accidental pleats in there from the pinning and re-pinning.  Turns out there was no cause for alarm, it came out perfect.
"Now turn it back inside out," I instructed, as I made her go around everything again with zig-zag stitches.  By the time she was done with that she had mastered turning corners.  It was a cinch since there weren't any pins holding her back.
"When are we going to make a quilt?" she asked before the needle was even in it's highest position.
I've created a monster.
Do you have any lefty tips or tricks for Christa?  Please be sure and leave her a comment.  Christa and I wish you all (both righties and lefties) a healthy, happy, humor filled holiday season.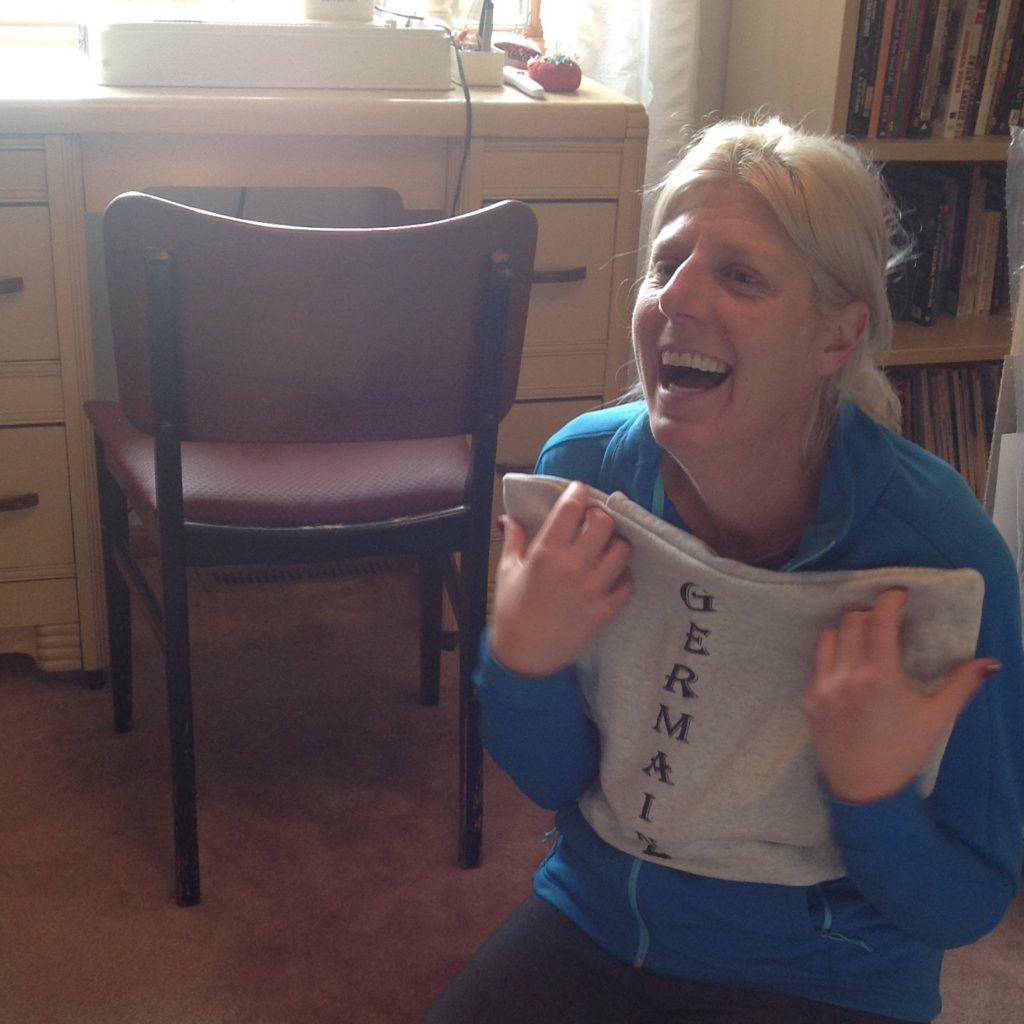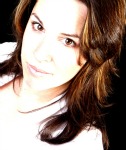 TJ Goerlitz is a mixed media artist who pretends to be a seamstress whenever possible.  Follow her writing in Facebook, come connect with her on her site, Studio Mailbox, or browse her boards in Pinterest.  Join her on the first Friday of every month where she shares her latest sewing tales with the readers of The Sewing Loft.