Summer is winding down and the crisp fall weather is right around the corner.  That means it's time to start thinking about what fun things I am going to make or explore while the kiddos are in school.   At my last ASG meeting the group discussed learning how to make lingerie.
I know what you're thinking…. really, do I want to make my own?  This is exactly what I thought when I heard the gals chat about it.  Truth be told, I might have even had an inner eye roll.  All I could think about was how much time and effort these pieces take to make.  Fast forward to my next under garment purchase and after one washing the underwire pop out.  Needless to say this did NOT make my day.  Instead of heading back to the very well known store for a quick return, I threaded up my machine and stitched that baby back in place.   It was not hard to do and saved me SO much time!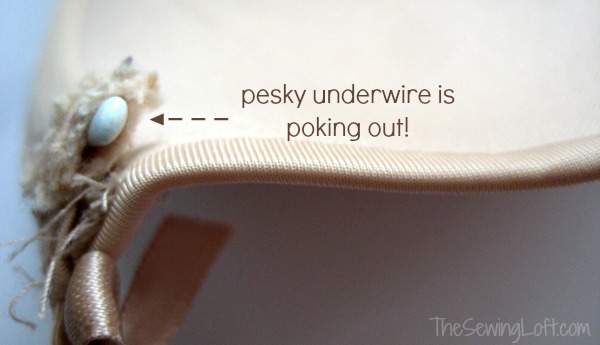 So, when I realized that Craftsy offered a free download to learn how to have Success with Sewing Lingerie, I had to help spread the word!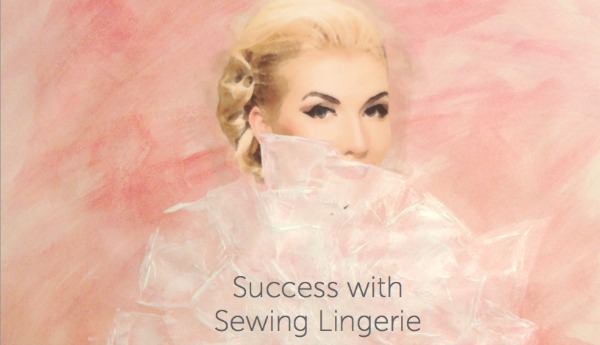 Basically, this download offers easy lingerie making tips, tricks and advice.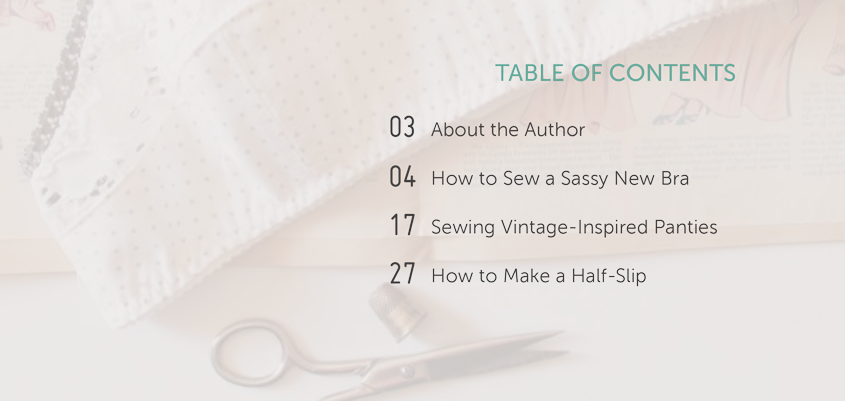 Now, I'm gonna just put it out there- I'm not sure I intend on making my next bra & pantie set but the process made me realize that several of you might be interested in learning.  The part that is of great interest to me is making a half slip.  Especially since my daughters skirts keep getting shorter and shorter by the minute.  Oh, the joy of teenagers! (Insert a big shout out to my Mom- I totally feel your pain and realize, I was a toughie!)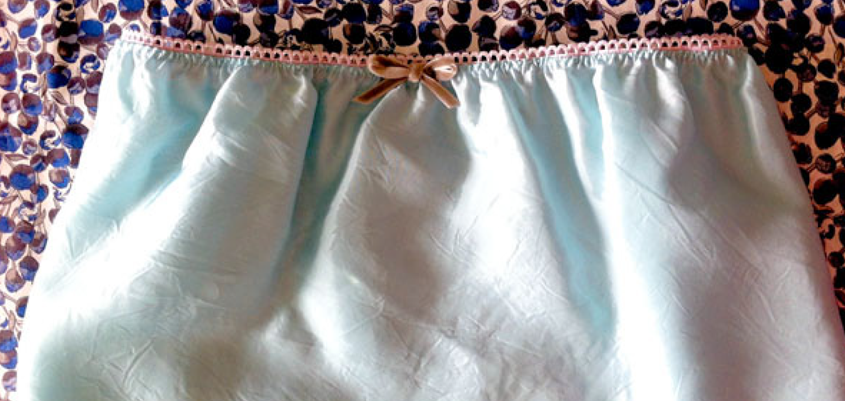 Lingerie supplies can be hard to find at your standard store so, to help you on your lingerie making journey, I have rounded up a quick list of shops that sell these special supplies.  Consider this your go to lingerie resource guide!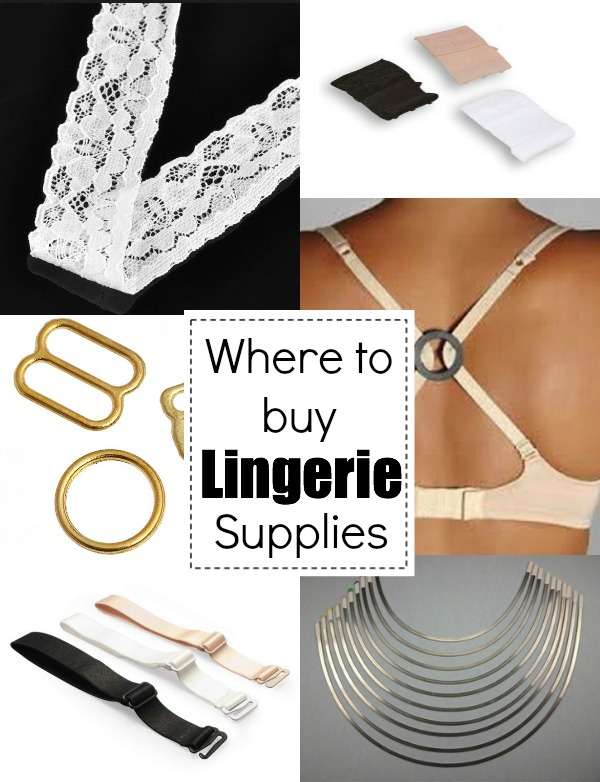 Lingerie Resource Guide
Gotta love that name! They offer an extensive collections of sewing kits for all things lingerie.  Bras, panties, slips and more.
Just like the name suggests, Bra Essentials offers pretty wide range of bra making supplies.  From underwires to molded cups with everything in between. No minimum order is required.
You name it, they've got it! This shop offers pretty much everything under the sun related to lingerie.  They ship domestic and internationally.
Offers a WIDE range of options. Including specialty straps and corset supplies.  Total bonus- they offer millinery supplies too!
Not only do they offer all things bra but if you are in the Fresno, CA area you can pop in for a custom bra fitting. That's right, they will help get you sized up and ready to stitch your perfect bra.
Crystal Clover offers a wide range of supplies for lingerie.  They also are the go to place for dancers, performers and designers to find the best in luxurious fabrics and accessories for creating that special touch of individuality in costume design.
Offers a wide selection of printed patterns, supplies and kits.
Offers a wide range of fabrics suited for lingerie making.  You will find printed lycras, tricots, laces, underwires, patterns and more.
Lijfgoed has a wide selection of general bra/lingerie making supplies and pre packaged kits.
This site offers an assortment of patterns, bra making kits, foam lining and more.
Offers a wide variety of fabrics, lace and trims for all types of lingerie making, swim suits and costumes.
You will need to hit the translate button for this one but trust me, it will be worth it! They have a wide variety of clasps and things for your lingerie making.
Whether you are making lingerie or costumes, this is a site to keep on your list.  Better yet, if you are ever in NY be sure to stop in for a visit. They offer an extensive selection of all things Spandex and stretch.
Back in my college days I could often be found in this store.  They pretty much have everything any sewing enthusiast could ever need in the way of trims.
Now that you have your supply list down it's time to get stitching! Head on over to Craftsy and  download your free copy of Success with Sewing Lingerie today.  It's a goodie to have in your library for sure.

ps- Once you make your unmentionables… why not pair them with one of these amazing skirts!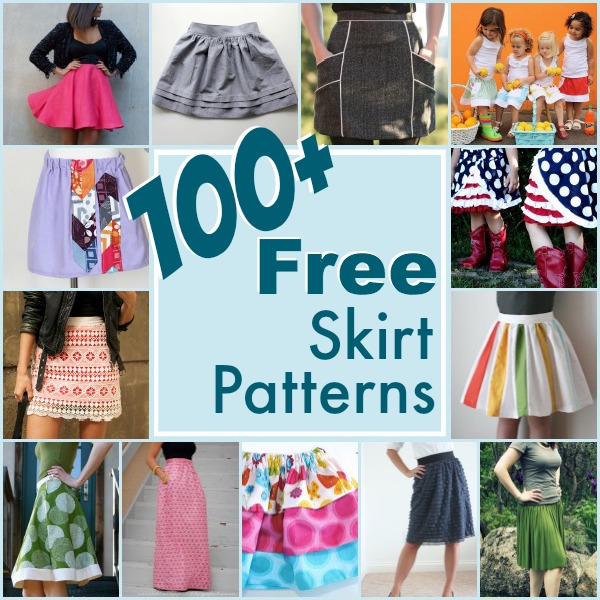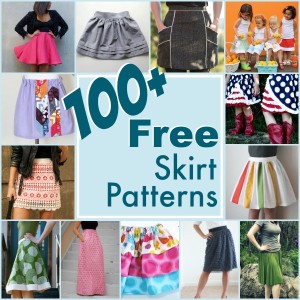 ** Disclaimer: This post has been sponsored by Craftsy.  I have read the download and have shared my honest opinions.  There are no affiliate links in this post.
Hello! Are you new to The Sewing Loft?

If so, I'm glad you stopped by and hope that something has inspired you to keep your needle moving!  Don't miss a single project and subscribe via email HERE! Bonus- free embroidery pattern with newsletter sign up.  Another great way to connect with me is via Facebook, Pinterest, Twitter, Google+ or Follow my blog with Bloglovin.  I'm looking forward to getting to know you and creating together!