Mitered corners are a commonly used technique in sewing, yet so many people tend to struggle with it.  Let's break it down into bite sizes bits and see it in action!
Miter
noun
a joint made between two pieces of wood or other material at an angle of 90°, such that the line of junction bisects this angle.
a diagonal seam of two pieces of fabric that meet at a corner joining.
Origin late Middle English: from Old French, via Latin from Greek mitra 'belt or turban.'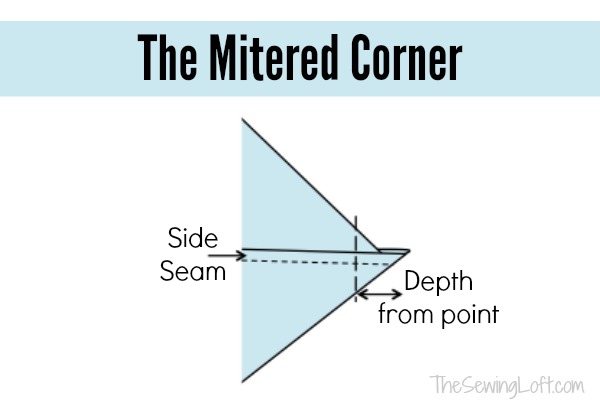 Mitered Corners
This sewing tip is for all levels.
Skill Level- 1 Button
Mitered corners are easy to create, let's learn how.
Pinch together each corner of fabric and align the side and bottom seams.
Use a ruler and fabric marking tool to draw a perpendicular line.
Straight stitch on-line.  Trim away corner fabric.

Additional Tips:
Use a clear quilting ruler to ensure accuracy.
Measure fabric width on both sides of seam.
Pin seams together above the sew line to prevent the seams from shifting or becoming misaligned.
 Backstitch at start and stop of stitch line.
Add a double row of stitching just outside the stitch line for stability.
Mitered corners are perfect for pillows, small zip bags, oversized tote bags and sew much more.
Need more inspiration? Check out the tutorials page or my pattern shop  for easy sewing patterns to keep you in stitches!

Hello! Are you new to The Sewing Loft?

If so, I'm glad you stopped by and hope that something has inspired you to keep your needle moving!  Don't miss a single project and subscribe via email HERE! Bonus- free embroidery pattern with newsletter sign up.  Another great way to connect with me is via Facebook, Pinterest, Twitter, Google+ or Follow my blog with Bloglovin.  I'm looking forward to getting to know you and creating together!