Did you know that you can actually use fabric dyes as paint in order to create a dyed design on your fabric pieces? This method is like a combination of the techniques used for fabric painting and fabric dyeing.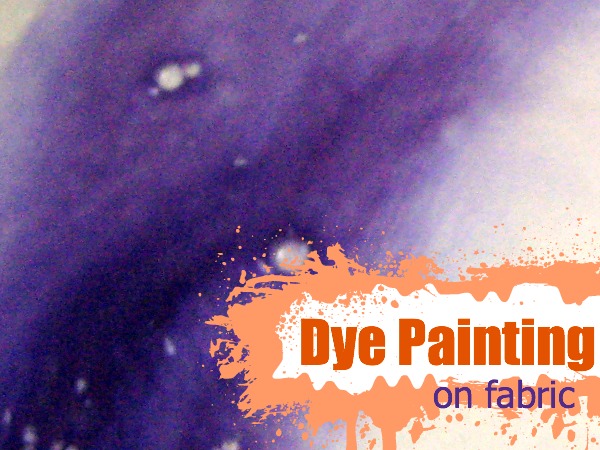 Gather your materials:
fabric dyes
squirt bottles (the kind you can buy for salad dressing or ketchup at retail/grocery stores)
paint or sponge brushes
protective materials for your clothing and work surface 

How to Paint Fabric with Dyes:
Gear up.
Put on protective or older clothing and rubber gloves. Cover your work surface with old towels and garbage bags to protect them from getting dye stains.

Mix the dyes.
Mix your fabric dyes into squeeze bottles by combining an appropriate ratio of fabric dye and water (check the label or package). Make as many bottles as you want for the number of colors you plan to use.

Prepare the fabric.
Lay your fabric out flat on top of your protected work surface. Smooth out any wrinkles and try to keep it in a single layer.
Tip: If you're using acid dyes, you'll need to pre-soak your fabric in a vinegar and water solution for 12-24 hours before you begin. If you're using regular dyes then you will be fine to use dry fabric.

Paint a design.
Use the squeeze bottle to pour a small amount of fabric dye onto your fabric. Use a sponge brush to spread or paint the dye in a particular direction.
Tip: With this process you can also use stencils or stamps, as with fabric painting, though the process is a bit messier and less likely to be precise. Repeat this step with all the dye colors you want to use.

Set and Rinse.
Let your fabric set for 10-15 minutes to fully absorb the dye and then rinse, wash and dry it as normal.
Tip: If you're using acid dyes, they have to be heat set. Place your fabric in the microwave (in a microwave-safe container that will not be used for food ever again) and cook on high for 3 minutes. Let rest for 3 minutes and cook again, then 3 more minutes of rest and 3 more minutes of cooking. When the fabric cools entirely, rinse in cold water and it's ready to use.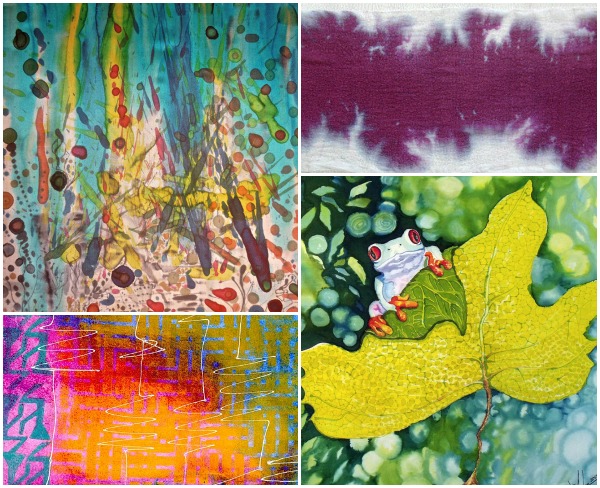 Pictured above are some amazing examples of dye painting on fabric.  Photo credit clockwise from top right: Silksart 77 by Aiwaysoutside, Painted by Brittany B,  Tree Frog by Tammi Vaughan, Frequency by Judi.
Have you tried painting with dyes? Did you enjoy putting together your own fabric designs with this method? We'd love to see your experiments! Share them with us in the Sewing Loft Flickr Pool!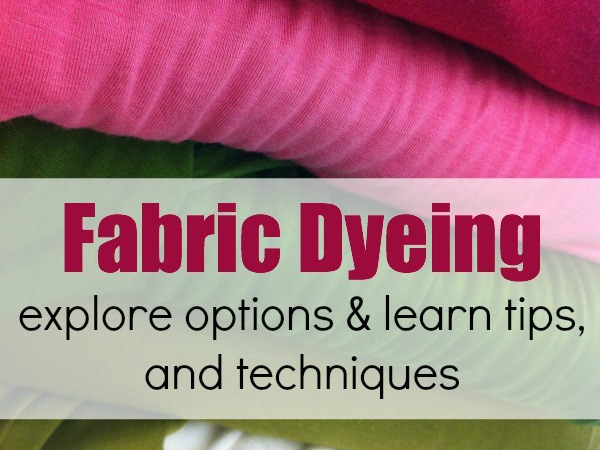 Fabric Dyeing Mini Series Round Up-
For our final post on the series, we'll be dying with a common household ingredient. Stay tuned!

Hello! Are you new to The Sewing Loft?

If so, I'm glad you stopped by and hope that something has inspired you to keep your needle moving!  Don't miss a single project and subscribe via email HERE! Bonus- free embroidery pattern with newsletter sign up.  Another great way to connect with me is via Facebook, Pinterest, Twitter, Google+ or Follow my blog with Bloglovin.  I'm looking forward to getting to know you and creating together!