More than ever sewing is back in style! From mask-making to closet makeovers, we are all putting our machines to the test and that's why I'm so excited to add the Baby Lock Altair to my studio. Endearingly named Addison, or Addie for short.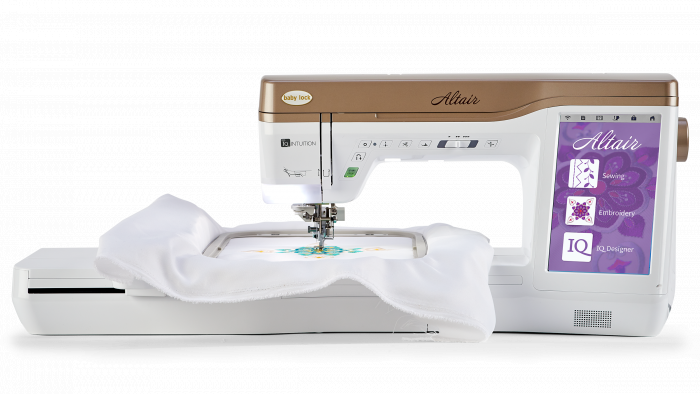 Now, when you welcome a new machine like this into your world, everyone gets excited, even the dogs. To say that they were beyond interested to know what all the fuss was about is a complete understatement.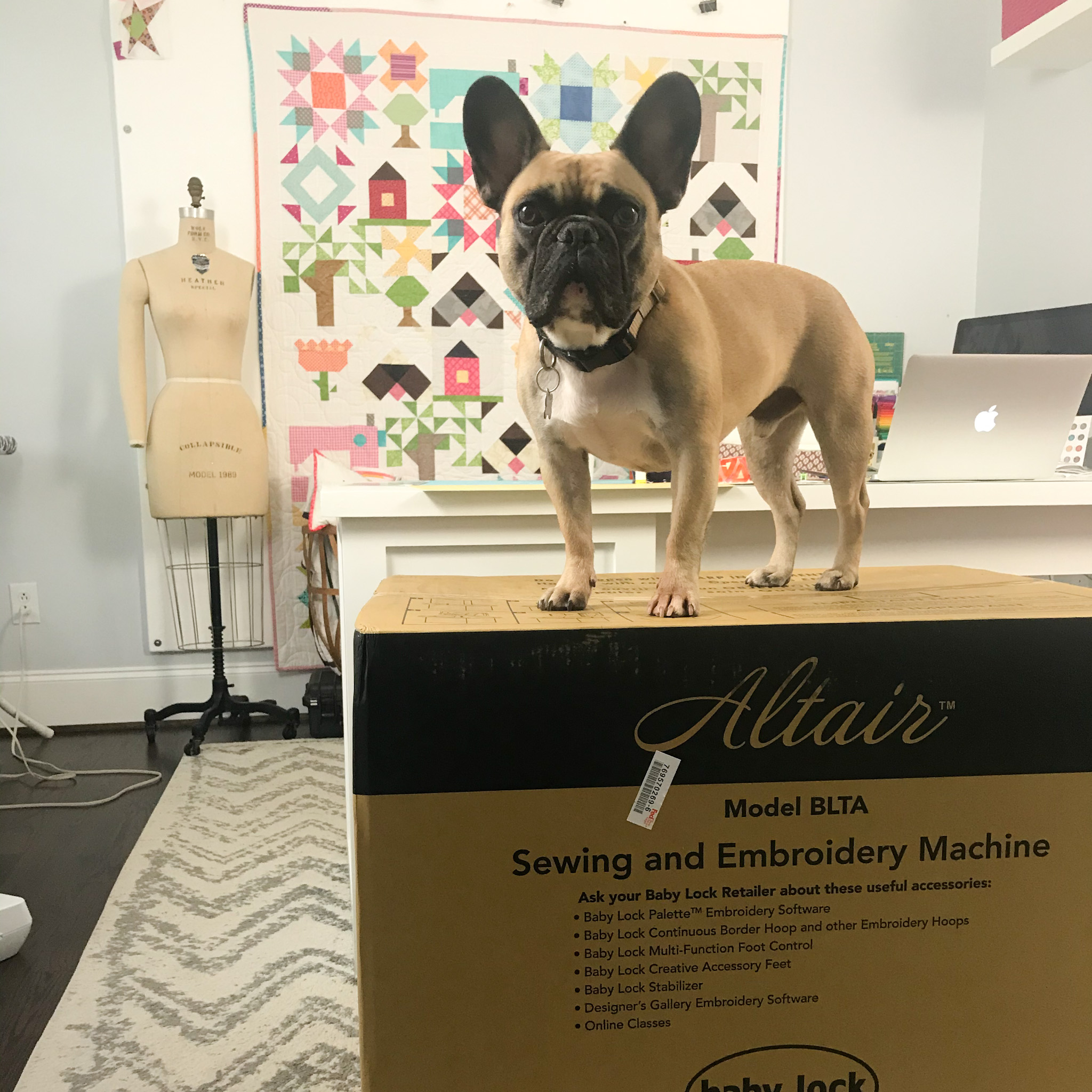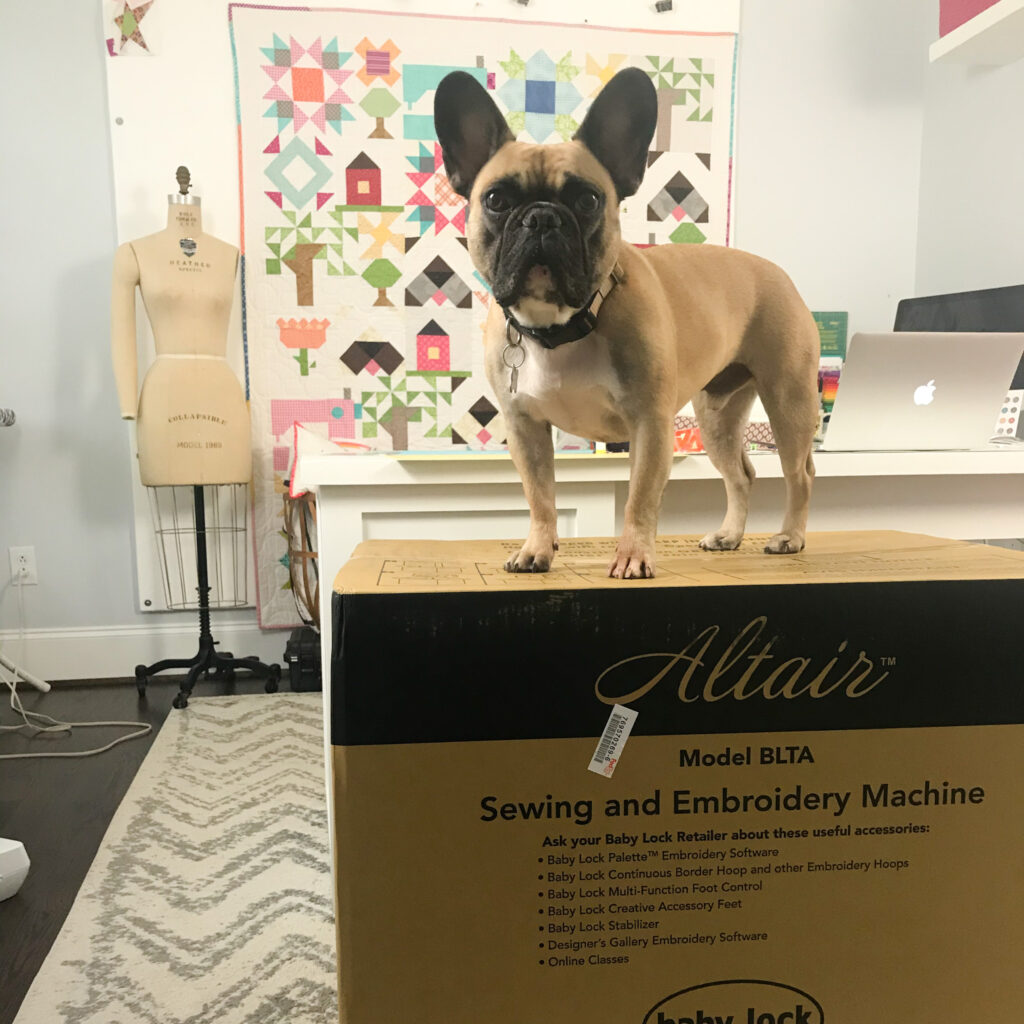 Levi instantly claimed the box for his own while Tucker watched from the sidelines. Now, they just sleep under my feet while the machine hums along. You can see more of their shenanigans over in my Instagram feed here.
For anyone thinking of investing in a new machine, this one is pretty amazing. With all the special bells and whistles on the Altair, your stitches are bound to be on point each and every time! I swear, the Baby Lock machines really help me, and my girls, achieve our creative dreams.
Baby Lock Altair Features
Since I've been itching to really dig deeper into the world of embroidery design, this machine is perfect for me. Here are a few of my favorite features of the Altair.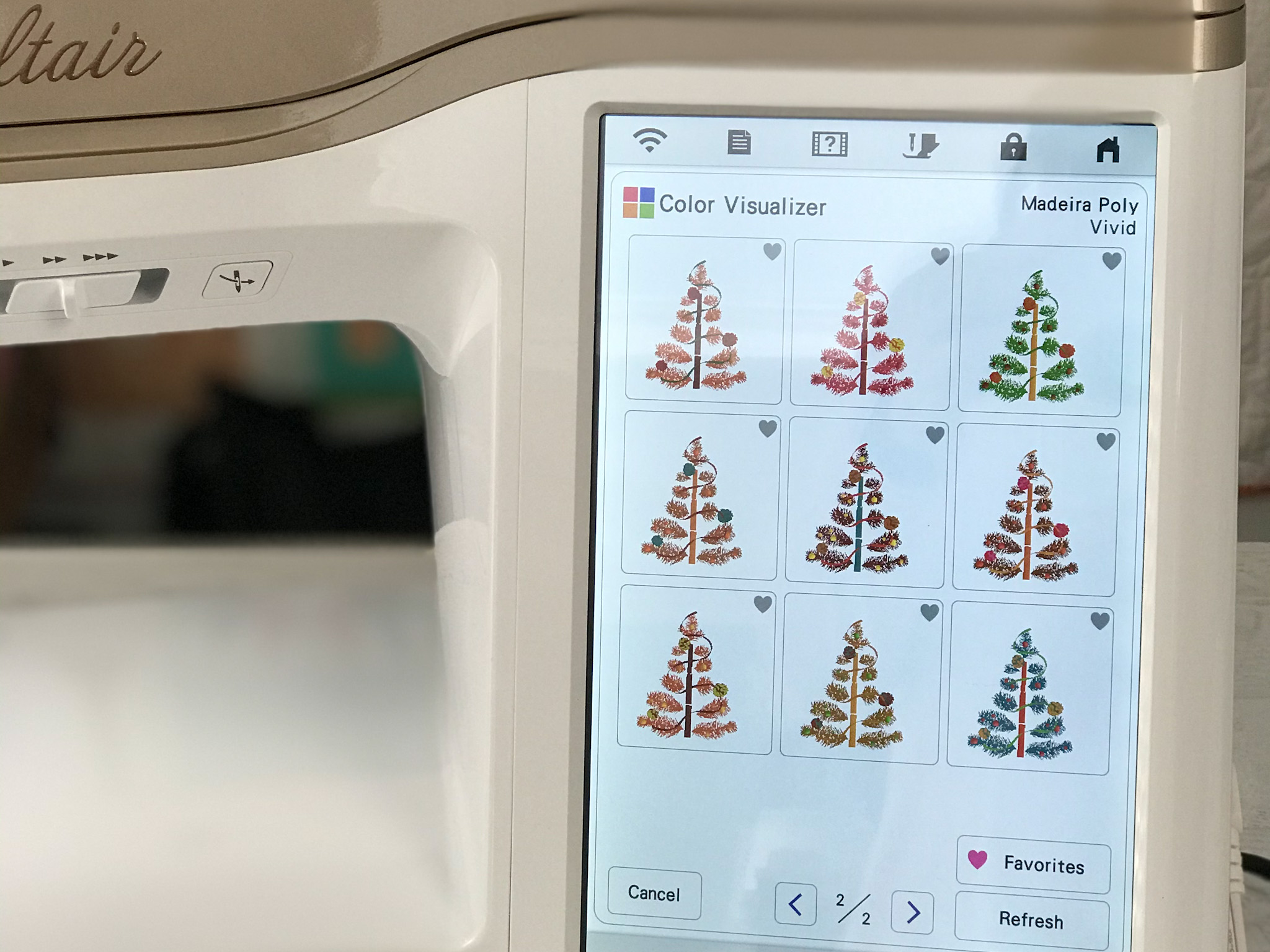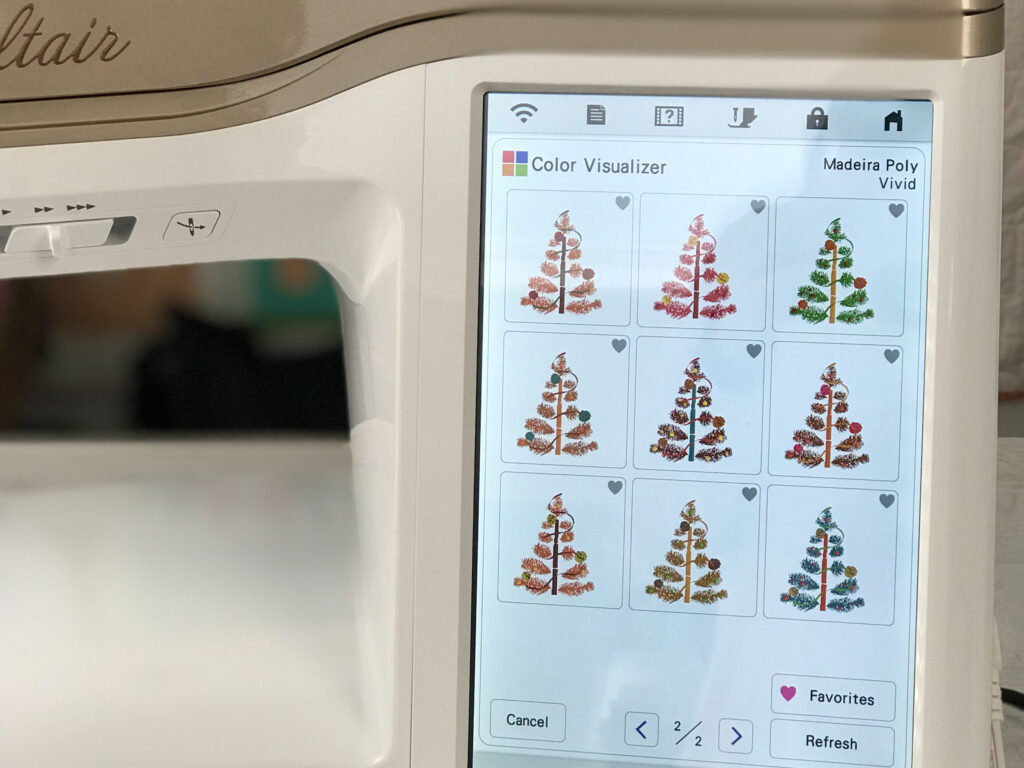 Color Visualizer- WOW, this is beyond cool! Once you have your embroidery design selected and ready to go, just hit the edit key, color visualizer, and watch the machine transform your design into an array of color combinations.
Positioning App- Since placement is so important with embroidery, this feature is the bomb. Not only will it help make sure your design is spot on, but it allows you to scan your fabric directly into the machine. Talk about ensuring accuracy.
IQ Designer- This feature allows you to create custom embroidery designs with a simple scan of a photo. To say that this feature is easy to use is an understatement. My youngest daughter turned her hand-drawn artwork into an amazing embroidery design all by herself.
Wireless- HELLO, kinda mindblowing that my sewing machine can actually talk to my computer without wires, flash drives, or special discs. Honestly, the timing is perfect because I am currently learning Palette, an embroidery design software, and this feature is going to really help streamline my process.
Large Workspace- Not only does the Altair have a large bed/throat space but it also offers a 9 1/2″ x 14″ embroidery field. Just think about all the projects you can make without having to stop and rehoop your fabric.
Countless Designs & Stitches- You guys, this machine is jam-packed with decorative stitches and embroidery designs built-in. That means from the moment you flip the switch, you can create the most stunning designs your creative mind can possibly imagine.
As I've mentioned before, I tend to name my machines. It helps me keep our BFF relationship in check. This way, when Mr. TSL asks what my day looks like, I can easily say, Addie and I are booked solid or Addie and I have a lunch date. He instantly knows my dance card is full because I have a project in the works.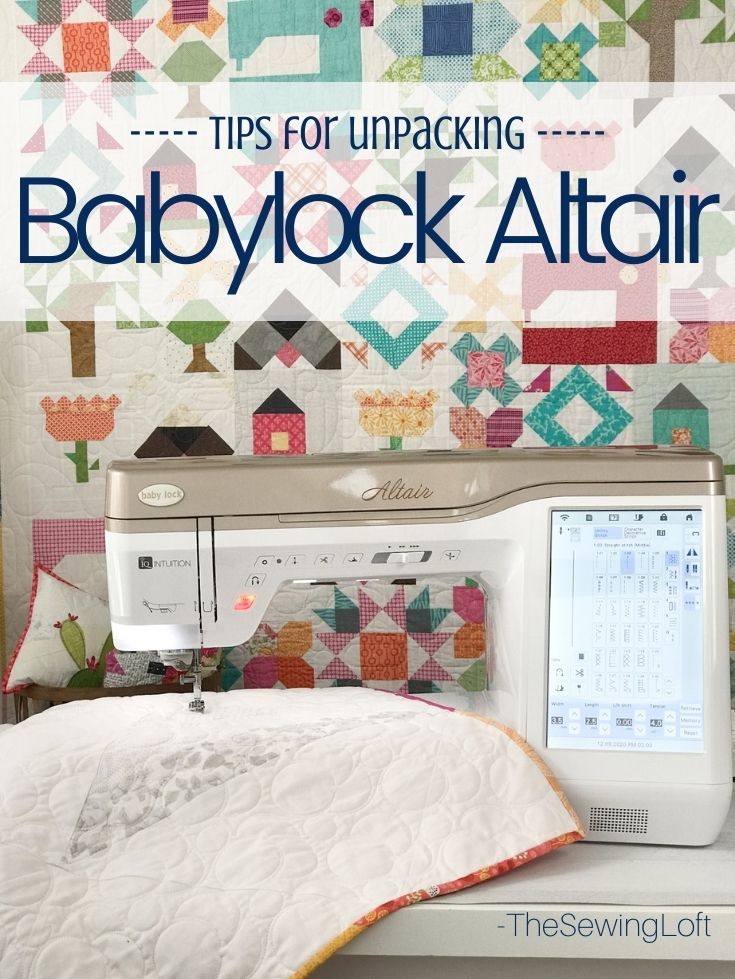 Baby Lock Altair Tips
A few tips about getting to know your new machine:
Make the time– New machines are exciting but dedicating an afternoon to become more familiar with its features will be so worth it! For even more continued education and inspiration, consider joining the Babylock Love of Knowledge or Love of Sewing programs.
Stitch Card- Each machine offers a unique line up of stitches and it's best to get to know them right away. Consider making a simple stitch card for easy reference in the future.
Protect it- This may sound simple but you want to keep everything in good working order. Meaning, a little cleaning goes a long way. Be sure to talk to your dealer about bringing your machine back for a once a year check-up, clean out the bobbin area often. You can also keep track of any blips on the radar with this free printable. Just having a plan will help keep your machine purring like a kitten and ready when you are.
Keep it!!- Whatever you do, please DON'T throw out your box! I know it's a pain to store them but trust me, if you ever have to ship your machine for repair, move miles away, or even sell it, you will wish you kept it! Ask me how I know!😜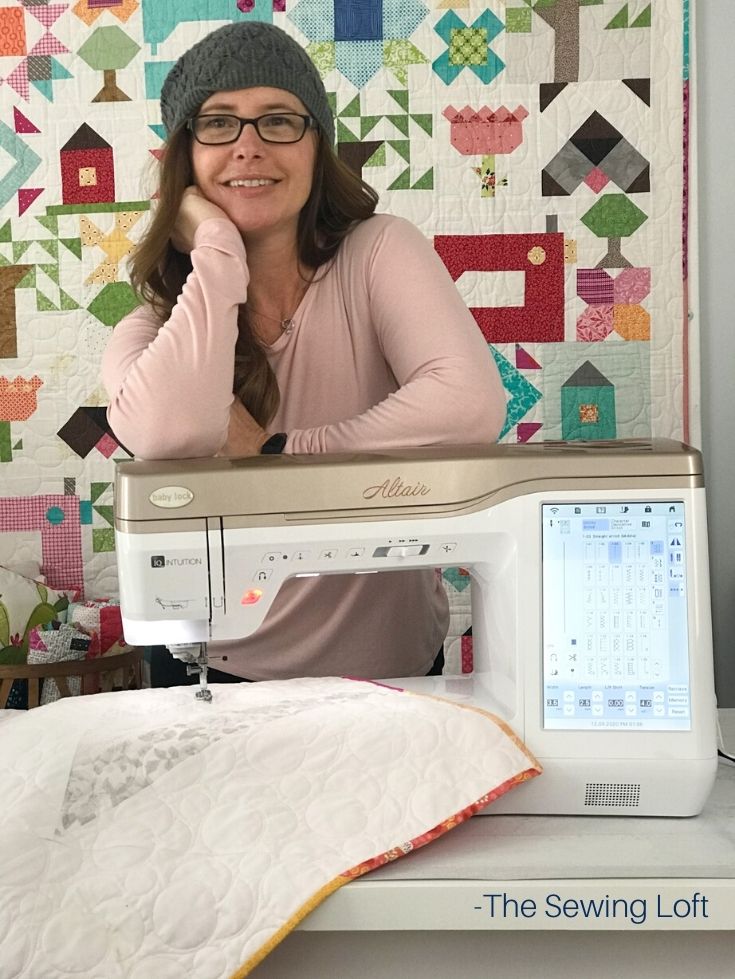 Now, that my creative embroidery secret is out of the bag, I can't wait to get started. I look forward to spending more time exploring, getting to know, and creating on this wonderful machine. Be sure to stay tuned for more details and ways to layer embroidery stitches into your work throughout the coming year.
As always, I thank my team at Baby Lock for sharing these amazing machines with me and helping me stretch my creative skills. Being one of their Brand Ambassadors has been a tremendous honor.

*Baby Lock sewing machines can be found at local quilt shops near you and online here.