Recently I posted a How-To on making your own T-shirt quilt. (You can find the first tutorial in that series here.) But maybe you don't have a lot of T-shirts lying around, waiting to be cut up for a quilt? That's okay! A memory quilt can be made out of so much more than just T-shirts!
Now that you've mastered the basics with our free T-Shirt quilt tutorial, let's expand our horizons and think of other possibilities for making a quilt out of clothing.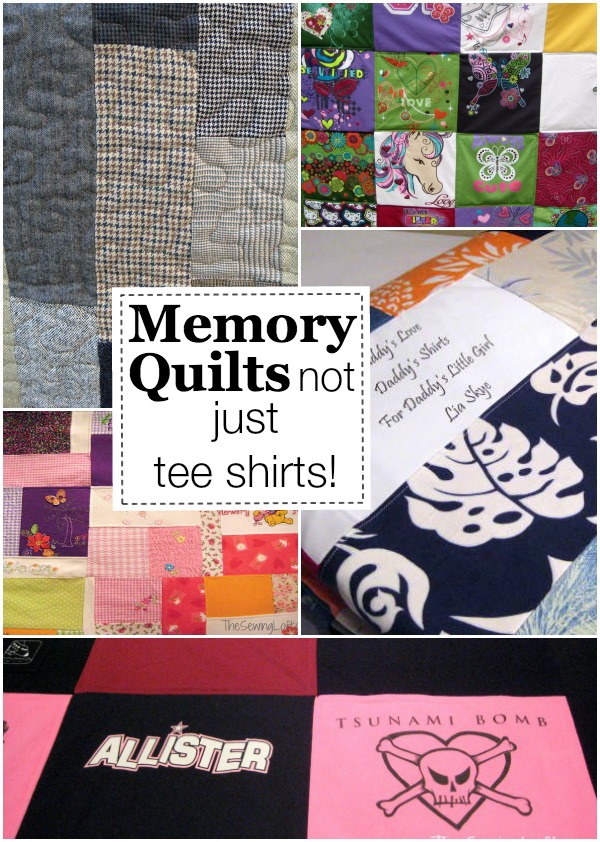 In today's post, I'll be sharing some of my favorite memory quilts that I've made over the years, so I hope you enjoy this trip down Memory (Quilt) Lane with me!

MY LATEST VIDEOS
Memory Quilts are not just for tee shirts!
First up, a quilt I made out of baby clothes – this is a lovely way to commemorate your little one's early months and preserve all those happy baby memories: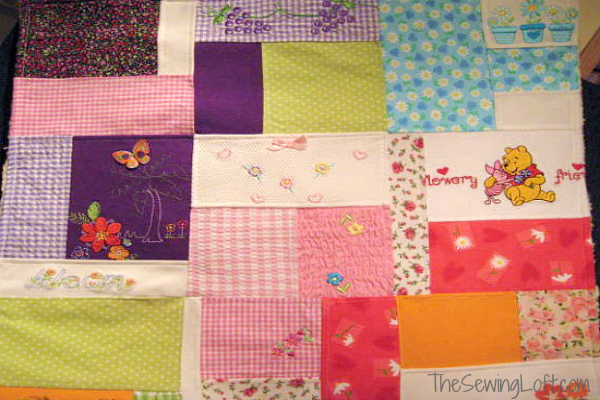 Next, a quilt I made using men's dress shirts. This type of quilt would make a fabulous Father's Day gift: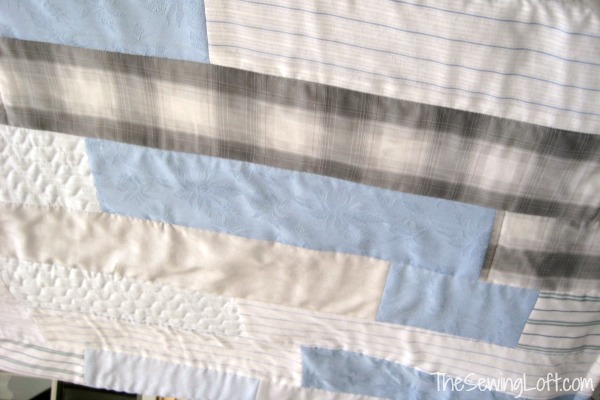 This one I made using Hawaiian-style shirts. If you have someone in your life who has a favorite type of shirt like this, a memory quilt is a great way to visually preserve your memories of that person. Another idea is to make a quilt using shirts you got on vacation, or to find Hawaiian shirts at a thrift store to make a quilt that makes you FEEL like you're on vacation every time you use it!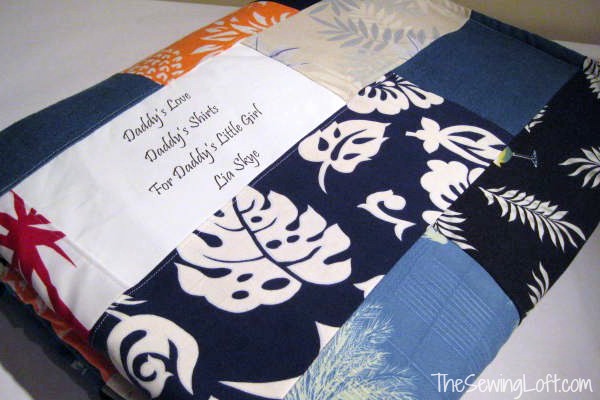 This quilt was a sort of "Anything Goes" theme. I used a variety of items from one man's wardrobe, including T-shirts, socks, boxers, and running shorts!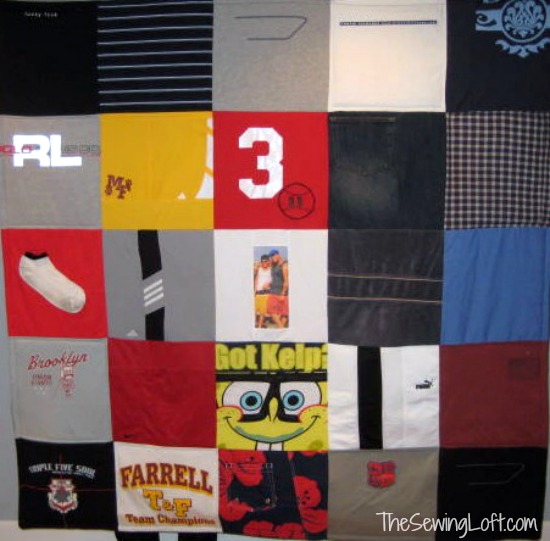 I made this quilt as a gift from a son to his mother, using his father's blazers. His father was known for being a well-dressed man, and the son's reaction when he picked up this memory quilt was one I will not soon forget!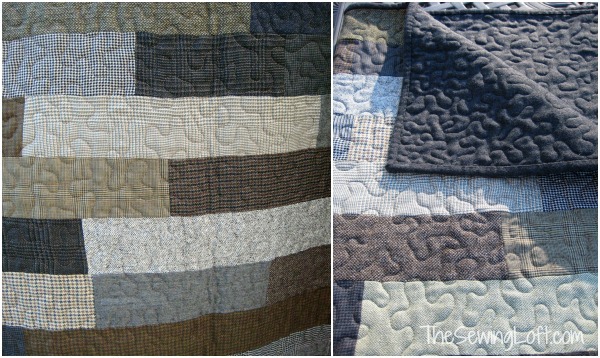 Sometimes a T-shirt quilt can have a specific theme to it, too, like in these examples …
If your child has a favorite collection of graphic tees that they eventually outgrow, turn them into a quilt so they can still enjoy all their favorite characters! Here's one I made using all girl's fashion tees: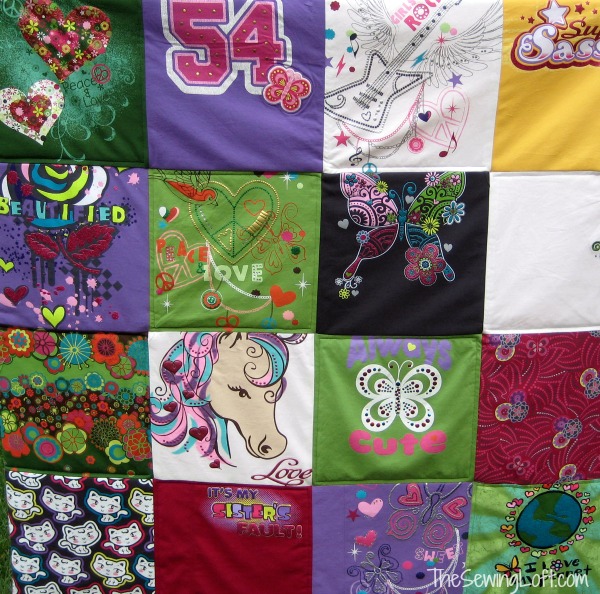 Sometimes a memory quilt is a way to honor someone's memory after they're gone. I was honored to make this quilt in memory of a firefighter – this was hard to make!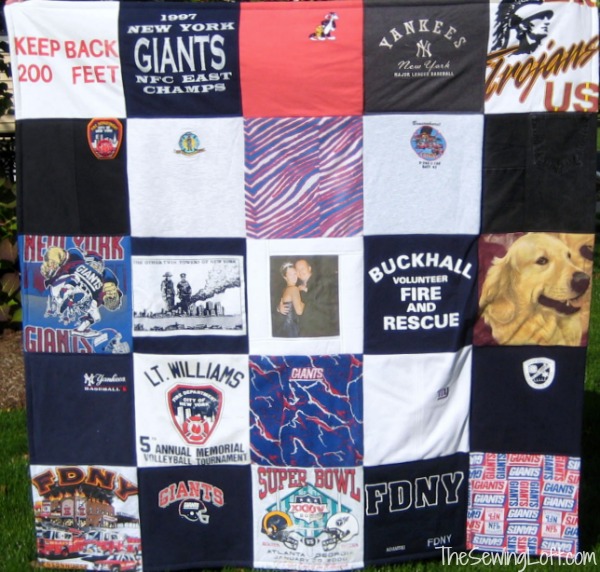 If you've got a music fan in your family, make a quilt out of all his favorite concert tees: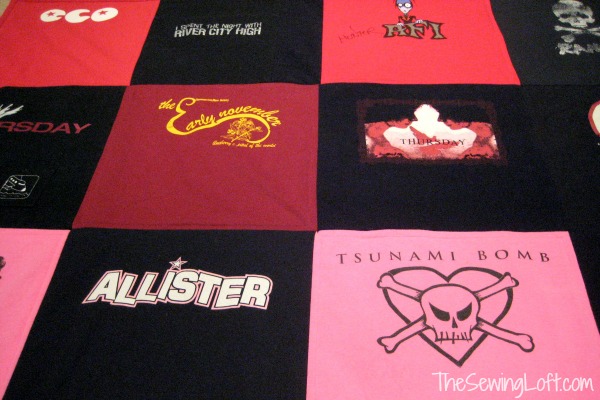 A memory quilt is also a great way to show off your school spirit using T-shirts from one school or several: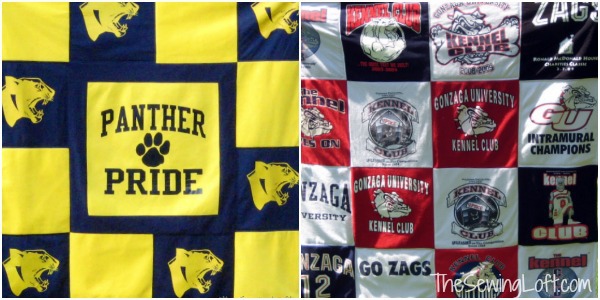 What ideas do you have for making a memory quilt? Share them in the comments below!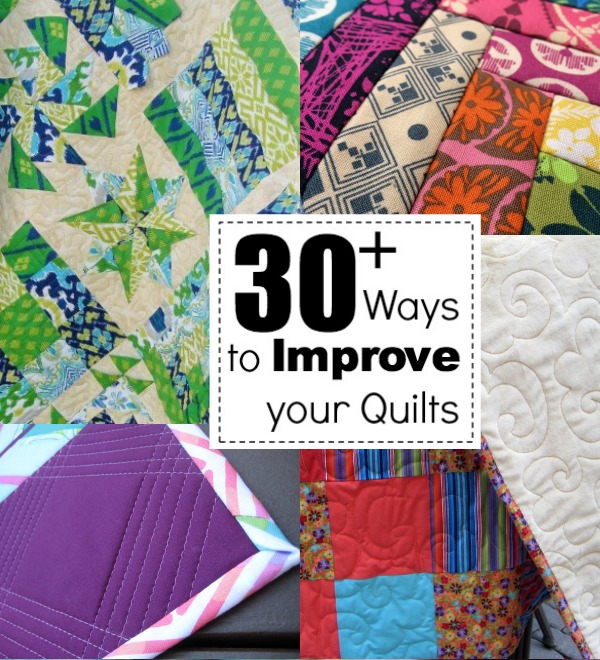 Hello! Are you new to The Sewing Loft?

If so, I'm glad you stopped by and hope that something has inspired you to keep your needle moving!  Don't miss a single project and subscribe via email HERE! Bonus- free embroidery pattern with newsletter sign up.  Another great way to connect with me is via Facebook, Pinterest, Twitter, Google+ or Follow my blog with Bloglovin.  I'm looking forward to getting to know you and creating together!