For today's Tuesday Tip we'd like to share a product that can put a personal touch on almost anything you want to sew: printable fabric sheets!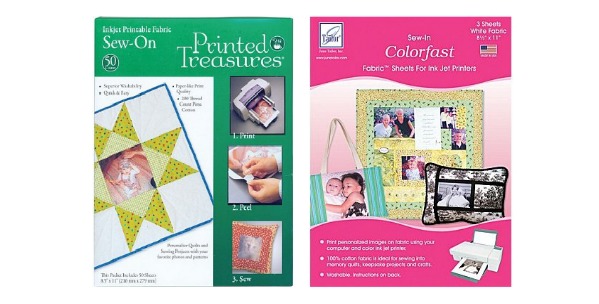 Printable Fabric Sheets- What are they?
Printable fabric sheets are pre cut 8.5" x 11" paper backed fabric that is ready to roll through your printer.  They work just like paper – print any words, images or designs onto them that you want! When they come out of the printer they're ready to sew into your next project. (They also come in a NO SEW Option.)
You can pick up printable fabric sheets at your local fabric or craft store.  They are easy to use, fit directly into your printer and they are washable! That's right, you can put these babies through the machine and they don't shrink, so you don't have to worry that they'll be ruined as soon as the project gets used.
Tips for using printable fabric sheets:
Print a photo of someone and include it as part of a block in a quilt – maybe it's a memory quilt and you want a photo of the person honored in the quilt, or just a picture of your family or your children to include in a quilt that will be a gift.

Print a photo and turn it into the center of a handmade patchwork pillow. This is a great idea for the holidays – put all your kids in Santa hats, snap their photo and turn it into a quilted pillow that will be the perfect gift for Grandma.

Print smaller (wallet-sized) photos onto this type of fabric and use the photos to label items your child owns – suitcase, soccer bag, winter coats and hats, even!

Print your name or business logo onto these sheets and use them to make sew-in labels for your handmade creations.

Scan your child's artwork or have her draw directly into a computer program, then print the masterpiece on printable fabric sheets and turn that into your next sewing or quilting project.
Helpful hints when working with printable fabric sheets:
Make sure you have plenty of ink in your printer before you begin! You don't want to waste one of these sheets printing out a large photo, only to run out of ink halfway through it.

Follow the directions on the package to make sure you get the best printing quality out of your project.

Make sure you buy the printable fabric sheets that are washable, otherwise you will never be able to wash your finished project!

Be sure to follow  the manufacture's  instructions for "setting" the ink.  Some require rinsing under water and pressing to heat set.
What do you think about printable fabric sheets? Have you used them in your projects before? Do you have any other ideas for incorporating this unique product into your sewing projects? Share in the comments below!

Hello! Are you new to The Sewing Loft?

If so, I'm glad you stopped by and hope that something has inspired you to keep your needle moving!  Don't miss a single project and subscribe via email HERE! Bonus- free download with newsletter sign up.  Another great way to connect with me is via Facebook, Pinterest, Twitter, Google+ or Follow my blog with Bloglovin.  I'm looking forward to getting to know you and creating together!