Sometimes we get so settled into the routine of sewing that we forget to look past the basic sewing machine foot.  Well today, I want to share a new discovery…. the quilting foot or patchwork foot.  It has this amazing 1/4″ guide on it to make every stitch line up perfectly.
.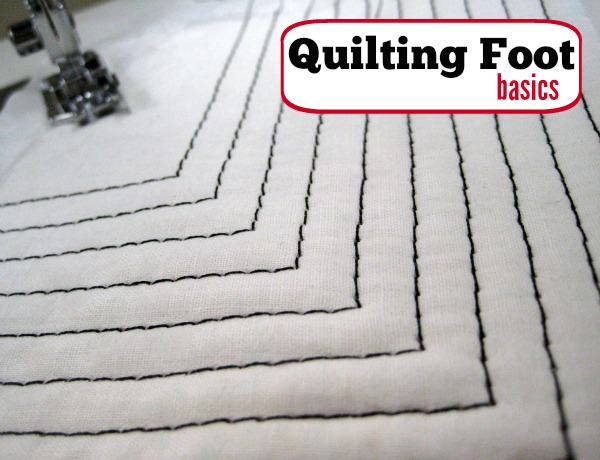 This little nugget of goodness seems to be a tightly guarded secret in the quilting community.  So, the question to all my quilting friends is .. Why Oh Why have you not shared this golden nugget of knowledge?  This small piece of steel is fantastic.  Not only will it keep your lines straight but it will keep your quilting stress free! That is a huge plus for this novice quilter.
.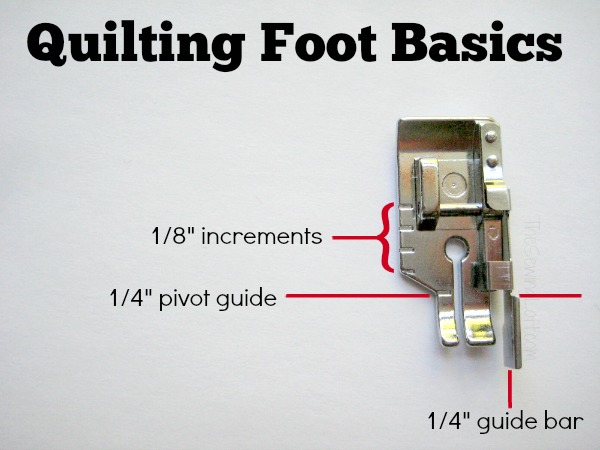 Quilting Foot Facts
Let me breakdown:
This foot has a built-in guide bar to help create perfect 1/4″ seams and super straight topstitching.
It can only be used in a single needle application with the center straight stitch.
The markings on this foot are measurement guides designed to help keep your stitches exact.
Let's see the foot in action.
Here are a few more examples of my quilting foot in action.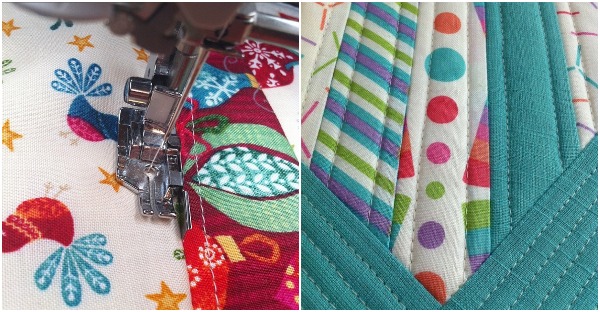 Tips for using the Quilting Foot:
Align the raw edge off two fabric layers against the guide at right side of foot.  Lower foot and stitch away.
The narrow toe on the left side can be used as a guide for small piece work or mini quilts.
Maintaining a perfect 1/4″ seam while turning a corner is easy.  Stitch until the edge of fabric aligns with the mark on the narrowest part of foot; leave needle and down position, lift up pressure foot and pivot.  Return presser foot to down position and continue stitching with fabric against the guide. This technique works for both quilting and top stitching.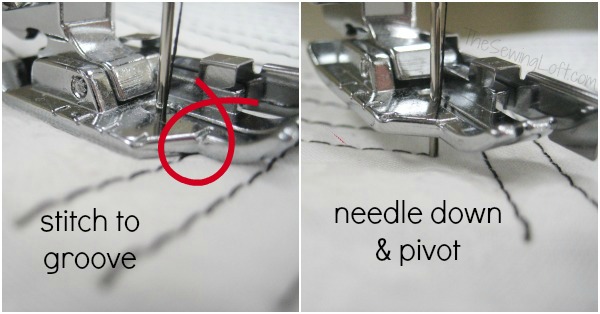 This sewing machine foot can change the way you think about topstitching and quilting.   You can pick up a quilting foot for your machine at your local shop or here on-line for about $15. I think this little piece of steal is totally worth it!

Hello! Are you new to The Sewing Loft? If so, I'm glad you stopped by and hope that something has inspired you to keep your needle moving!  Don't miss a single project and subscribe via email HERE! Bonus- free embroidery pattern with newsletter sign up.  Another great way to connect with me is via Facebook, Pinterest, Twitter, Google+ or Follow my blog with Bloglovin.  I'm looking forward to getting to know you and creating together!