It's hard to wrap my head around the arrival of December this year. Between the holidays and family birthdays this month is always beyond busy in my world. That's why a simple finish like my Save the Bees quilt top just makes me happy!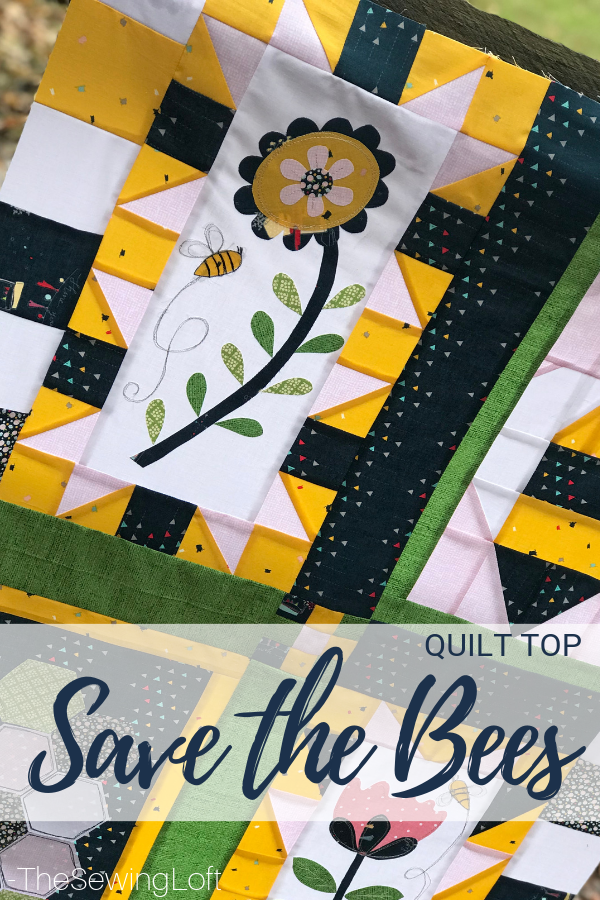 There is just something wonderful about taking a stack of blocks and stitching them together. I mean, each one has a ton of personality and can stand on it's own but they can be so much more.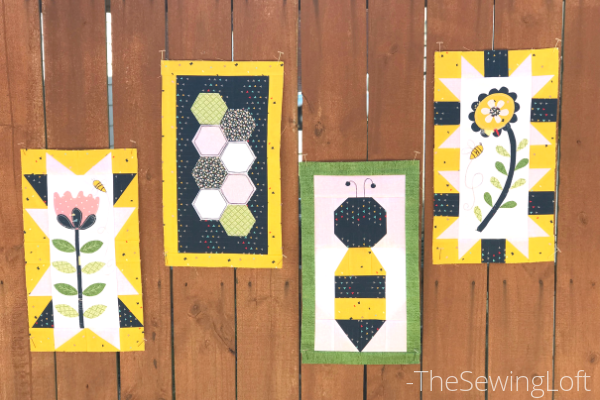 If you are just stumbling along the Save the Bees quit along for the first time let me fill in some of the details. The pattern is designed by my friend Jacquelynne from The Art of Home and is offered for free on her site. The applique design has a whimsical outlook and playful point of view. While the blocks were originally designed to be made with hand embroidery, I thought it would be a perfect fit for free motion.
Supplies:
Sewing Machine
Basic Sewing Supplies
*Fabrics used in block include Dear Diary from Minki Kim and a few scrap pieces from my stash.
Since my blocks were already stitched together, I focused on adding sashing and a border but the most important thing to me was using the rest of my fabrics. So, I added a simple 9 patch for the center and sliced the balance of my fabrics for the sashing. Once cut, the pieces stitched together quickly.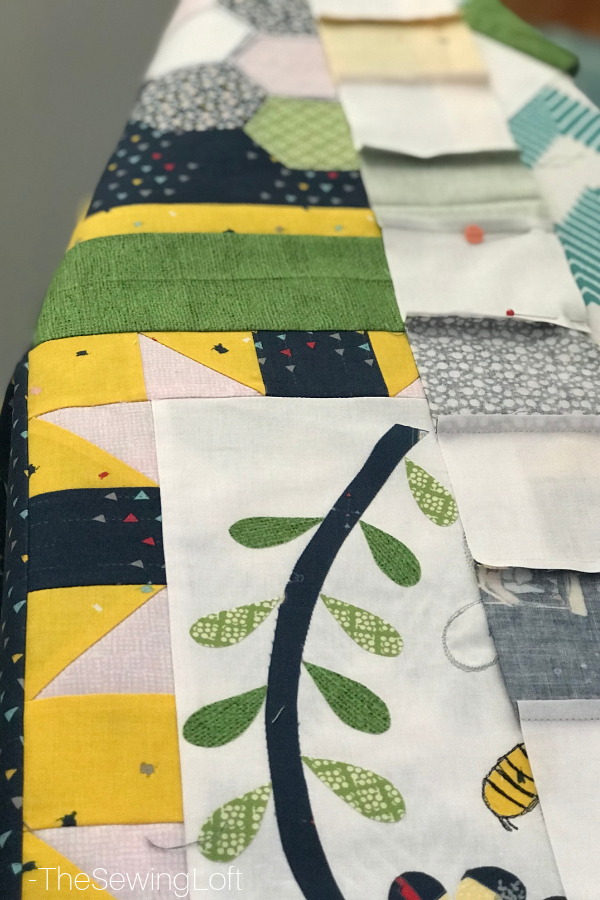 To create the borders I sliced the rest of my fabric scraps into long 3 1/2″ strips. Alternating prints with white solid, I pieced them together with 1/4″ seam allowance. This create a long strip section. After one more pass with my ruler and rotary cutter, I was able to head to the machine for final assembly.
I really kept things simple and matched a solid white square with the center sashing. This additional border row helped balance the overall size of the quilt top.
Alright, enough of the making details, let's fast forward and take a closer look at my finished Save the Bees quilt top.
Save the Bees Quilt Top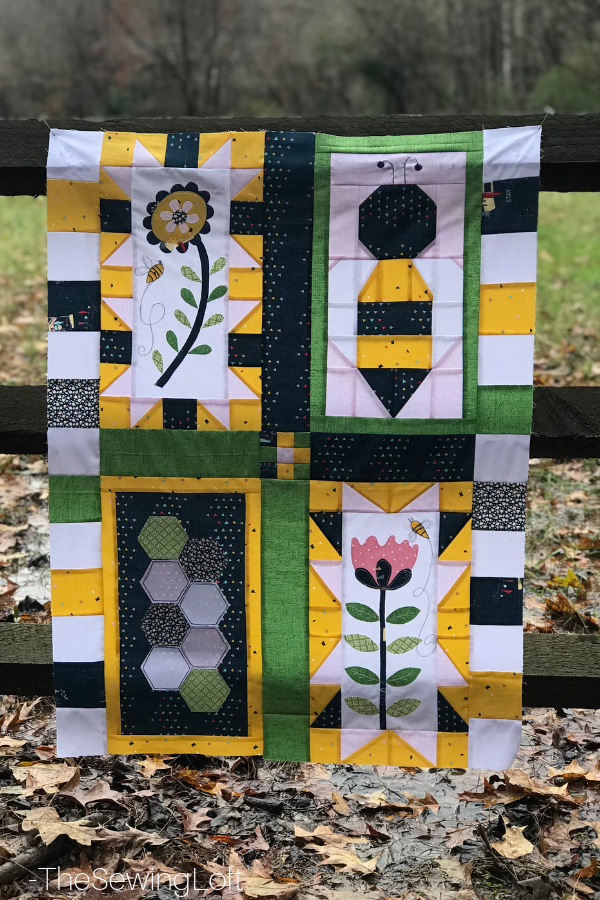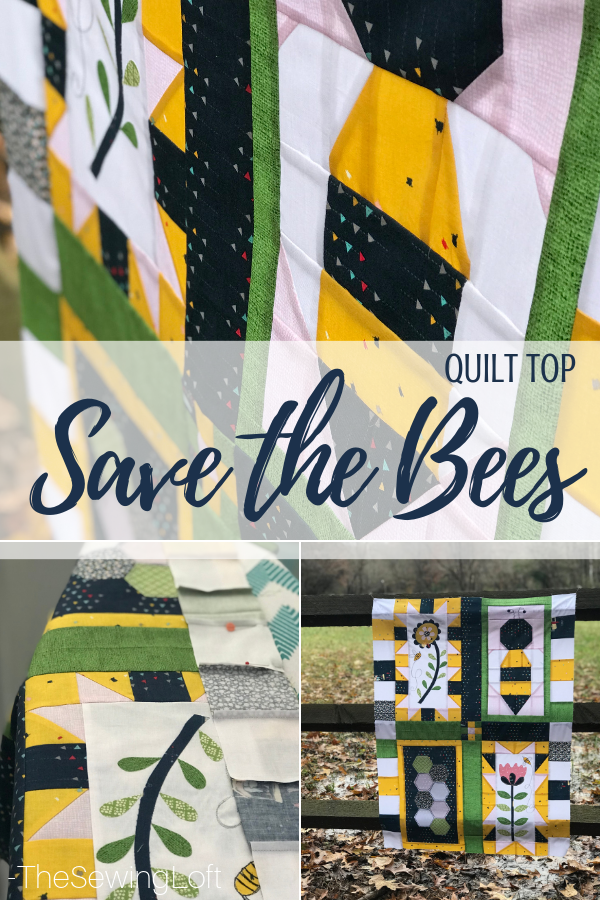 Even though it's not quilted and bound, I'm calling it a win for the 2018 finish pile. Be sure to check out Jacquelynne's border design so you can see all the options before finishing your quilt top. You can find all the instructions here.
But before you go, don't forget to enter the giveaway! This month, there are actually 2 different prize packages. 1 for my US friends and 1 for our International buddies.  This way, everyone can participate. Wishing you all the best of luck!
Save The Bees December Giveaway

PS- you'll want to check out how my friends are stitching their blocks together. So many fun options.

Hello! Are you new here?

Do you want to learn more about sewing? Be sure to sign up for our newsletter HERE and never miss a stitch! Daily Sewing Tips, Everyday Projects and Fantastic Inspiration delivered straight to your mailbox!

Bonus– free pattern with newsletter sign up.

Feel free to connect with me on Facebook, Pinterest, or Instagram.  I look forward to getting to know you and stitching up a storm together!