Now that we've explored the many different types of fabric cutting tools available to us, I wanted to share some care and keeping tips.  These tools are expensive and we need to take care of them!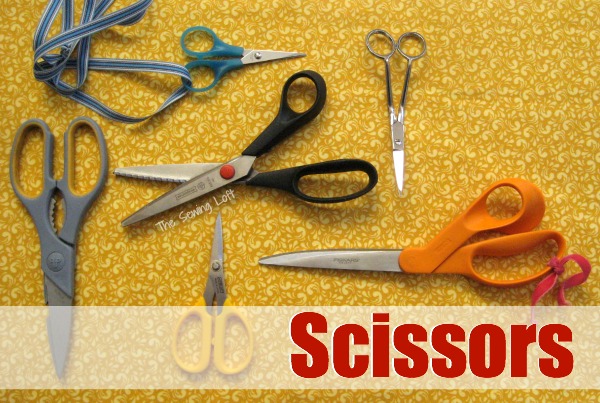 Tips and Tricks for Cutting Tools:
Guard your fabric scissors with your life! If you use them to cut paper or other materials they will dull quickly and the blades will be ruined. A helpful hint: tie a ribbon around the handle of your fabric shears and tell your family members to keep their hands off these scissors the next time they want to clip coupons or make paper chains. The ribbon will also be an easy visual reminder for yourself so you don't accidentally grab them for cutting paper instead of fabric.

Ask your local sewing or crafting store about scissor sharpening – usually they have a special day every few months when a professional scissor sharpener will be available in the store. For a fee, you can have your blades sharpened which will maintain a good pair of fabric shears for years of cutting to come.

Replace the blades on your rotary cutter whenever you notice that it isn't cutting through the fabric easily like it did when it was new. You can buy refill packs for your particular rotary cutter brand and size at the same store where you purchased the cutter.
And I'm not sure what your studio looks like but mine can always use more organization. Here are some great storage ideas for those sharp cutting tools!
Scissor Organization Ideas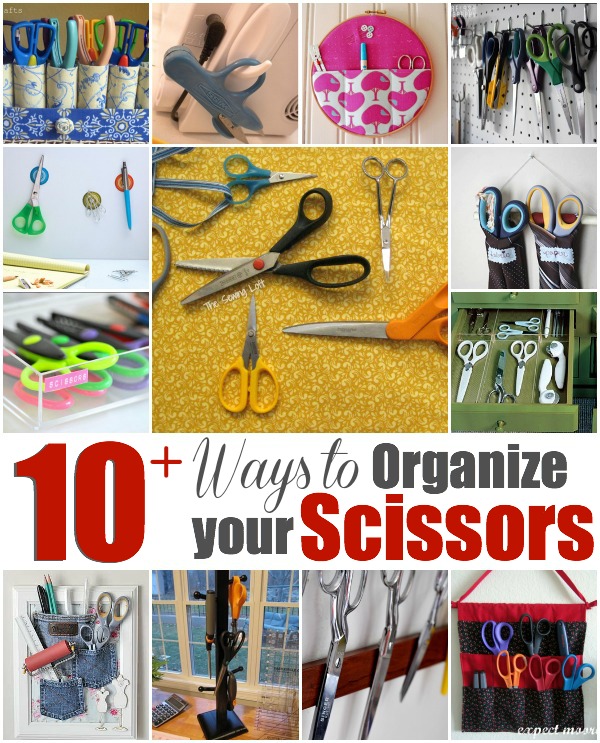 Let's talk scissor organization! Photos clockwise from top left.
Toilet Paper Roll Caddy | 3M hook | Wall Art Pocket | Peg Board Holder
 Tie Pocket | Simple Drawer | Wall Hanger | Magnetic Strip
 Mug Tree | Jean Pocket Art | Clear Desk Drawer | Magnetic Stickers
Personally, my scissor organization is lacking.  I have them tucked away in baskets to prevent them from walking away.   They need to be out of sight otherwise, they tend to walk off for random art projects.  Remember, I have 2 little gals that love to create.
I would love to hear about any special tips or scissor organization tricks you have in the comment section.
Hello! Are you new to The Sewing Loft?  If so, I'm glad you stopped by and hope that something has inspired you to keep your needle moving!  Don't miss a single project and subscribe via email HERE! Bonus- free embroidery pattern with newsletter sign up. Another great way to connect with me is via Facebook, Pinterest, Twitter, Google + or Follow my blog with Bloglovin.  I'm looking forward to getting to know you and creating together!