Sewing with children can be an incredibly fun experience, just check out this post on Kids Design with Lady A.
However something to keep in mind, is their comfort and safety. Sometimes, the excitement gets the best of them or maybe those little legs can not reach the pedals.  So, it is important for them to feel completely ease and know some basics.
Sewing with Children Safety First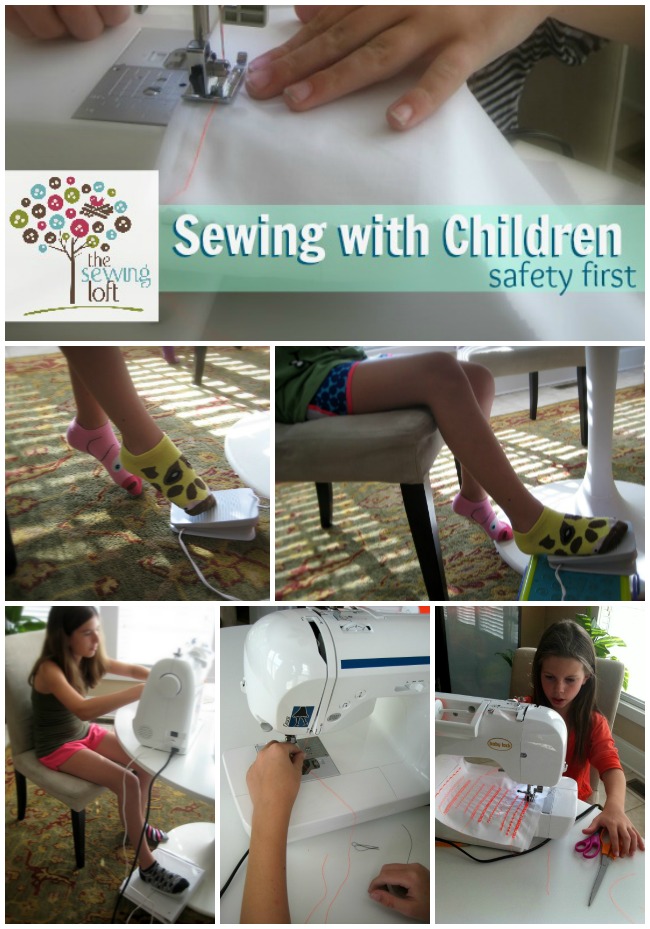 Here is a quick tip to help those short little legs reach the pedal.  Bring the pedal to them.
That's right, just by placing a stool under the pedal you are raising the height of the pedal and making it easier for them to reach.  This way, they are not stretching or straining to apply pressure to the pedal.  For older children consider putting a notebook or even better yet, use your phone book.  You know that huge 5 pounder of paper that you will never look through unless the water heater breaks and you are in a pinch.
Introducing a child to sewing can be an amazing gift.  You can see their eyes light up as they watch the thread take shape and transform the fabric in a finished project.  Just be sure to help them thread the machine, remind them to keep their hands off to the side and above all have fun!
I know that my girls are having a blast learning how to sew and are looking forward to making more fun projects.  So, be on the look out for a few more sewing with children related projects this summer.

Hello! Are you new to The Sewing Loft?

If so, I'm glad you stopped by and hope that something has inspired you to keep your needle moving!  Don't miss a single project and subscribe via email HERE! Bonus- free embroidery pattern with sign up.

Another great way to connect with me is via Facebook, Pinterest, Twitter , Google + or Follow my blog with Bloglovin.  I'm looking forward to getting to know you and creating together!