Today's work in progress is a quick summer skirt and boy, do I mean quick!  Missy S has end of grade testing this week and was feeling punky about it. But when I suggested we create something fun to wear a smile appeared.
Quick Summer Skirt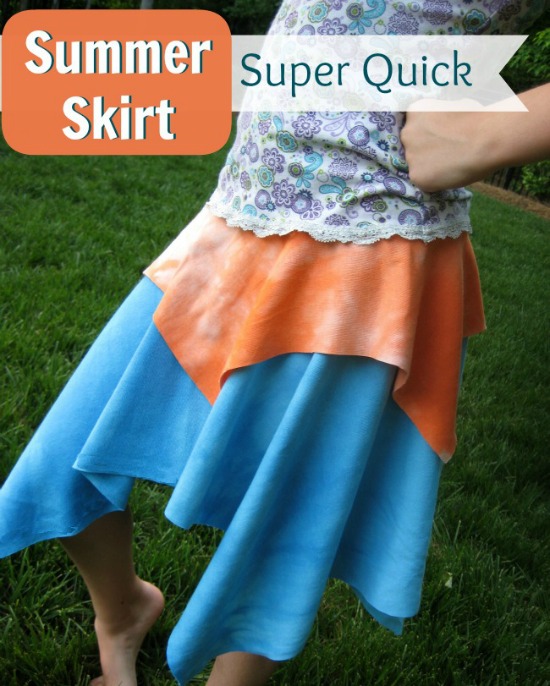 To give you an idea of just how fast this project was let's chat about the timeline.  She started checking out my fabric stash around 5pm, picked out a few fabrics and then I showed her the skirt picture.  Once she was all in, I needed to think about the elastic.  That meant, I needed to scramble through my trim box and find something quick.  All said and done, she was twirling in this easy skirt by 6:30 and what a relief since the sun was fading and I needed to get dinner on the table.
 This project is for all levels.
Skill Level- 1 Button
Materials:
knit fabric
3/4″ to 1″ wide elastic
Tools:
Sewing machine (serger or standard)
Scissors
Straight pins
**This how to is focused around using a serger. But do not worry- you can use a standard machine set to a stretch stitch.  Refer to your owner's manual.
Basic Instructions:
I used this square circle skirt tutorial as my starting point, added an additional shorter layer in contrast fabric and a simple waistband.
To create a waistband, I cut a 3″ wide straight band to fit around her waist + 1/2″ for seam allowance.
Match the right sides of the waistband together and stitch the short sides together. This will create a circle. Fold the waistband in half with wrong sides together and section it into 4 parts adding a pin for placement.  Match your waistband to your markings on skirt.
Attach your waistband to skirt leaving a 1″ opening.  *If you are creating the double layer be sure to capture both layers.
Cut your elastic to size and slip through the waistband.  Be sure it is not twisted, overlap and stitch together.  Finish attaching your waistband.
Tuck your tails in and you are all set for twirling!  Seriously, this is a 20-minute skirt.  Super quick.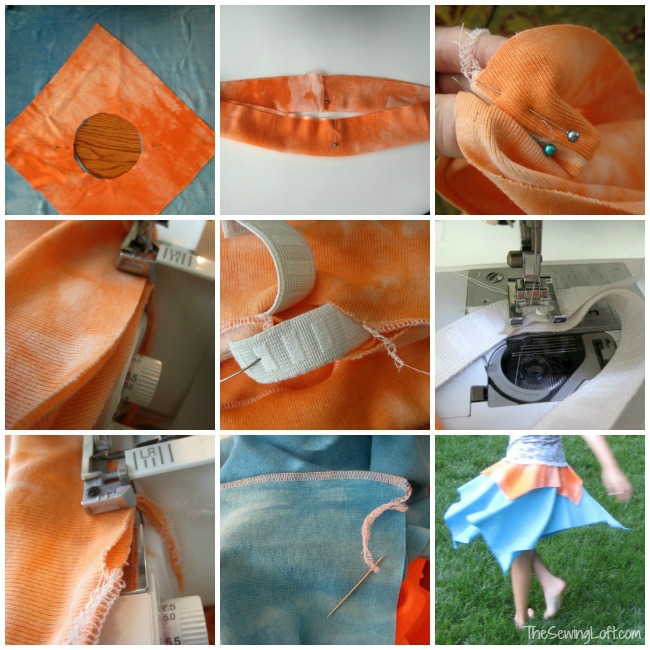 This easy summer skirt is a great way to use a few smaller cuts from any fabric stash. (Which mine is always out of control!) However, if you are looking for a more grown up skirt you might want to check out this easy knit skirt.  It is just as fast and requires no elastic.
Wait you still want more skirts to fill your closet? Check out this list of over 100 free skirt patterns and start stitching up a storm!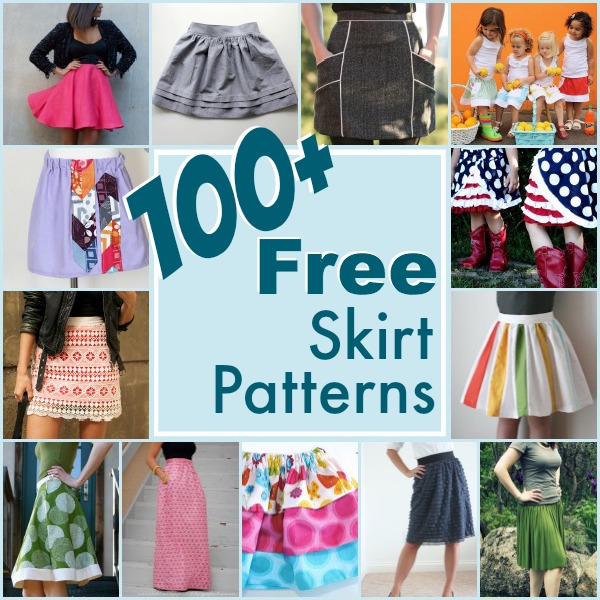 Hello! Are you new to The Sewing Loft?

If so, I'm glad you stopped by and hope that something has inspired you to keep your needle moving!  Don't miss a single project and subscribe via email HERE! Bonus- free download with sign up.

Another great way to connect with me is via Facebook, Pinterest, Twitter , Google+ or Follow along with Bloglovin.  I'm looking forward to getting to know you and creating together!